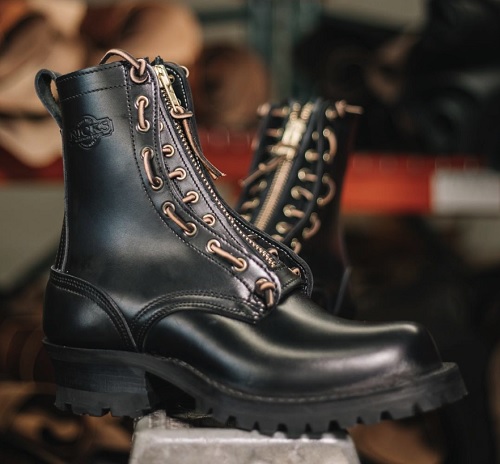 There are multiple types of firefighting boots, and station boots are one of the most popular. In fact, they're a vital piece of equipment for many firefighters.
Some even go so far as to say that if you could only get one pair, a quality pair of leather station boots would be the best to invest in.
Like any type of footwear, station boots are a tool. What is their task, and what are they best suited for?
Station Boots: The All-Purpose Fire Boot
Station boots are perhaps the only all-purpose fire boot. You get the support and comfort of a wildland fire boot, but also the watertight seal of a rubber boot. The best of all possible worlds.
This makes them equally suited to use in urban environments, days spent on your feet at the firehouse, or if you're called to duty in a rural or wilderness area. While television tells people that most firefighters almost exclusively work in the city (and plenty do) the truth is that more firefighters than ever are also having to battle fires in areas of the rural/urban interchange.
How can they?
The basic design of a station boot is more or less like a classic logger boot, but with some key differences. The raised heel for increased support and stability in mixed terrain is there. A lug sole and heavy stitching for durability. Boot height is typically around 8 inches or more.
However, a station boot has to be impervious to water or chemicals leaking into the boot. This is why the tongue is stitched to the vamp and the inside of the upper, with a zippered enclosure. The lace eyelets will actually thread the laces behind the tongue of the boot.
This makes the tongue less flexible (and putting the boot on a bit more of a production than typical hiking boots) but also creates a barrier between moisture and chemicals. Once the tongue is zippered, and the laces fastened, it's one of the most secure boot designs available, as far fewer seams (where moisture and other liquids can get in) are visible.
How Are Station Boots Different From Wildland Firefighting Boots?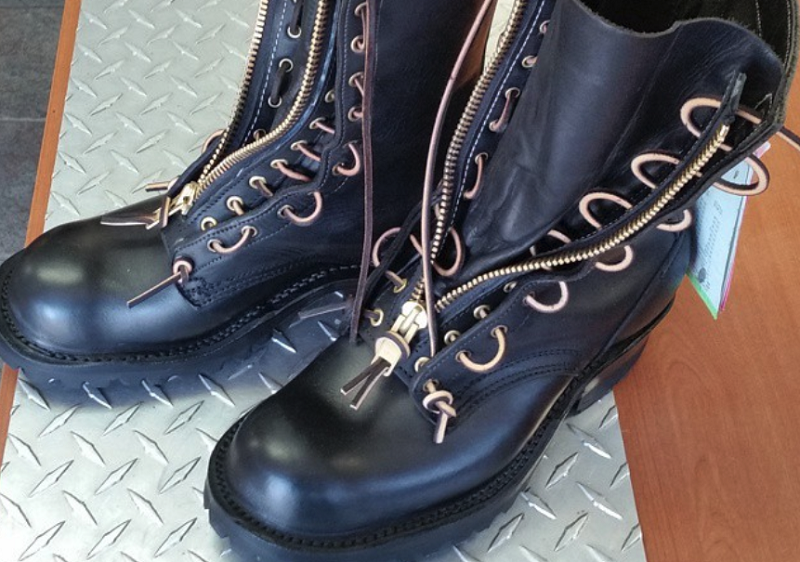 Wildland firefighting boots are a little more akin to a standard pair of logger boots in appearance, though they are made with stronger materials. A quality pair will also be made in a much more exacting fashion than a pair of loggers that you might find in many stores, with better stitching to last far longer under stress.
An NFPA-certified fire boot will have melt-resistant soles, usually made by Vibram or be of a Vibram-inspired design, and they must be at least 8 inches tall.
Again, they look a lot like a logger boot but just have to be built a little stronger to cope with the rigors of wildland firefighting if wildland firefighting is exclusively what you do.
Granted, that doesn't mean it's a lesser boot in any way, shape or form. After all, the standard wildland firefighting boot design keeps many people in the field during fire season with no problems. Quality fire boots also keep people on their feet for longer with fewer injuries, which has made wildland fire boots by Nick's Boots some of the most popular and highest-regarded fire boots on the market today.
However, a wildland fire boot can lack some features that a firefighter in a more urban or suburban department needs. For instance, they can let in more moisture or material through the tongue, because they aren't designed for a watertight seal and other features that are needed in urban and suburban departments.
Station Boots Give You The Best Of Both Worlds
Station boots give you the best of all worlds.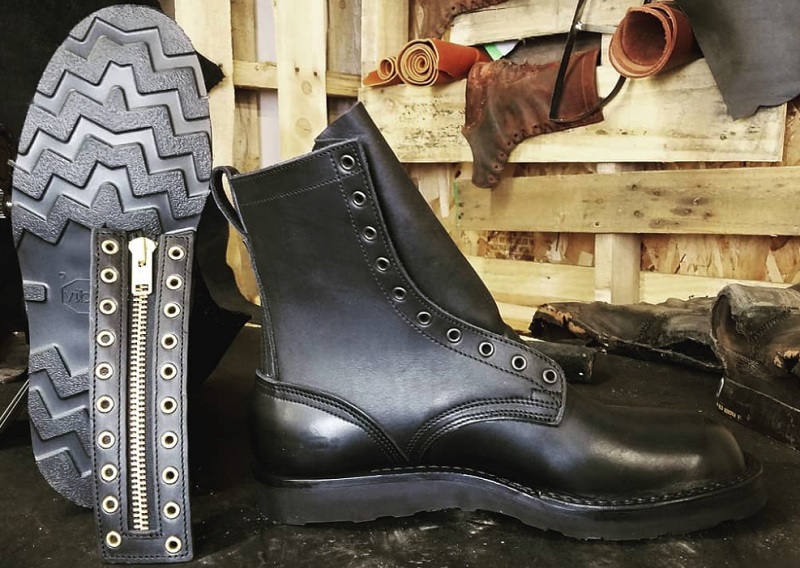 Like wildland fire boots, they can be custom-made for you, giving you the fit, stability, and support needed for all sorts of environments. Custom made boots makes a huge difference during long days on your feet in terms of comfort, but will also reduce the strain of walking up hills or stairs, carrying heavy loads with protective gear on, and doing heavy work.
The heel and arch support ensure you can walk on hard surfaces and on mixed terrain without fear of discomfort, loss of foothold and with less chance of a fall or injury caused by ill-fitting footwear.
You also get a far tighter seal against any outside elements. This ensures that water, sludge, and other detritus don't get into your boot. If you will likely come into contact with caustic or toxic chemicals, this is an absolute must.
This is why a lot of firefighters that find their job gives them a mix of environments - including the concrete floor of the station, typical suburban environments, some high-rise urban environments and the odd call into the rural/urban/wild interchange areas - prefer the station boot design because they work everywhere.
In that regard, Station Boots are some of the most versatile working fire boot available.