Wildland Firefighter Boots Care Guide
If you're going to invest in a quality pair, you should know how to care for wildland firefighter boots. It's much the same as taking care of any pair of quality leather boots for work or daily wear, but given the rigors of the profession, you will want to be diligent in doing so.
The last thing you can afford to have happened is for your boots to fail when you're on the fire line.
So, let's dive right in. We'll go over how to take care of your firefighter boots and keep them in good working order during this fire season...and beyond.
Caring For Firefighter Boots Starts With The Right Leather Care
The first step in caring for firefighter boots is using the right leather care products. A casual pair of leather shoes or boots can be maintained for a long time with products found in most stores. Some saddle soap, a few natural preservatives like mink oil or beeswax, maybe a welt sealing compound and you're basically good to go.
Maybe a bit of leather boot polish now and then...that's all the standard pair of shoe needs.
However, firefighter boots need sterner stuff. Since fire boots are subjected to caustic chemicals, steam, extreme temperatures and certainly acids from sweat, the leather needs to be made impervious to the elements from without but needs to stay breathable so dry rot doesn't set in from the inside.
The gold standard in the fire industry is Obenauf's Heavy Duty Leather Preservative and Leather Oil products. Obenauf's was developed specifically for wildland firefighting and uses natural ingredients, essential oils suspended in a mixture of beeswax and propolis. Propolis is a resin, harvested from bacterial-resistant species of trees. The beeswax forms a seal against caustic compounds such as lye and fire retardants, and also against heat and steam. Propolis keeps organic acid compounds such as sweat from eating at the leather.
Obenauf's leather oil is a thinner version of their Heavy Duty LP. As it happens, Obenauf's manufacturers both for us here at Nick's Boots, which can be found in our boot care products.
Greasing, Oiling And Cleaning Your Firefighter Boots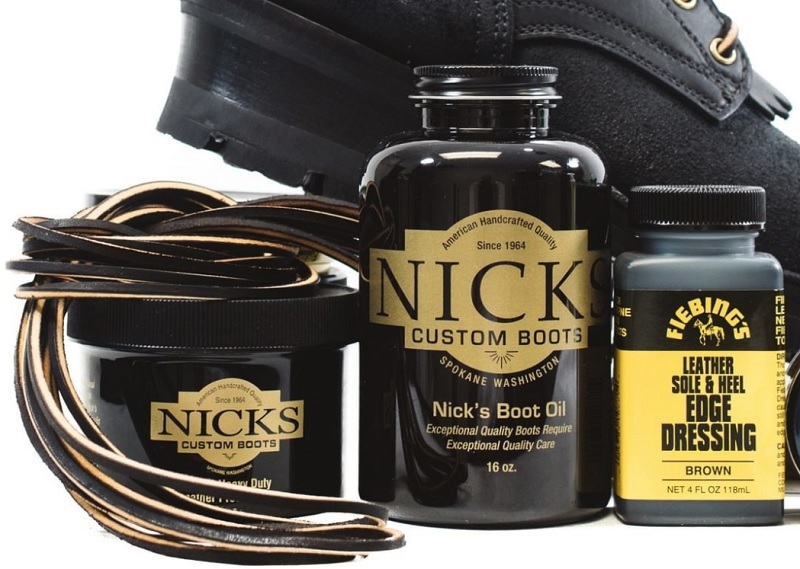 Occasionally, you'll want to clean your firefighter boots when they become caked with dirt, dust and other chemicals. Brush away larger debris, and clean using an appropriate leather cleaner such as saddle soap.
After your boots are clean, let them dry for a few hours in a warm, dry place. Ideally, you'll want to let them dry overnight.
To apply a heavy-duty preservative such as Obenauf's/Nick's Heavy Duty LP, buff about one ounce across the entire surface of the boot. You should spread it evenly, as the entire surface should get an even coat. Allow the boot to dry for an hour, and wipe away the excess. A best practice is to apply two coats for the best results.
You should apply Nick's Heavy Duty LP by hand once every six to eight weeks for best results.
In between that time, occasional touchups are done with leather oil, such as Nick's Leather Oil (which is made by Obenauf's) as needed. Every week or two is a good idea. Give the boot a good wipe down by hand, wipe away excess and let dry.
These products are proven to stand up to the worst of fire season and are trusted by professionals to care for their boots. It's also a good idea to apply a silicone-based boot sealer around the welt, for further waterproofing and protection.
Additionally, dust the inside of your boots with absorbent powder. This prevents bacteria from growing inside the boot lining, which is the most common cause of athlete's foot and other skin diseases caused by footwear. It also prevents odors from becoming too strong, and foot odor in a firefighter's boots can be absolutely horrendous.
Some people will go so far as to have two pairs of boots at once, rotating between them on a daily basis to allow one pair to dry out with newspaper or foot powder inside the boot. This much is up to you.
Outside of fire season, keep your boots stored in a warm, dry place. It's a good idea to put shoe trees or - at a minimum - some crumpled-up newspaper inside the boot to keep the interior dry.
Have Your Boots Resoled Or Rebuilt As Needed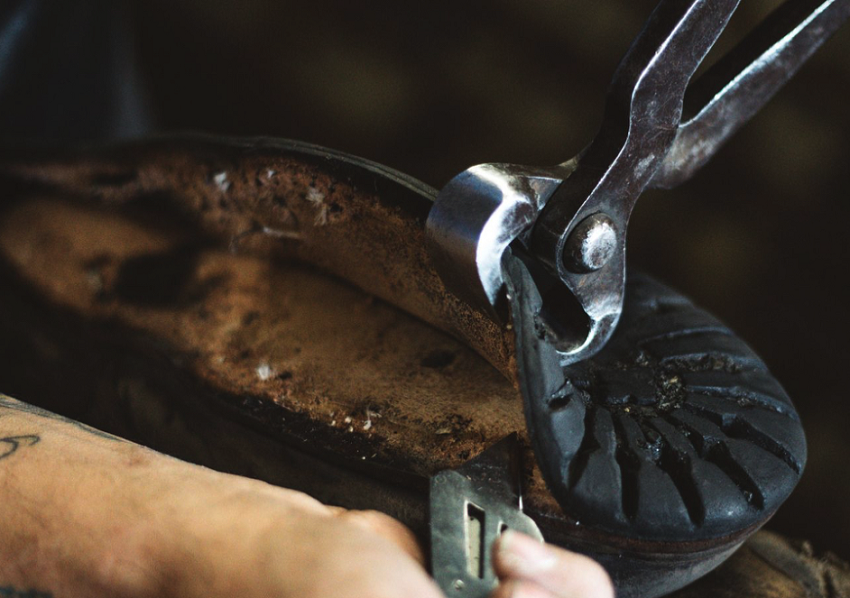 A good feature of quality firefighter boots or indeed any quality leather boots, in general, is that they are resoleable and, if made by the right manufacturer, rebuildable. This means a new sole can be installed when the current one is worn out. If needs be, the entire boot can be taken apart and put back together again if it should be required.
The service life of firefighter boots depends on use. For firefighters who have shorter wildland fire seasons (which depends heavily on where you live) then you may get through a few seasons before needing a resole or rebuild. Wildland firefighters in areas with long fire seasons or firemen who wear leather boots in large urban departments...may require a rebuild every year.
Nick's Boots, however, makes boots the right way. Our boots are resoleable and rebuildable. We rebuild and resole boots on a daily basis for our customers, many of whom depend on us to keep their feet protected during wildland fire season.
If the sole is wearing down or the welt is damaged, then it's time to get your boots serviced. If you buy a pair of Nick's Boots, know that we