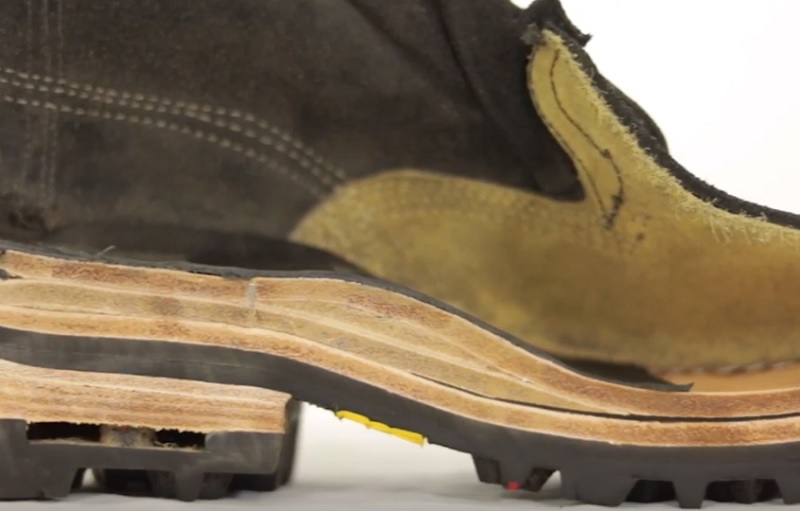 What goes into a pair of Nick's fire boots? Time, effort, skill, dedication, and decades of knowledge of boot craft of course...but what about the materials? What sort of stuff are these boots made of?
We'll take you through it. Hopefully, you will see the difference between our fire boots like our Hot Shot fire boots and those of...well, we'll say other construction.
We're aware of some other companies making wildland fire boots. Some of them make some decent product as well, we can't deny it, but we CAN take you through what our fire boots are made of.
You're investing in a quality pair of leather fire boots. You need to be able to depend on these boots to carry you through some of the hardest work that has to be done on this planet. Let's talk about what those boots are made of.
Single-Hide Leather Fire Boots
Our leather fire boots are made with a single piece of hide. There's no mixing and matching, no patching, no grabbing a bit of that leather over there that's the same color for one part and a bit for this part. Every pair of boots comes from one single hide, from one single animal.
Since we deal in handmade leather work boots and fire boots, we only source premium top-grain leather. This is the hardest part of the skin, the topmost layer.
You can tell top grain from other grades of leather by the appearance. If you notice a completely uniform appearance, that's almost certainly not this grade of leather. Full-grain leather, while still being quality material, has the topmost layer of skin split off to create a more uniform aesthetic.
We are more concerned with our boots standing up to punishment on the fire ground. That requires the toughest, highest-quality leather. That's exactly what you get from Nick's Boots.
Red X Fire Lug Vibram Soles
The reason why Vibram soles are the industry standard is that they have been making the shoe and boot soles made to tackle the toughest environments and work for decades.
Vibram soles have conquered the most imposing of mountains and carried people through job sites and fires you wouldn't wish on your worst enemy. They're the standard...and many boots use a Vibram sole design even if it isn't a Vibram sole.
Our fire boots wear Vibram Red X Fire Lug soles, among the few certified by the NFPA to be suitable for fire boots.
Red X fire soles are engineered to be flame-resistant, able to withstand temperatures over 400 degrees. They also stand up to wear on uneven surfaces, with outstanding traction.
This is one of the reasons why thousands of wildland firefighters have been buying Nick's Boots for years. They take the punishment and keep on coming. They don't stop, so you don't have to.
Technora® Thread Stitching
Technora® thread is a polymer, similar to Kevlar, in that it is a hard substance but can be woven into a thread rather than being hard plastic.
This thread has incredibly high tensile strength, especially on a strength-to-weight basis. However, it's chemical structure is - by design - made to repel chemicals as well as resist extremes in temperatures.
Other applications for this thread include sails, optical cables, ropes, and protective equipment. In fact, NASA used it to suspend the Mars rover from its parachute. It also can be used as an incredibly strong thread, which is what we use it for.
When we stitch a boot together, it stays that way...and holds up through wear in all sorts of environments, including the fire ground.
NFPA Certified Fire Boots
Our boots are the real deal, which is why we submit our boots for testing as NFPA-certified fire boots. Our boots are tested for puncture resistance, slip resistance and - of course - heat resistance.
If you aren't going to bother making the real deal, why even show up? It was always our intention to make the best possible fire boot that could possibly be made for wildland firefighting. We believe that we do, and thousands of firefighters have had their boots rebuilt and bought new pairs from us because they believe they are too.
Since our boots can be resoled or rebuilt as needed, that means you can invest in proven footwear for firefighting, and rest easy knowing that your investment will pay dividends in comfort, stability and injury prevention.