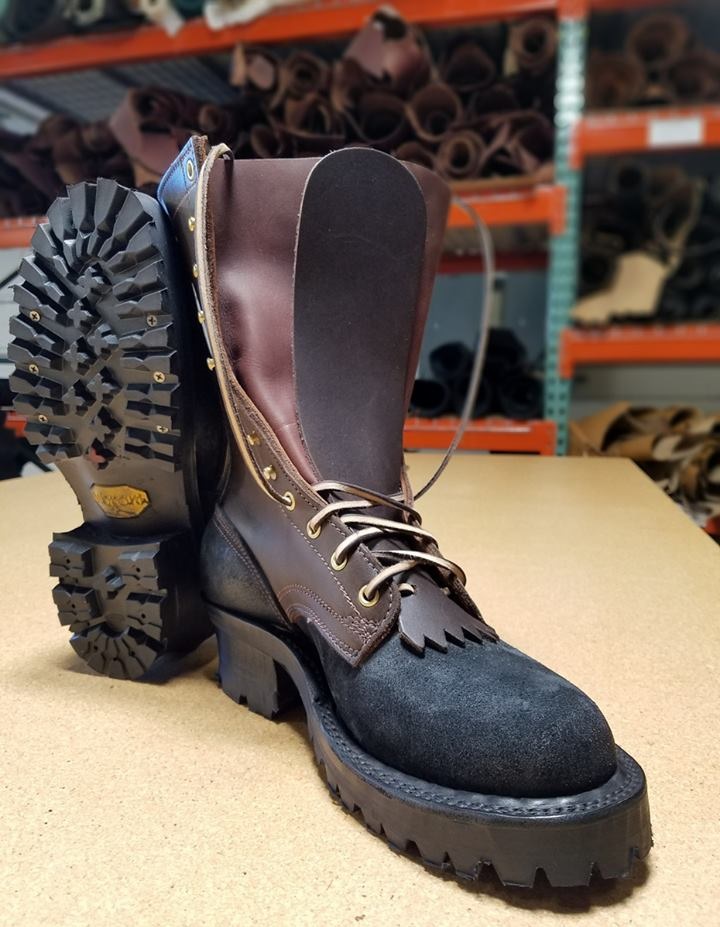 One of the features that many work boots share are Vibram soles, which are often either standard or are an optional upgrade for a surcharge. Are they worth it? What ARE Vibram soles, anyhow?
Vibram is a brand of outsole manufacturer, and they produce soles for work boots and outdoor boots. They are sold all over the world and while maybe they aren't the absolute best of the best of the best in all instances, they are the standard by which all others are judged.
Vibram makes a wide range of boot soles, so there's a Vibram sole for almost any application ranging from kitchen to other indoor work, light outdoor labor such as construction, logging, all the way to hunting and other outdoor pursuits.
So, let's find out a little more about Vibram soles.
Vibram Soles Devised For Mountaineering Long Before Work Boots
Vibram soles are named for the founder of the company that bears their name, Vitale Bramani. Bramani was an alpine mountain climber. In the 1930s, outdoor footwear was quite different than today. Heavy hobnail boots would be worn in the first part of a mountain ascent, changing to felt-soled boots for the last part of the climb.
Felt-soled boots, which are still sold today for river crossings and flyfishing, offer great traction unless they freeze, which commonly happened in Bramani's era. During one expedition attempting to summit Mt. Rascia in the Italian Alps, six of Bramani's companions died from exposure, as they were unable to descend the mountain quickly enough.
He surmised the slow climbs were the fault of the footwear, but also that vulcanized rubber - patented by Charles Goodyear, of all people - would be a good material for the task as it is abrasion and water-resistant.
Using a variant of Goodyear's rubber and with investments from tire magnate Leopoldo Pirelli, he launched the Vibram ("vee-brahm") sole company, starting with the lug design that the company is known for with the yellow Vibram logo in the middle. Then called the Carrarmato ("tank tread") it quickly became known for being hard-wearing and with excellent traction.
In 1954, an Italian climbing team wearing Vibram soles made the first successful summit of K2, one of the most technically challenging peaks in the Himalayas and also one of the deadliest - 20 percent of all climbers have perished in the attempt.
Today, Vibram soles are offered on rugged footwear all over the world, and many of those footwear designs not having actual Vibram-brand lug soles are still wearing a Vibram design.
Vibram Sole Work Boots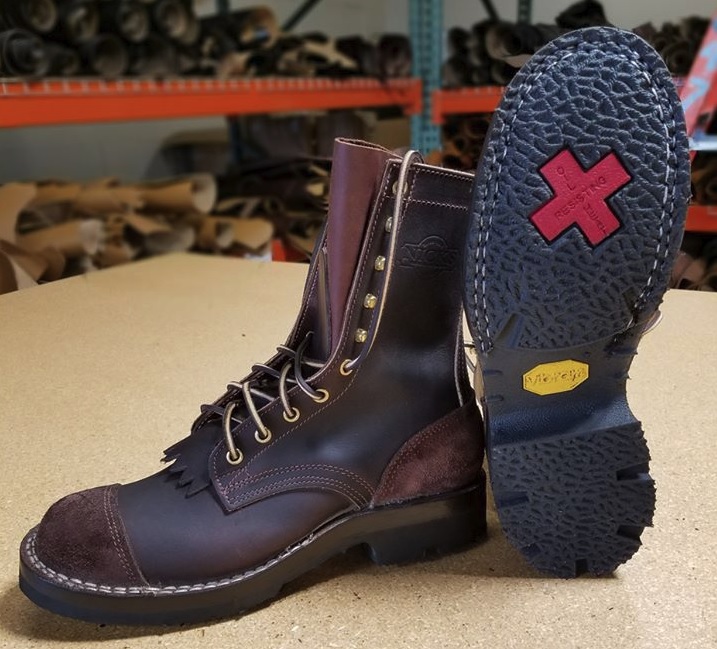 So, what about Vibram sole work boots?
Vibram soles, as you have gathered, are specialized boot soles. Though the original - the Carrarmato - is no longer the only option, it's actually still one of the better outdoor and otherwise general purpose heavy-duty boot sole. Vitale Bramani was as keen on the mechanical design as he was on the material design, using state-of-the-art rubber compounds of the day to get the utmost in traction, durability, and waterproofing.
Today, leather work boots can be had with Vibram soles to fit almost any application. All-purpose, slip-resistant, electrical hazard-resistant, whatever it may be. Vibram creates bootsoles for practical purposes and has gone so much further beyond those for outdoor pursuits.
That's why they're the standard for quality work boots. Boot soles are a tool, and it just so happens that Vibram makes some of the best for the various tasks that your work boots are called upon to do.
Therefore, to get the most out of Vibram soles, picking the appropriate model is a good idea.
Choosing The Right Sole For Custom Work Boots
Vibram soles often adorn custom work boots, but usually, a custom boot maker will ask which model you want. There's a good reason behind it, as Vibram makes a diverse lineup of boot soles.
A lot of people, however, will be well-served with the Vibram 100. The Vibram 100 Montagna ("mountain") model is the modern day Carrarmato. Just like when first released, it's very well suited to outdoor use with great traction. It's also great for the job site, as it's hardy and abrasion-resistant so it's good for concrete and other hard surfaces. The heat-resistant compound also makes it a good choice for wildland firefighters.
Vibram 430 soles are only a partial lug, with a smooth outer edge but lug interior. These soles are for the utmost in slip resistance but still offer good enough traction for light outdoor use. These are well-suited for industrial use.
Another good choice for industrial footwear is the Vibram 700, a chevron pattern that offers good slip resistance.
And many more are available besides!
Work boots are, after all, tools that help you do your job. Vibram soles help make that tool work better.