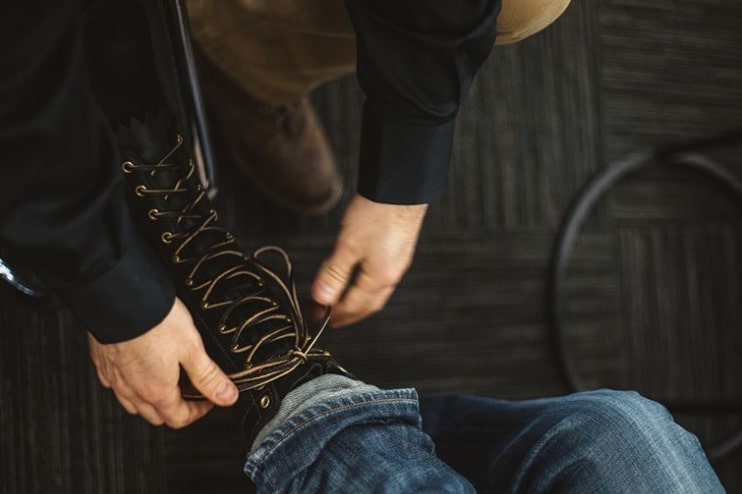 So, you're interested in a pair of Nick's leather work boots? That's an excellent decision. We make some of the toughest, highest-quality firefighter boots and work boots currently available.
Thousands of satisfied customers will tell you so.
Unlike retail work boots, Nick's Boots are handmade. While you can order standard designs from us, our boots are intended to be fitted. You will get the best results from a fitted boot as opposed to a pair you just get in your size. We have an expert team in our boot showroom that can help with the fitting process.
That means you will have to go through the fitting process. However, not everyone is able to complete a fitting the exact same way. Let's talk about what the fitting process is like.
Fitting For A Pair Of Nick's Leather Boots
How to be fit for a pair of leather boots by Nick's Boots requires a number of precise measurements. You will need help doing this; you will not get the most accurate measurements if you take the measurements yourself.
Why is this important?
The closer the boot is to your specific shape and size of foot, the closer the boot will fit your feet. That gives you the utmost in comfort and support, as the boots are made to fit YOU, specifically.
How boots and shoes are made is material is constructed around a foot-shaped mold, called a "last." The typical factory boot maker or shoe maker uses the same last for every shoe made in a particular size. Nick's Handmade Boots has dozens of lasts per size and hundreds in total.
Since we take pains to ensure a custom fit, we add new lasts every year due to the unique shapes and sizes of our customer's feet. While you could just order a pair from us in the style and size you want, you won't get the best results this way since, again, our boots are intended to be made to order.
When you buy a pair of fire, safety or work boots from us, you're making a serious investment in footwear. It's not like getting a pair of Nike's from any store; you depend on your footwear for your livelihood.
Make sure you'll get your money's worth by getting a fitting. How can you do that?
Getting Fit For Your Custom Boots In Person
The easiest is to just come to us and get a fitting in-person for your custom boots. Our showroom is located in the city of Spokane Valley, Washington. Granted, we know that not everyone can make that kind of trip just to get fitted for a pair of boots...but you'd be surprised how far some people have come from to visit us for that purpose!
People who stop in to our fitting showroom can be measured for their custom work boots and an order made right away for the design that they select. We take measurements, and determine the closest last to your feet. We'll bring out a test pair that's made close to your measurements, and have you wear them for a little while to see how they fit.
We then finalize the measurements after fine-tuning the fit, and get to work. In a matter of weeks, you get your pair of Nick's boots!
We keep your measurements on file after your fitting. If you need a rebuild or want to order another pair, we use those measurements for the task.
However, not everyone is able to get to us in Spokane Valley for a fitting. If that's the case, we have some additional options for you.
Visit A Nick's Boots Dealer
Nick's Boots has a dealer network, as we do offer stock models through a handful of retailers. However, being a dealer for us isn't as simple as just signing up and getting some stock to sell to customers.
Since we insist on only making the best possible footwear, dealers have to be able to complete the boot fitting process for made to order leather work boots.
The exact same process you'll go through at our showroom is what you'll go through at one of our official dealer locations. If you want boots made to order, they remit the paperwork to us and we start building your work boots.
If you can't get to a dealer? That's okay! We also offer a remote fitting service. So long as your measurements are recorded correctly, you'll get the same custom fit as you would from our showroom.
Remote Fitting For Nick's Handmade Boots
How a remote fitting works is that we will send you the Nick's Handmade Boots catalog, along with our fit sheet, which you will need to fill out correctly.
Take care to fill it out carefully. You will need to set the fit sheet on a flat, hard surface, and you will need to get someone to help you take measurements. Weight distribution is key to proper measurement, and you won't get it if you take your measurements yourself.
If you need help, feel free to call us! One of our fit experts will walk you through the process over the phone, to ensure accurate measurements.
After your measurements have been taken, fill out the rest of your order form, including your height, weight, boot model and options. We don't stop there, however.
Before we begin making your custom boots, we send you a test pair. The test pair, just like the test pair you'd wear in our showroom, is made to the same specifications your boots will be unless further revisions are needed. You get to wear them and note any changes that you need made before your boots are built.
Once you're satisfied with the specifications and fit, we start making your boots. Unfortunately, the nature of the remote fitting program does mandate that you will wait longer for your pair of Nick's leather boots, but we aren't interested in just making and selling boots.
We want to make the best. That requires a dedication to quality and craft, which you won't find from many other bootmakers.
Start your fitment consultation today, and get into a pair of boots that works just as hard as you do.
You can also call us at 509-483-1248.
Or you can come see us at:
6510 East Sprague Avenue Spokane, WA 99212
Our hours are:
Monday - Friday 8AM - 5:30PM PST.
Saturday 10AM - 3PM PST