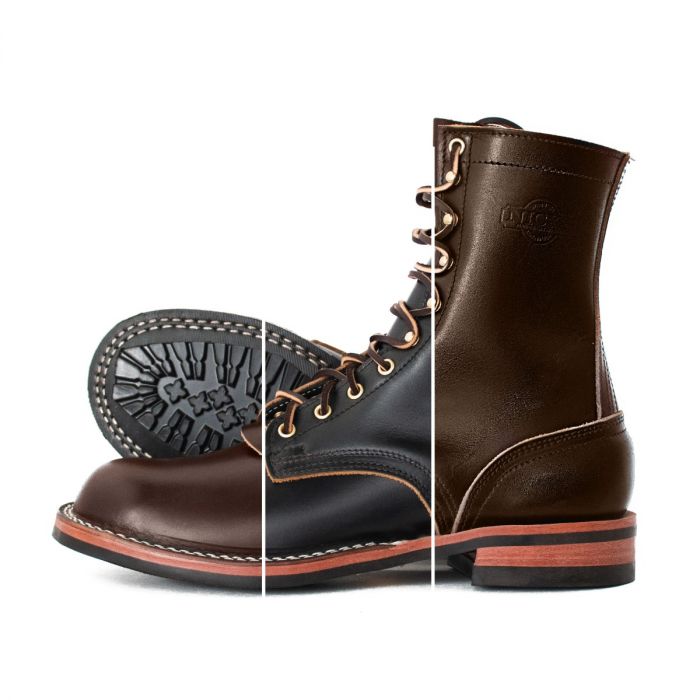 A lot of people buy combat boots, or at least that style of boot, for casual wear and for good reason. They look great, they're more supportive than sneakers but not as substantial as typical work boots.
Nick's Handmade Boots, of course, has a version of this style of boot, which we call the Officer boot, part of our Heritage Boot collection.
However, you might also notice that the Officer requires a more substantial investment than many other popular examples of the combat boot style and wonder if the higher price point is worth it.
That depends on your viewpoint. If all you look at is the price tag, then it might not seem that way. However, if you look at what you get...then you'll notice a number of differences that really start to add up.
Classic Combat Boots And What Makes Them So Great
Whereas combat boots were once just seen as weird for a normal person to wear unless you were a postman or something, they became something of a fashion item in the 70s and 80s.
Over time, the classic combat boot design became more of a casual wear item rather than practical footwear, as have the original brands.
The original combat boot, or at least the classic design you're picturing inside your head, are in fact World War II-era paratrooper boots, made for the airborne forces by the Corcoran and Matterhorn company.
The original was a 10 inch heavy duty boot with brown leather, featuring storm welt construction - a variant of the Goodyear welt optimized for weatherproofing - a smooth sole with minimal texturing, minimal heel drop and a wide toe box for a more natural stride and comfort.
Eventually, the boot was adopted on a wider basis but changed to black rather than brown leather, though it was replaced by the jungle boot for combat deployment in Vietnam.
A similar design was also devised by the Dr. Marten's shoe company, originally founded in Seeshaupt, Germany, but became vastly more successful after the company moved to Wollaston, England.
The classic Dr. Marten's design was a very similar combat boot style but with the addition of a rubber sole with sealed air pockets for their patented "air cushion" sole. It was a hit with factory workers, tradesmen and postal workers.
Both Dr. Martens and Corcoran jump boots were worn by punk rockers and others with an iconoclastic sense of fashion, and through the fullness of time were adopted as casual wear, a far cry from their original purpose as working footwear.
However, people who buy them for fashion purposes typically discover the virtues of such boot designs. They're less clunky than typical heavy work boots, with a modest heel drop and comfortable fit, giving the user good support but still feeling a bit light on the feet.
With waterproofing treatment, such as the original dubbin (a wax compound) used by militaries or boot grease, they make excellent winter boots, but they're light enough to wear almost the whole year.
If you decide to, they also take a heck of a polish, with a high mirror shine on the toe and heel. You can pair them with almost any outfit and meet all but the strictest dress codes.
Practical, comfortable and fashionable...basically the best of all possible worlds. But what sets Nick's Handmade Boots Officer boots apart from other make and models?
Superior Leather, And More Choice In Colors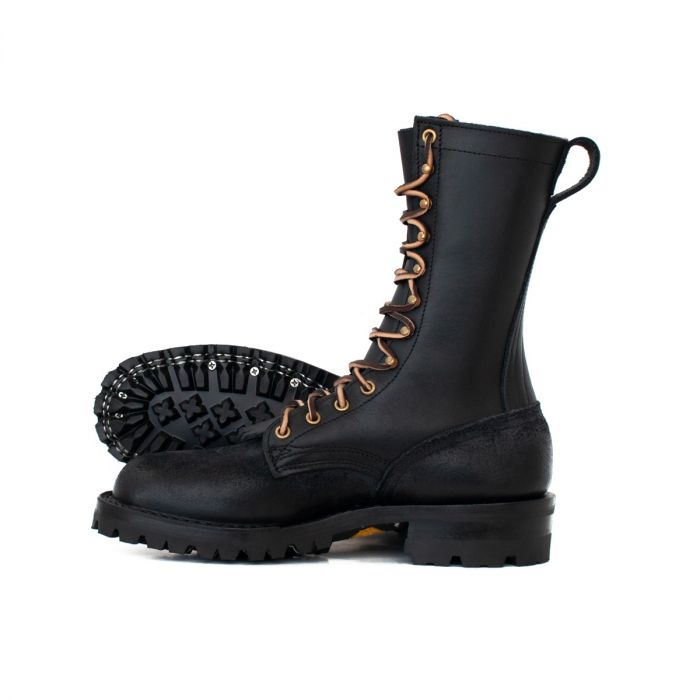 One thing that sets the Officer boot apart from other brands is the leather used to craft the boot.
For our Heritage series, we select the finest leather available, such as English bridle leather from Wickett and Craig, and Chromexcel leather from Horween, among others, and almost exclusively from domestic sources.
You also have far more selection in terms of the color of the leather as well.
While some other brands do get some of the same leather - select models of Dr. Martens are still made with Chromexcel, as are many boots by Solovair, a boot company that uses a very similar design - not all do.
You'll often find the following description: "made in the USA with imported components." While that doesn't mean inferior leather, but it does mean that a compromise was made and often to save a few bucks.
Compromise is not something we're interested in. We're only interested in making the best possible boots for either casual wear or work boots that can possibly be made. Our choice of leather reflects that.
Stitchdown Construction Creates A More Rigid, Less Permeable Footbed
Another key difference between our boots and other brands - and this is reflected in the price tag - is that our boots are made with stitchdown construction.
This construction method has to be done by hand. The upper is crimped outward to form the welt, the strip of leather running around the edge of the boot and joining the upper to the sole.
This increases both build time and cost, but is worth the investment in terms of the structural difference between stitchdown and other construction methods.
For one, the entire footbed is made a little more rigid, giving the foot more support and also making the boot more durable. If you actually use your Officer boots for work or for hiking or hunting or anything like that, you'll notice the additional support as you walk.
Stitchdown construction also creates a tighter seal between the outsole, the midsole and the upper, making it that much harder for moisture or anything else to permeate into the boot.
If you're diligent about caring for your boots with boot grease and conditioner, a stitchdown boot stands up better to the elements.
Other Combat Boots Aren't Rebuildable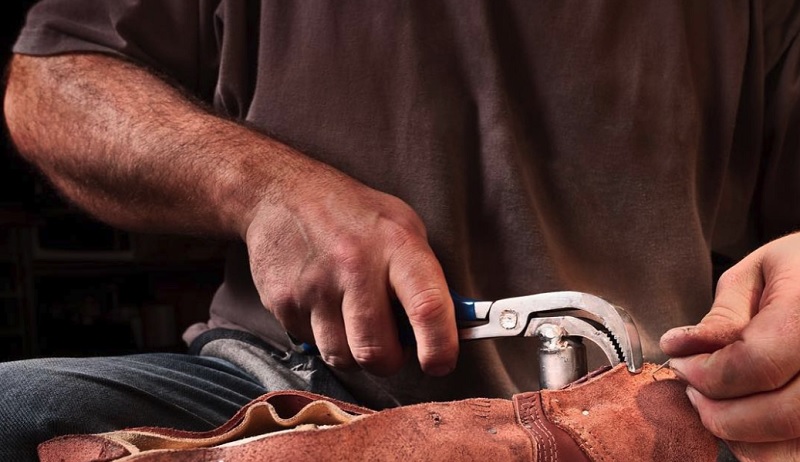 Another difference is that no other combat boot is rebuildable. Plenty are resoleable, but almost none are rebuildable.
Most other popular boot brands that offer something in the combat boot style use either Goodyear or storm welt construction, a variant of the Goodyear welt that seals the upper, midsole and outsole a little tighter compared to a Goodyear stitch.
The benefit of a Goodyear welt, of course, is that the boot or shoe can be resoled if needs be and the construction is largely mechanized unlike stitchdown construction, which is how Nick's Handmade Boots are made.
However, none of the companies that make combat or paratrooper style boots offer complete rebuilding services. Once the upper is damaged, that's it; you have to buy a whole new pair.
We, however, can rebuild them. We have the technology. That is another principle difference between a pair of our boots compared to most other brands; we can and do rebuild our customers' boots from the ground up.
If you take the time to invest in serious quality footwear, you shouldn't have to think about replacing it. You should be able to buy it for life.
So instead of getting a new pair of boots every few years, you can get one pair and have them rebuilt periodically...and keep them for life. If you start by getting a great pair of boots, made to order exactly how you want them, every penny will be well spent.