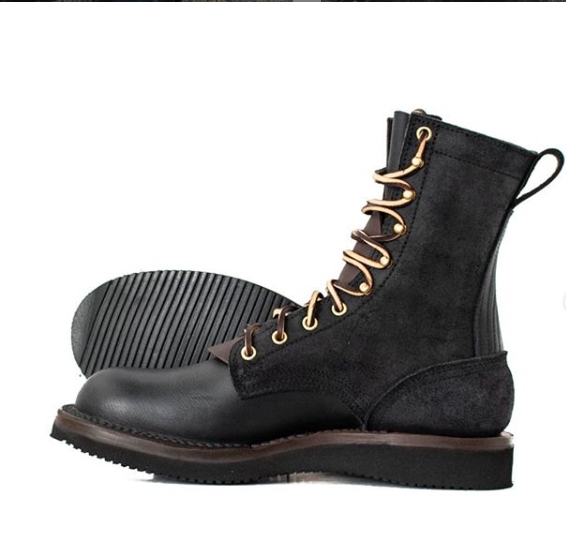 We'll acknowledge something: you might look at our wedge boots and wonder what the difference is between a pair of Nick's Handmade Boots vs a pair of similar wedge sole work boots from another brand.
You might also wonder why spend that much more on pair of boots made by us.
After all, investing in a pair of Wedge Worker or Travelerwedge sole work boots does require a bit more investment than in a pair of, say, Danner, Red Wing or, more to the point, Thorogood boots.
It isn't that they make bad products. They don't.
But what sets a pair of Nick's wedge sole boots apart?
Nick's Wedge Sole Work Boots Are Made With The Stitchdown Method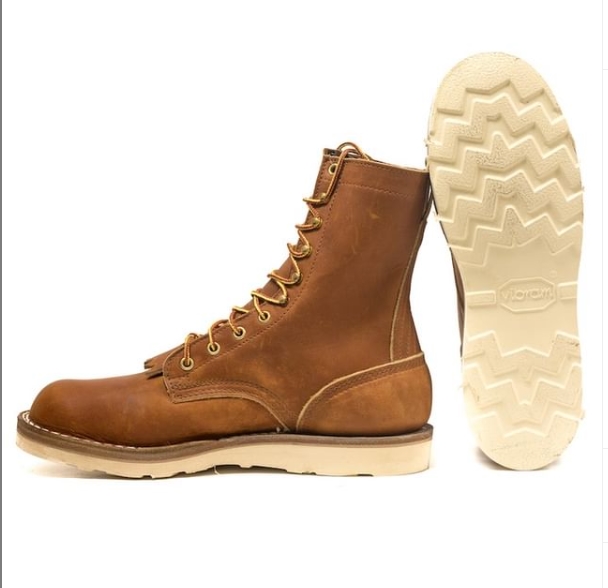 One of the things that sets our wedge sole work boots apart, and indeed sets our entire company apart from others, is our exclusive use of stitchdown construction.
It's an old-fashioned - but rugged - build method for boots and shoes that results in a more durable product with a tighter seal against moisture and debris.
How stitchdown construction works is the upper is pulled down and crimped onto the midsole and then stitched in place. Most boots attach the upper to the midsole and then a strip of leather - called a welt - is stitched around the rim of the upper and onto the midsole.
While the appearance to the naked eye looks the same, it's anything but.
The critical difference is that stitchdown construction involves that many fewer pieces of leather or material being added to the boot. Not only does this provide a better seal against the elements, it also gives the footbed additional rigidity.
Most popular brands of working footwear, including those mentioned, use the Goodyear welt. While the Goodyear welt has many virtues for the consumer (resoleable, solid construction, decently watertight) it's also largely mechanized, making it cheaper for the manufacturer.
That isn't to say a boot made with a Goodyear welt is poor quality. It's not. It IS to say, however, that a stitchdown work boot is built a little sturdier because it's done in an old-fashioned, more laborious way.
Does that add to the expense? Yes, it does. Then again, flat-pack furniture is very cheap and Stickley furniture, made with hardwoods using joinery, is not...but nobody, anywhere, cares about vintage IKEA furniture, whereas a lot of Stickley furniture is in use and decades old.
Not All Wedge Sole Work Boots Are Rebuildable
Another thing that sets Nick's wedge sole work boots like the Traveler apart from other brands of wedge boot is that our boots are completely rebuildable.
Literally every component from the ground up, from the sole to the upper, can be replaced. We rebuild boots for customers all the time. We literally rebuild the entire boot from the ground up, including new upper components or even an entirely new boot if need be as well as the sole.
However, the other popular brands of work boot...cannot.
Danner offers their "Recrafting" program for their USA-made boots...but won't work on a boot with a damaged upper. Red Wing's repair program is basically the same, as is Thorogood's.
In other words, you can get minor repairs and resoling done if it needs to be, but if the upper is damaged in any way shape or form...you have to buy a whole new pair of boots.
Granted, maybe that's not too bad - hey, new boots are exciting! - but it does mean they eventually need to be thrown out.
We don't believe in planned obsolescence, or planned replacement. We believe that you should be able to invest in something and be able to count on it for life. And that's how we build boots to be.
Again, that isn't to say that other brands of work boots aren't good products. The other popular brands of products of this type actually are. It's just to say that we do things a little differently, for a reason.
Our Work Boots Are Custom Made For You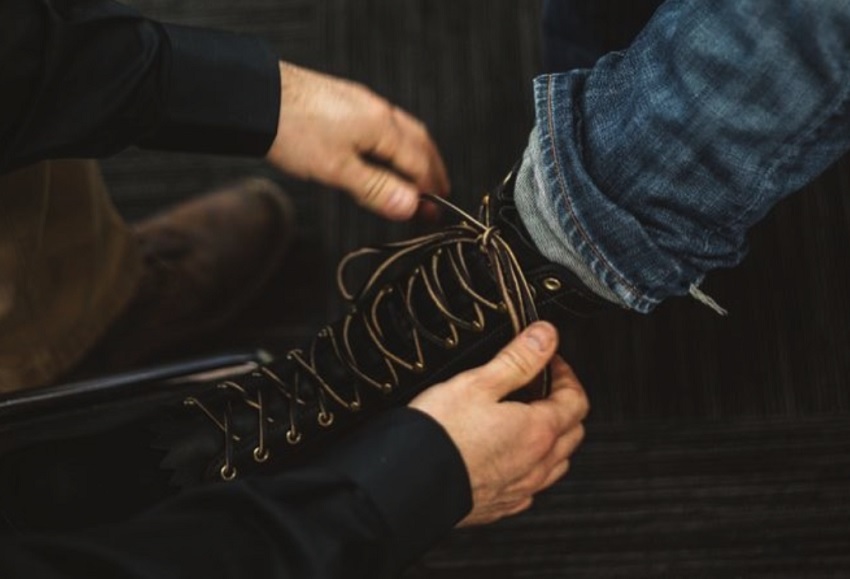 Another difference is that we make work boots to order, for you. While you can order a size, we encourage our customers to go through our fit process.
Based on the measurements of your foot, we select one of thousands of foot lasts from our extensive library. The boot is made to fit your feet, specifically.
That custom fitment gives you support where you need it, to a degree that no other footwear can. This is one of the differences between others and Nick's Handmade Boots. We make our boots to order, not to FILL an order.
And that has been one of the things that's kept our customers coming back for years. That is one of the things that keeps bringing in more tradesmen, loggers, wildland firefighters and lineman to Nick's for a handmade pair of work boots that are made to fit their feet.
Our Wedge Sole Work Boots Give You More Choices
Another benefit of getting a pair of handcrafted wedge sole work boots from us is that we give you a lot more choices when it comes to the build.
Besides the custom fit, you can choose the boot height. The color of the eyelets or hooks, and whether you want all eyes or eyes AND speed hooks for faster lacing.
Your choice of leather, from classic black leather to brown, black or tan Chromexcel, Wickett and Craig English bridle leather...almost any color you could want.
Choice of sole, whether a Vibram 2021 for a bit more traction or the classic Christy Cream sole.
A rolled, cut or standard boot top. A toe cap if you want it, or not if you don't. Your choice of soft, Celastic or steel toe. Edge color.
And so much more.
Since our handmade boots are made to order, we want you to get the exact pair of boots you want, rather than the mere type of boot you want, which is not something you'll get with anything other than bespoke footwear.
Sure, other wedge sole work boots are out there. Some of them are pretty good, to be fair...but they just aren't made the same way, and aren't made exactly, literally, completely for you the way a pair of Nick's Handmade Boots are.