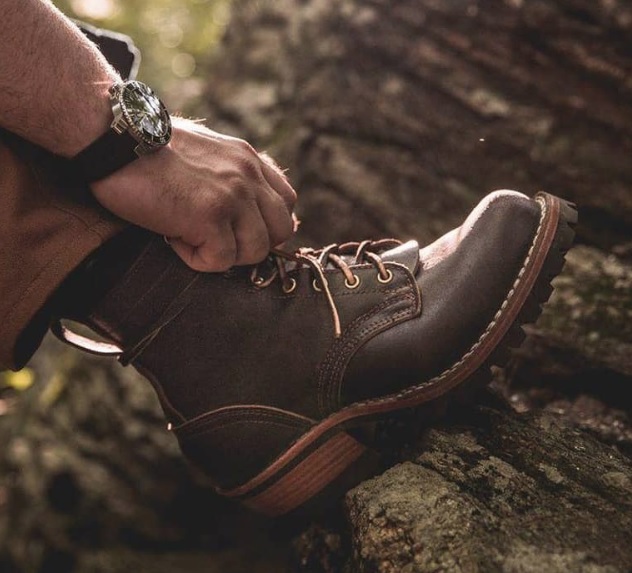 Is it worth the investment to get a pair of casual work boots for everyday wear, winter or for outdoor use if you don't necessarily use them in a trade?
After all, investing in a pair of work boots is absolutely vital for workers in a number of trades. The requirements of the job are such that poor-quality footwear will make you miserable, and can even be dangerous. Wildland firefighters, loggers, linesman and a number of other trades require investment in rugged, dependable footwear.
But what about everyone else? Is it worth investing in high-quality leather boots?
Leather Boots And Value
How do you go about judging "value" in a pair of high-quality leather boots?
You can add up the cost of materials, to be sure. The amount of leather needed to make one pair of boots or shoes isn't really what adds up to the price tag. Granted, quality leather is not cheap, but neither is it overwhelmingly costly. Other components like soles and hardware and so on...really aren't where your money is spent either.
Try thinking about this from a different angle.
A Rolls Royce isn't fantastically different from other cars. It has an engine, wheels, seats and so on. You can get a heck of a Mercedes Benz with most of the same specs for less than half the cost, and other brands of car with all the same amenities as a top-of-the-line Mercedes for half again that cost again.
But people who buy a Rolls Royce aren't buying it because of the materials that are used, or the size of the engine. They buy a Rolls Royce because they're made differently. It isn't just a product churned out in a factory. In fact, most Rolls Royce aren't even bought off the lot; most of their customers order them and THEN the factory makes the car.
It isn't the leather of the seats, the lambs' wool carpets, or the walnut trim that makes a Roller special. It's the craft that goes into all the details that just aren't addressed in the typical Buick.
Sure, you could buy a pair of casual work boots for less...but the price tag isn't everything.
Handmade Boots vs Mass-Production
Handmade boots, like handmade fashion shoes, are an investment you make because you demand a quality item. You want a pair of boots that are going to last, but that also fit and function very well and are of the highest possible quality.
That's why so many wildland firefighters invest in quality firefighter boots. They demand not only the performance in terms of durability and traction, but they also need footwear that protects their feet from injury and wears comfortably enough for them to be on their feet for hours and hours at a time.
While someone who buys a pair of handmade dress shoes doesn't have quite the same definitive need for them, that doesn't mean there's no reason to buy them. After all, you can get dress shoes for $30 or less, why spend $300 or more?
Because you want something better!
It doesn't hurt that well-made fashion boots can also be used as actual work boots in less-than the most strenuous of occupations.
So Why Get A Pair Of Handmade Casual Work Boots?
Essentially, a pair of handmade casual work boots are an investment in an item that is both attractive and durable. People who buy them are prepared to pay the premium because of the craft that goes into their construction and the resulting build quality.
They look good, function well, and - with care - can last a very long time indeed. Quality boots are resoleable and rebuildable, so you could get decades out of one pair.
Would you rather put on a pair of boots or shoes that you feel like you have an actual relationship with? That can be kept working and looking good for the rest of your life? Or do you not care if you replace them every year or two?