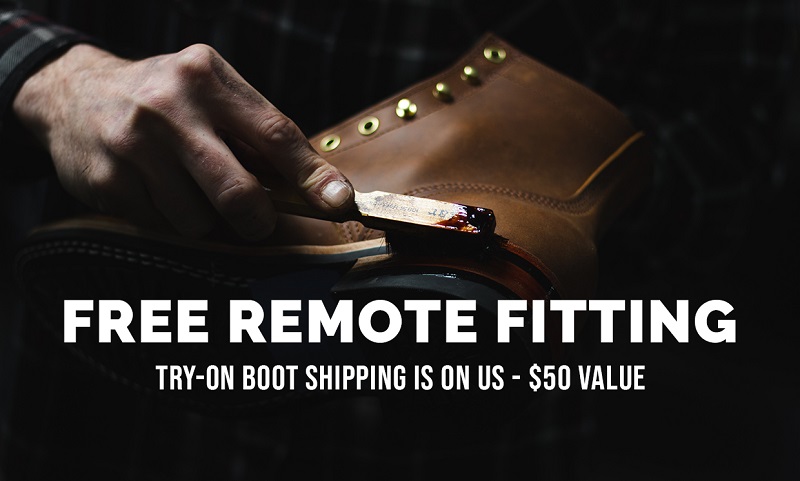 You might have to get your work boots fitted remotely, either due to not being to our shop, an official Nick's Boots retailer, or due to quarantine and shelter-in-place orders due to the COVID 19 pandemic. While we would prefer to get everyone we could into our store for a personalized fitting, it's just not possible.
So how do you get fitted remotely for your work boots or fire boots?
It's not difficult, and you can do it in the comfort of your own home. There are a few steps you'll have to go through, and it's recommended that you have someone there to help you. It's not impossible to do it alone, however.
What You'll Need To Be Fit For Your Work Boots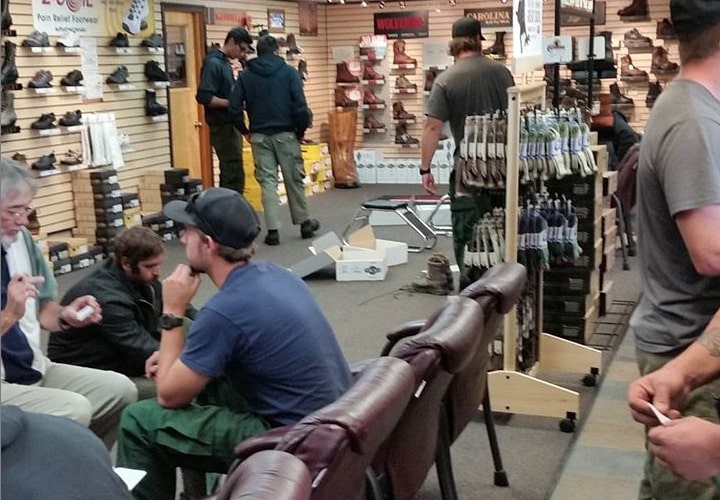 Before you start, there are some things you'll need to be fit for your work boots.
First, you'll need to contact us! You can use the email contact form or call us at 509-483-1248. We're open from 8 am to 5:30 pm, Monday through Friday, and from 10 am to 3 pm on Saturdays.
This will get your order started. We will provide you with a fit-sheet, which is the next thing you'll need.
Some other supplies:
You'll need a cloth tape measure, like the kind used by tailors. Alternatively, you can use string or twine to get lengths and then measure it with a standard tape measure.

You'll need a pen to write things down.

You'll need to wear the socks that you will typically wear with your boots.

It's recommended that you have someone assist you in taking measurements, but you can take them yourself. Just make sure your feet are flat on the floor for every measurement you take.
That's all you need! Now, let's talk about measurements.
Your Work Boots Will Require Tracing Your Feet
You will need to trace your feet to get fit for your work or firefighter boots. This will give us the shape of your feet, which we need to select the last for your boots.
A "last" is a mold of a foot, which the boot is constructed around. When we say your boots will be made for your feet, we aren't kidding. We have a library of hundreds of lasts, which gets added to fairly regularly as more and more people are fit for their boots. We haven't found anyone we couldn't fit yet.
Foot Measurements For Your Work Boots
You will also need to take measurements of your feet.
First, the length of your feet from the back of the heel to the tips of your toes. Wear the socks you'll wear with your boots, and record the measurement for both feet.
First, you have to measure the circumference of the ball of the foot for both feet. Place one end of the measuring tape behind the first knuckle of the big toe - where it connects to the foot and go diagonally across the foot, crossing the first knuckle of the pinky toe, and then wrap around the ball of the foot until you get to the start of the measuring tape. Record the measurement for the right and left foot.

Second, you must measure your instep. Feel the bones of your feet, and you'll find where the bones of your lower foot connect to the bones of the upper foot.

Go a little further forward, and you'll feel a knuckle. Just like you measured the ball, measure the instep there diagonally, finding the knuckle leading to the big toe down to the knuckle leading to the pinky toe, then across the bottom of the foot. Record this measurement for both feet.

You'll also need to measure your heel. Wrap the tape measure around the very top of the foot, directly in front of the ankle, and around the middle of your heel. Record this measurement for both feet.
Now we need to measure your calf.
Measuring Your Calf For Your Leather Boots
To measure your calf for your leather boots, we need the circumference of the calf at various intervals.
Measured from the bottom of your heel, we need the circumference of your calf at heights of 6, 8, 10, 12, 14, and 16 inches. This gives us the measurements of the calf that allow us to make the shaft of the boot to fit you. Again, you should be wearing the socks that you'll wear with your boots.
When you submit your measurements, we'll also ask you some questions about the boots you're currently wearing, and whether they're too loose, too tight, too narrow, too wide and so on.
Then We Start Making Your Work Boots
After we've received your measurements for your work boots, we start making the order. Unlike other boot makers that just make boots to specific sizes, we make your boots based on your measurements, so that they fit you exactly.
We'll send you a pair of boots built to your specifications as a trial pair. If further revision is needed, send them back and tell us what still needs to be done. If not, then you have your pair of Nick's Handmade Boots.

Then we either ship it to you or arrange for pickup from our boot shop.
Please be aware that during the COVID 19 quarantine that we will need to make arrangements for pickup. Get in touch with our customer service team and we'll set it up IF you're in the area. However, if you're not, please allow us to ship them to you.
However, if you happen to read this years later when the disease has run its course and things are back to normal, you should be able to come in for a fitting without issue.
But that is how you can get fit remotely for a custom pair of Nick's Handmade Boots.