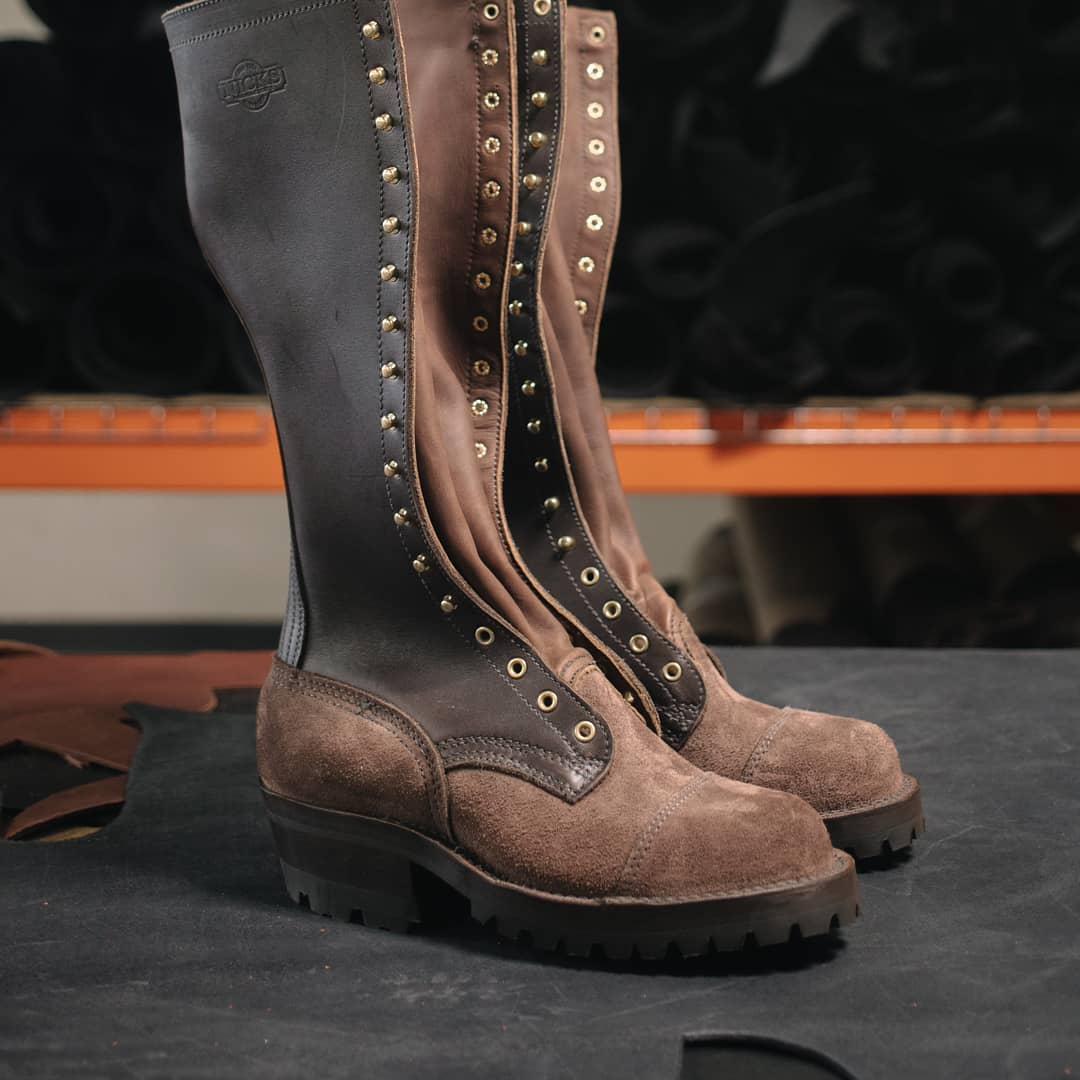 If you work in an office, you really aren't going to wear calf-height leather boots...unless of course your office is in a walk-in freezer or you just like suffering. If you're a logger, a 6-inch boot is not going to offer you the kind of ankle support you need for working on the side of a mountain.
Is there an ideal boot height? It's more that there's a good boot height for certain applications. If you're going to invest in a pair of quality leather boots, you should pick the right boots for the intended purpose.
How Do I Know How Tall A Pair Of Leather Boots Are?
There are two ways to measure boot height in a pair of boots that you're looking at. First is by eye, and the other involves getting a tape measure. Boot height, of course is a measurement from the mouth of the boot to the bottom of the heel; to get the actual measurement, you need to actually measure them.
To measure by eye, look at the number of eyelets. The more a pair of boots has, the taller they are, so this will tell you the boot height in most cases.
As a general rule, 7 to 8 eyelet shoes or boots are 6-inch boots, and 8 to 9 eyelet boots are 8 inch boots, which are very common from casual boots to some work boots. Most serious work boots are 10-inch boots, so they will have 10 or more pairs of eyelets.
However, the equation changes when the upper has lace-to-toe construction. Lace-to-toe boots have eyelets all the way to the toe box, which usually adds another 2 to 3 pairs of eyelets, depending on the boots in question. That said, lace-to-toe boots tend to be heavy duty work boots, so if you're buying a more casual pair for day-to-day wear, that's not going to be a feature you're likely to encounter.
So let's talk about common boot heights, and what they're generally best-suited for.
6 Inch Leather Boots
6-inch leather boots give you ankle support that you don't get from leather shoes, but not quite as much as you would get from 8-inch or 10-inch boots. Now if you aren't doing something that doesn't require a lot of ankle support, that doesn't really matter and as a result, 6-inch boots are a great choice for casual wear.
You can wear your boots to the office or with a suit, and put them back on to work in the yard or hike your favorite trail. A 6-inch boot is good for lighter manual labor, though not the best for harder jobs.
They don't get too hot when worn indoors, but are good for almost anything that doesn't require more rugged footwear. A great all-around choice, so long as you don't need serious support. Think of them kind of like a Subaru; you can do just about anything with one so long as you don't need the ground clearance and four-wheel-drive system of a serious truck.
8-Inch Boots: Just Casual Enough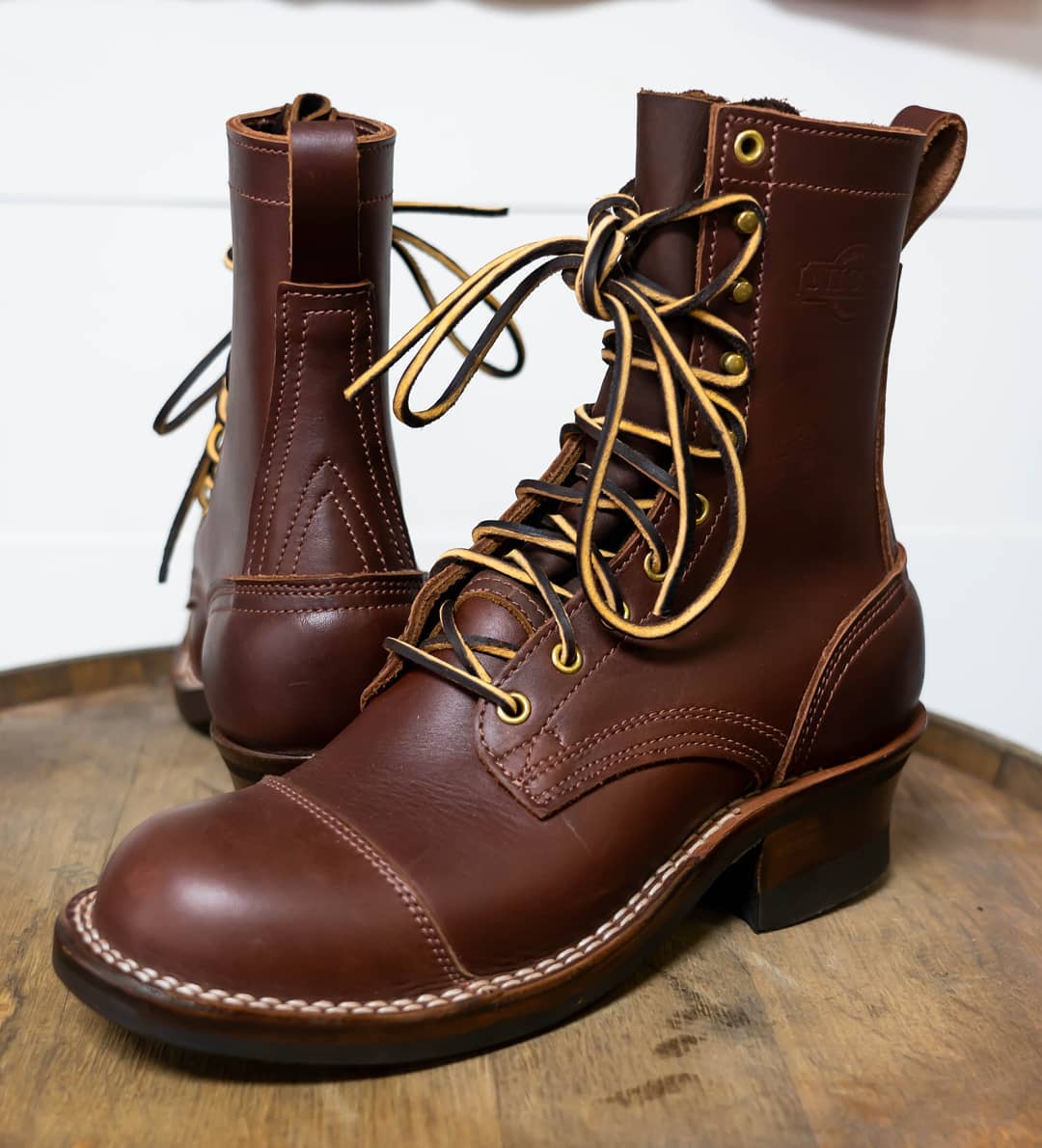 8-inch leather boots are kind of like a Jeep with leather bucket seats and a good sound system. They're comfortable enough for the suburbs, and can handle almost anything you can throw at them...but some people find they aren't the best choice if you aren't going to use the off-road capability.
8-inch boots are a compromise between the 10-inch plus boot height (which is really for working applications) and 6-inch boots, which are really more for casual wear. There's good ankle support, and you can do everything you'd want a pair of boots to do.
The only drawback is that 8-inch leather boots are going to get a bit too warm for the office environment, so you're not going to be the happiest with them if you're driving a desk for a living. You'll love them when you get off the beaten path or do some heavy work, though.
If you work on your feet, but need a bit more flex in your footwear, they're a great choice.
That said, if you find that your lifestyle is a mix of heavy and light activity...8-inch boots do it all well.
10-Inch Boots Are For When You Need Serious Support
10-inch leather boots get miserably hot if you're sitting all day, so they aren't a good choice for desk jockeys. For most people who do some sort of trade or manual labor and need ample support in the foot, ankle and lower leg, there's a reason most serious work boots are 10-inch boots or taller.
Solid ankle support is definitely needed for people who work outdoors, or people engaged in outdoor adventures like backcountry hunting or backpacking, as you need ample support for the logging site or wildland fire ground, or rucking up and down the mountains chasing elk in the Rockies.
If you need a seriously rugged boot, go big or go home.
Get The Right Leather Boots For You, And You'll Love Them
Just like with anything else, if you're going to invest in something you might as well invest in something that's a good fit for you and your lifestyle, or else you'll either get hardly any use out of it or won't enjoy it when you do.
If you only really drive on the highway or city streets, and don't really go off road, a Jeep Wrangler is not the best car for you to buy. If you regularly tow a trailer or a boat, and drive up logging trails all the time, an all-wheel-drive minivan is probably not going to be a good pick.
And so it is with choosing a pair of high quality leather boots.
If you're mostly going to be wearing them in and out of the office, with a bit of light working or hiking here or there, you probably don't need a pair of 10-inch logger boots and most likely aren't going to be too happy wearing them at a desk. By contrast, an actual logger is not going to get the support and traction they need from a pair of 6-inch boots with a mini-lug sole.
Get the right pair of boots for you, and you'll get every penny you spend on them in enjoyment and comfort.