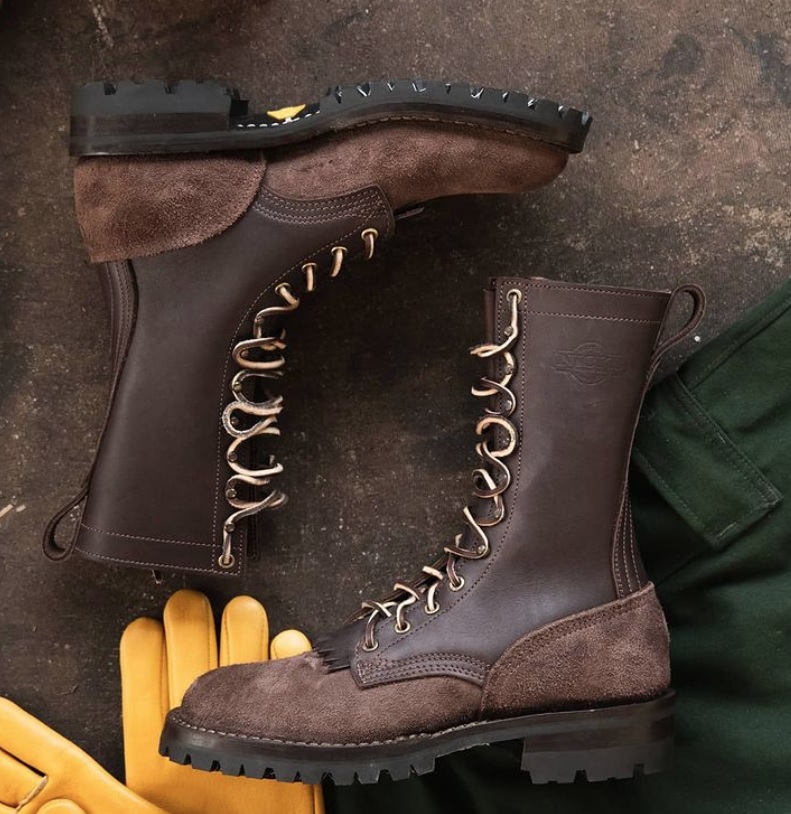 Wildland fire boots are a little different than the traditional bunker boots that most people associate with firefighting.
The classic firefighter boots are pull-on rubber boots. Granted, they are a LOT heavier duty than that! However, that's what the typical modern firefighter boot is.
Wildland firefighter boots, however, are and must necessarily be much, much different. While wildland firefighters do the same general activity - fighting fires - but it's a vastly different job in terms of terrain, and gear and activities in the line of duty.
So, what are wildland firefighter boots made of? Let's start from the ground up.
Vibram Red X Fire Lug Soles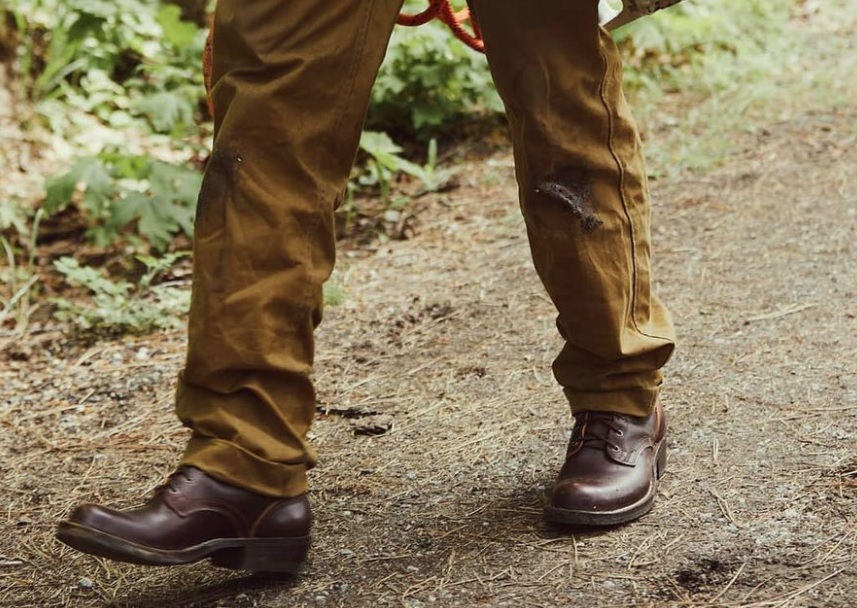 Wildland firefighter boots start with a lug sole that's made with materials that can stand up to the heat of the fireground without melting, and one of the most dependable is the Vibram Red X Fire Lug outsole.
Vibram Red X soles are made from a custom compound that's vastly more heat-resistant than typical rubber or polyurethane, able to withstand heat in excess of 400 degrees Fahrenheit without melting.
The Vibram Red X product line includes a number of different tread patterns, but wildland firefighting boots tend to have a classic Vibram lug sole made using the Red X materials.
The aggressive tread pattern is necessary for getting traction on broken ground, especially if it's muddy or slick with chemicals or water.
Vibram Red X soles are, however, known for wearing a lot faster on hard concrete or asphalt, so it is a softer compound than traditional rubber. However, they provide amazing traction in rugged terrain.
It's a lot like a lug-soled work boot or logger boot in that regard, except made with a sole that's made for fighting fire.
Fire-Resistant Stitching
Fire boots have to be able to be worn doing hard work in hot environments, so the stitching cannot come undone or be weakened in any way by proximity to fire. That's why a firefighting boot needs to be made with fire-resistant stitching.
The common material used is self-extinguishing thread such as Technora. Technora is a polymer fiber, similar in structure to silk or fine wool, made to resist water and to be thermally stable in a wide range of temperatures.
Technora and similar synthetic threads are used in fire gear and in other applications where stitching has to endure a great deal of heat stress. When your life literally depends on you being on your feet, your boots cannot suffer a failure, pop a stitch or have the soles separate...at all.
Quality Leather For Durability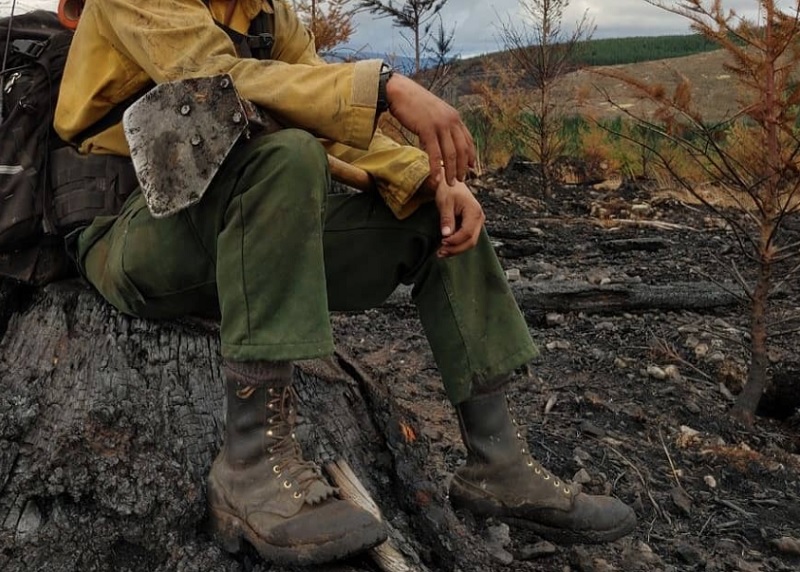 A well-made wildland firefighter boot is going to be made of premium vegetable-tanned leather. You can get smooth, but roughout leather is preferred given that it takes a beating and doesn't show it.
You want heavy-duty leather, typical 7 to 8 oz hide. Thick, so it gives the boot structure.
Vegetable tanned leathers are stiffer, as the natural tannins create a harder surface on the material compared to chrome-tanned and certainly chrome-tanned and hot oil-stuffed leathers. They're fine for a lot of working roles, but not firefighting and other hard outdoor trades.
Quality leather, of course, also demands care, and especially if your boots are going to be facing the rigors of fire season. Make sure you also invest in a quality boot grease.
The gold standard for firefighting boots, of course, is by Obenaufs, which was invented BY a wildland firefighter for use by wildland firefighters. It keeps the leather in great condition, and protected against water, muck, grime and chemicals from fire retardants.
Designed With Hard Work In Mind
Quality wildland firefighter boots are work boots that have to function in an extreme environment. However, that doesn't mean that the need for comfort and function is diminished, at all.
A quality pair of wildland firefighter boots have a heel and footbed structure that absorb impact, keeping your feet from taking a beating. The footbed will have a shank that provides arch and heel support, so your feet are reinforced in these areas.
The toe box will be wide, so the forefoot and toes can flex and allow proper footfall and propel you forward.
A serious work boot that's made correctly will take a good amount of time for break-in, as you are literally molding the footbed to your feet. That's why it's a good idea to order your boots a good month or two BEFORE fire season.
But a boot that doesn't have that support, and doesn't require that break-in period...is not going to last through a heavy season. It isn't going to give you the support and comfort you need to keep you on your feet during long days on the fire line.
And that's the difference between a well-made firefighting boot and one that wears out halfway through the season...and makes you miserable. Invest in the right pair, and you'll get more than your money's worth from them over the course of a fire season.