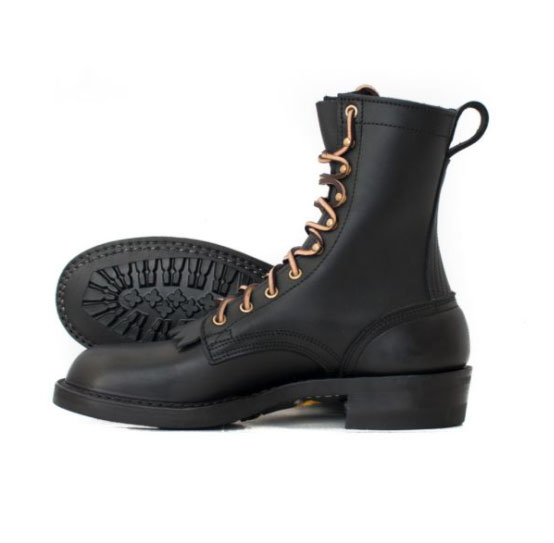 Outdoor work boots have to give you all the support and comfort that a standard work boot provides, but stand up to the elements and keep solid traction at all times.
To do that, a boot has to have solid construction with quality materials, and have a rugged outsole that will keep you on your feet no matter what season or terrain you're in.
There are a lot of work boots that do all of those things well...and there are some that aren't as good at it as others.
What are the best outdoor work boots from Nicks? Here are some of the best.
Overlander Outdoor Work Boots
The Overlander work boot is a time-tested, classic outdoor boot design that's perfect for work or general outdoor use.
The Overlander is an 8-inch boot with a Vibram V-100 lug sole, which is a classic outdoor and work boot design. Look at any other boot company and you'll see a pair a lot like them in appearance...but not quite in the build quality.
You have your choice of Walnut, Brown or Black oiled 7-8 oz leather, which is easy to care for and keep in like-new condition. It's easily waterproofed with a heavy-duty boot grease.
The boots are hand-built with our HNW last for a generous toe box and ample arch support, with a footbed of oak-tanned leather which will provide the foot support and comfort you need for longer than most other boot brands.
It's a time-tested design, with improvements to give you more support, comfort and a longer service life than any other boot like it can.
Builder Pro: The Best Pair Of Leather Work Boots Money Can Buy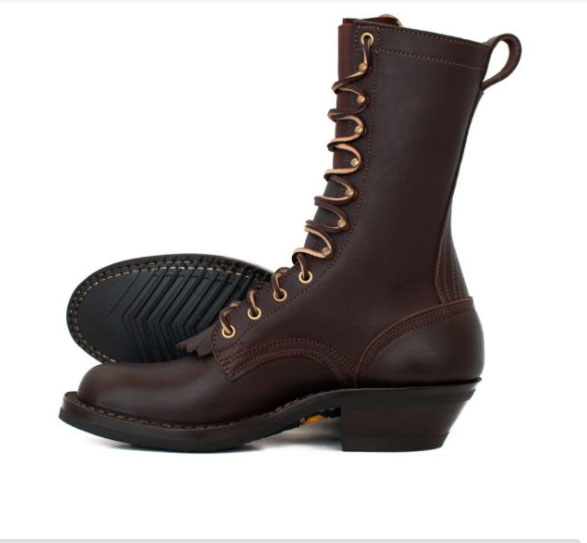 Our Builder Pro leather work boots have a reputation as one of the best work boots money can buy.
The Builder Pro is a logger-style work boot, and a lot of foresters here in the PNW swear by them. They're a rugged pair of leather boots that deliver in all seasons, in all terrains, and make a great work boot for any purpose.
The logger heel profile gives the heel more support when walking uphill or carrying heavy tools, which makes it a great choice in natural terrain. The extra material also acts as a shock absorber, keeping your feet from taking hard impacts making them great on concrete too.
The larger toe box compared to Western-style toe designs (such as a packer-style boot) gives the toes and forefoot plenty of room to flex naturally, vital for being able to stay on your feet all day.
Stitchdown construction and an oak-tanned leather footbed give the boot structural rigidity, and the Vibram V-100 gives you all the traction you'll ever need and more on any surface and in any weather condition.
Like all of our work boots, our 7-8 oz heavy duty leathers are oiled leathers, which are easier to care for and keep water-resistant with use of a quality boot grease.
The Urban Logger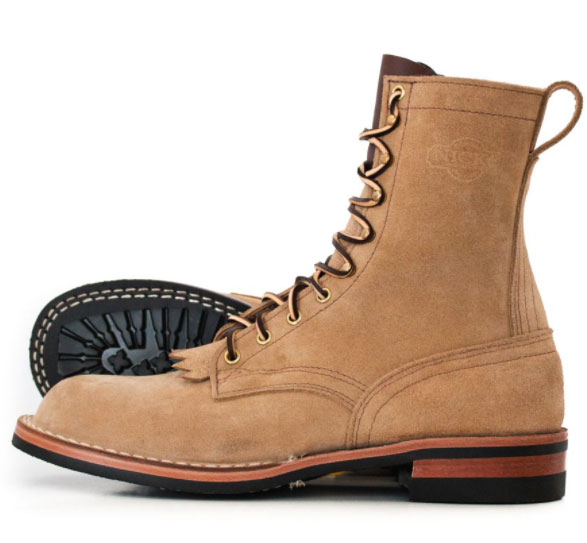 If you prefer or only need a 6-inch boot - as not everyone needs or wants an 8- or 10-inch boot height - our Urban Loggers are a great choice.
The Urban Logger is a 6-inch version of our Builder Pro, which can be made to order with our Heritage boot leathers or in our Heavy Duty leather for work boot applications.
Just because they have a casual look doesn't mean they're casually built. All of our Heritage line of boots are handmade, with the same construction techniques and materials as our work boots. Stitchdown construction, with a tanned leather footbed, with glue, nails and screws securing the Vibram V-100 sole to the boot.
The Urban Logger is a heavy duty boot for literally any use, including working outdoors. If you don't feel you need a full 8-inch boot or taller, but still need a rugged boot with ample arch support and traction, they don't get any better.