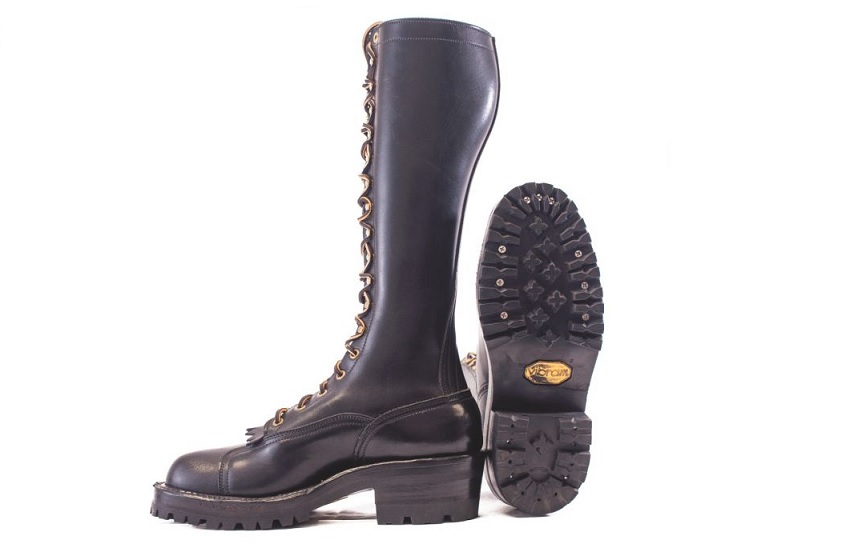 Lineman boots are a special type of working footwear for people who do specific jobs. Obviously, lineman - people who work with power lines, phone cables and so on - are the most frequent user. However, they are also preferred by people who climb regularly as part of their job, such as aerialists, loggers and also some motorcyclists.
What sets these boots apart from other designs?
Lineman Boots Must Be Able To Climb
Lineman boots are made for people that regularly ascend ladders, power poles with climbing spires, and other structures on a daily basis. This imposes certain requirements.
The boot must be solidly constructed as a stable platform for the foot is absolutely critical.
The sole must be of heavy and durable construction. It has to stand up to use and abuse on rough surfaces and also abrasion.
A lineman boot must also have a higher arch than a typical work boot, as the mid-foot is used heavily in climbing. The arch must also be resistant to slippage as well.
How Are Lineman Boots Made?
The typical lineman boot is also much taller than the typical work boots. Most work boots are 6 inches to 8 inches tall. This provides ample ankle support and helps protect the upper foot and lower leg. Lineman boots are often 12 inches tall or taller. Ours is 16 inches tall, but some companies make them as tall as 32 inches. That's all the way to the upper thigh!
Therefore, the typical lineman boot encloses and protects the calf and shin. It gives the lower leg that much more protection.
Granted, a maker of custom boots may also offer shorter or longer lengths, so you may be able to get them as short as 8 inches or as tall as 16 inches. However, if getting a pair of lineman boots that fit over the calf requires that you must be fitted for them. This is crucial for the boots to wear properly and for you to be comfortable while wearing them.
Lineman boots also feature a wider, thicker shank. This creates a more stable footbed for the utmost in foot support, which is of vital importance while climbing.
In short, serious work boots for specific and serious work.
For those in the lineman, arborist or logging trades, having anything less than a pair of sturdy, quality boots is unacceptable.