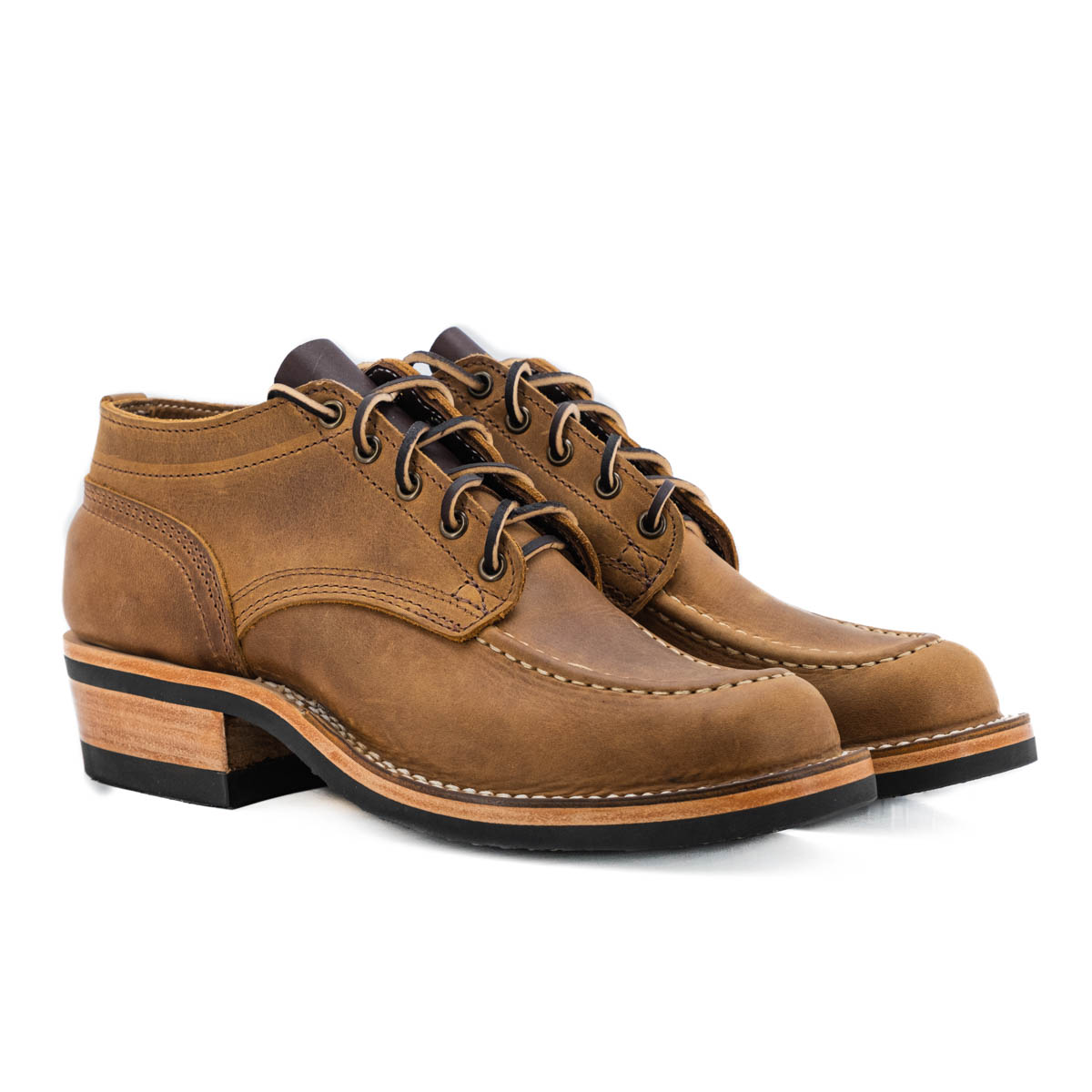 Moc toe boots can be more comfortable...if they're made well! What makes a boot comfortable tends to be how it's built and how well they fit your feet, rather than the design of the boot itself.

There are a lot of different companies making work boots but just because a pair is made with a particular design - logger, packer, what have you - doesn't mean the style of the boot makes them more comfortable.

Moc toe boots have a reputation for being very comfortable, but it has more to do with how the popular brands of moc toe boots are made (materials, construction) rather than just the toe design itself. Let's get into why.
What Is A Moc Toe?
A "moc toe" is a moccasin toe, meaning a boot (or shoe) that resembles a moccasin, or at least the classic two-piece "moccasin" shoe design. Actual moccasins and their various designs is a whole other boot shop, so to speak, but suffice to say they aren't anything like driving shoes.

The "moccasin" toe common to various shoes and boots is a two-piece toe box. The toe box - called the "vamp" - is made with a flat piece on top, stitched to a piece that wraps around the side.

Think of it kind of like a box with a removable top. You put the top on, then stitch them all shut with a crimp around the stitching, creating the signature U-shaped ring around the vamp.

Moc toes became popular with a few different shoe and boot styles, including casual slip-on shoes like driving moccasins and penny loafers - like a certain shoe brand that shares a name with deep-fried cornbread - and a particular style of work boots.

Specially, moc toe work boots. Moc toe work boots started as a regional style in the upper Midwest (sort of like logger boots in the Pacific Northwest) that caught on nationally. The classic examples, of course, are the Red Wing 875 and 1907 boots, and of course Thorogood moc toe (originally named the Hike'N'Camp) work boots.

As more people started to wear those boots for work (and casually) there was increasing demand for such boots. Today, dozens of different companies offer moc toe boots...though not all are created equal!
Are Moc Toe Boots Comfortable?
Moc toe boots aren't more comfortable because they have a moccasin toe; moc toe boots are more comfortable when they're made to be comfortable. If anything, they might become less comfortable without the appropriate care and more on that soon.

Moc toe boots are believed to be comfortable for a few different reasons.

First, the classic moc toe work boot is made with oiled leather rather than vegetable-tanned leather, which gives them a softer feel and shorter break-in period.

Second, the classic moc toe work boot uses a solid rubber wedge sole, such as the Christy Creme sole or a clone or copy thereof.

Wedge soles take a lot of impact out of walking on hard surfaces, which makes them very comfortable to wear and walk around in. Another feature of wedge boots is a relatively minimal heel drop; they feel a little "flatter" kind of like a pair of tennis shoes. That's why so many people like them!

The thick wedge sole, combined with a more neutral feel when wearing them, makes a pair of work boots feel a lot less substantial, which is why so many people like them. Add a half-way decent build, meaning a welted or stitched construction with a good footbed, and you've got a solid boot that feels closer to a shoe than a boot.

So it's not really that the moc toe makes a boot comfortable; it's that a comfortable boot is comfortable. It just so happens that the classic moc toe work boot is quite comfortable to wear!

Or can be…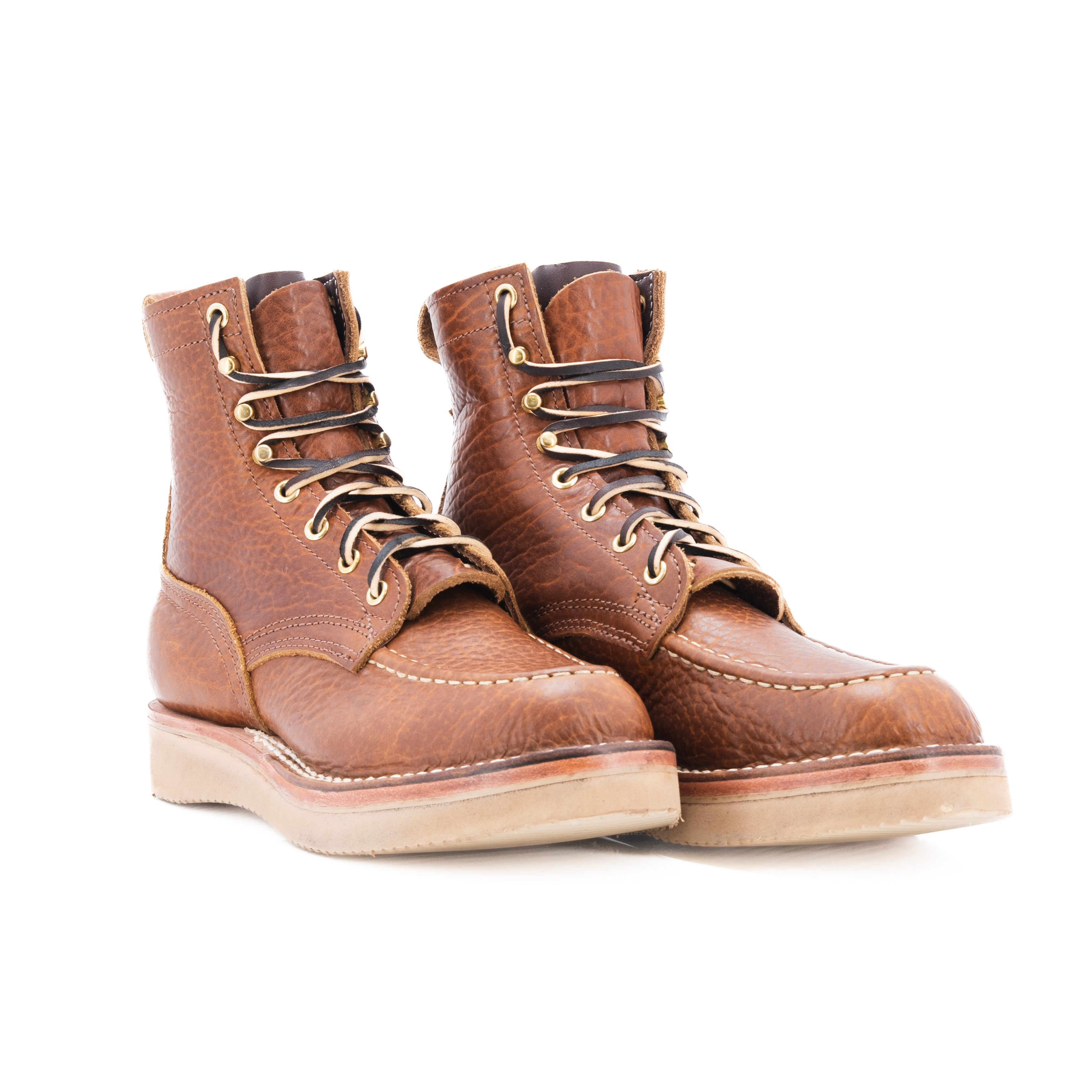 What They Don't Always Tell You About Moc Toe Boots
However, moc toe boots can sometimes come with some issues that don't always get discussed.

First, the two-piece toe box can actually leave less room for the toes. The extra stitching can make a moc toe boot slightly narrower from side-to-side and top-to-bottom.

If you have wide feet, make sure you try on a pair before you buy to see what your size will be like...or better yet, make sure to get your moc toe boots from a bootmaker that can get you fitted for yours.

Another classic issue is that the toe box will lose structure over time if the company that makes your boots uses thinner leather. Using shoe trees when not wearing them, however, can help a lot in this respect.

A lot of popular moc toe boots don't have much arch support, because the footbed is made to be rather flat instead of adding material to support the arch. A lot of people wind up having to add arch support insoles to a lot of the popular boot brands to make them comfortable enough to wear all day.

So if you need a bit more arch support, make sure to look for a bootmaker that builds the arch support into the boot. That will ensure a greater degree of comfort while wearing them if you're spending all day on your feet.

Ultimately, comfortable boots are comfortable; a particular boot style is not. That takes a boot company that builds their boots to be comfortable and supporting all day, every day, doing the hardest possible jobs.