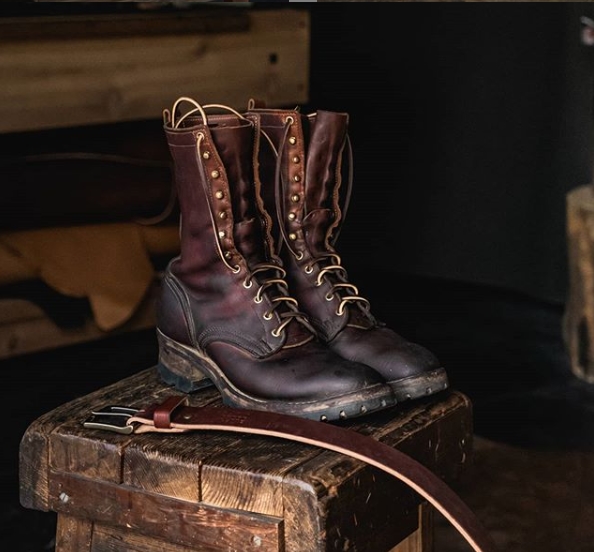 If you're going to invest in quality leather goods and especially boots, you should invest in some boot care and/or leather care accessories so you can take care of your investment.
Whether it's a pair of high-quality work boots, fashion shoes or even a high-quality leather laptop bag, you want to take care of it. The great thing about quality leather is if you take care of it, it lasts for life.
Or maybe even can be rebuilt by the manufacturer, if they offer shoe or boot rebuilding.
But what are those accessories? There are a ton of them on the market, but there are some absolute can't miss/must haves that will definitely extend the life of your boots or shoes.
Yes, it's extra money on top of what you spent on them, but if you invest in a few boot care accessories and supplies, your boots will stay in great shape for years to come...and so will your feet.
Here are 6 absolute must-haves for anyone who wants to take care of their leather footwear.
The Foundation Of Boot Care Starts With Boot Grease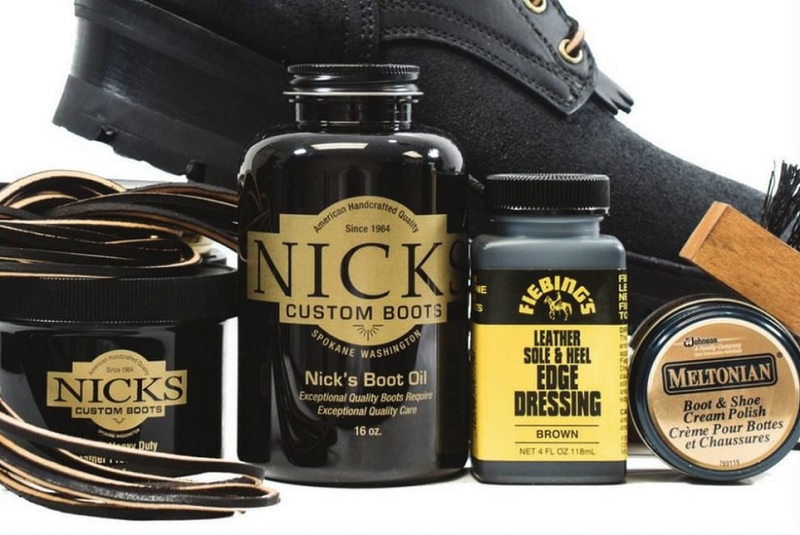 One of the absolute must-haves is boot grease, which is a preservative, conditioner and sealer all in one. There are plenty on the market, but most people have one they swear by.
Boot greases are a wax-like compound. Typically they're made with beeswax along with a secondary compound such as propolis, in the case of Obenauf's, pine tar resin in the case of Huberd's Shoe Grease, or paraffin wax in the case of some other products.
We recommend Obenauf's. Obenauf's was developed by and for wildland firefighters, and provides superior protection against grit, grime, harsh chemicals, water and almost anything else. It will stand up to casual wear without issue.
Horsehair Brushes
For cleaning, buffing, or polishing...you should get a few horsehair brushes. The good news is you can find them in most department stores; typically Kiwi brand stuff is everywhere including their brushes, so you shouldn't have a problem finding one.
Besides cleaning, they're also very good for applying oils or other leather conditioning products, as you can buff the compound into the leather. You can also put a bit of a dull shine on oiled boots with one, if you aren't going for that high mirror shine that so many love.
Leather Oil
A good leather oil is also a must have, as regular applications will help hydrate and nourish the leather of your boots.
As with boot grease, the leather oil we recommend is made by Obenauf's, a proprietary blend of oils and beneficial compounds proven to work in the harshest conditions imaginable.
What leather oil does is penetrate the surface of the leather, and surrounding the cells in the leather with a layer of fats. This helps to preserve the leather, but also keeps it from drying out or cracking.
Look for a natural product, such as either a blend of natural oils and ingredients, or other known leather conditioners such as neatsfoot oil. Mink oil can be detrimental to some leathers, so it's a good idea to stay away unless the manufacturer specifically recommends it.
The done thing is to apply boot grease sparingly, perhaps every month with heavy use or a few times for casual use, but apply a light coat of oil regularly for best results.
Soft Rags, Q-Tips And An Old, Clean Toothbrush
You probably have some of the best tools for boot care, in that it's a good idea to have some soft cloths or rags and an old toothbrush or two in your boot care kit.
Toothbrushes are the best tool for cleaning the welt of your boots, which you want to make sure is cleaned as well as the upper after hard use.
Speaking of the welt, it's also a good idea to have a few Q-tips on hand. They're the b
Cedar Shoe Trees
You might think of cedar shoe trees as being only for posh dress shoes, but they're actually good to have for hard working leather boots as well. In fact, they're absolutely necessary for work boots that see hard use.
Cedar is a particularly porous wood, but is also quite aromatic. Why this matters for footwear is that cedar shoe trees absorb moisture and help to deodorize the footbed.
If you've been on your feet and working like a dog all day...you'll have sweated in your boots. A lot. That sweat goes into your socks, but also into the footbed.
That sweat includes bacteria, which not only creates a smell powerful enough to knock a buzzard off an outhouse, but that can also give you a fungal infection.
Cedar shoe trees absorb sweat and moisture, making the interior cleaner, but also helps prevent boot odor. You'll appreciate it...and so will everyone you live with. That also cuts down on damage to the insole and footbed caused by foot sweat.
It also helps preserve the shape of the toebox, in case you're worried about appearances.
Saddle Soap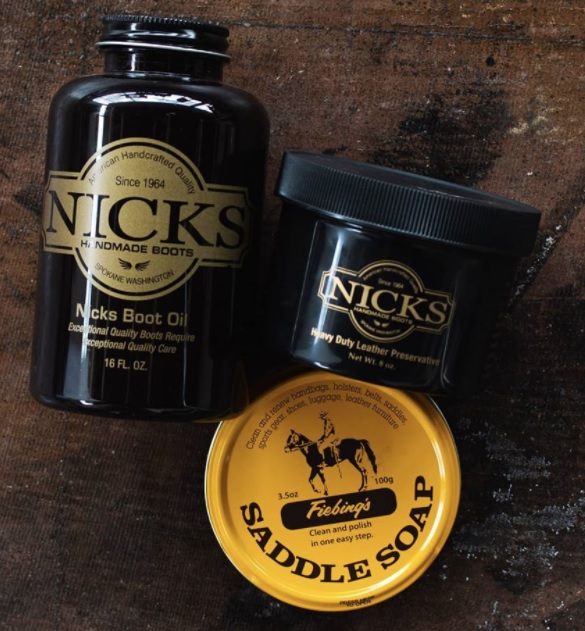 Another must-have is saddle soap, a cleaning and leather preservative compound that's been used for cleaning both working leather (tack) and fine leathers for decades.
Saddle soap creates a creamy lather that helps to wash dirt, muck and grime away, but doesn't require rinsing. The soap is a lipid (fat) rich compound that helps to nourish and moisturize the surface of leather goods, much like leather oil.
You scrub your boots, and simply wipe it all away with a clean cloth. Then apply the nourishing compound of your choice.