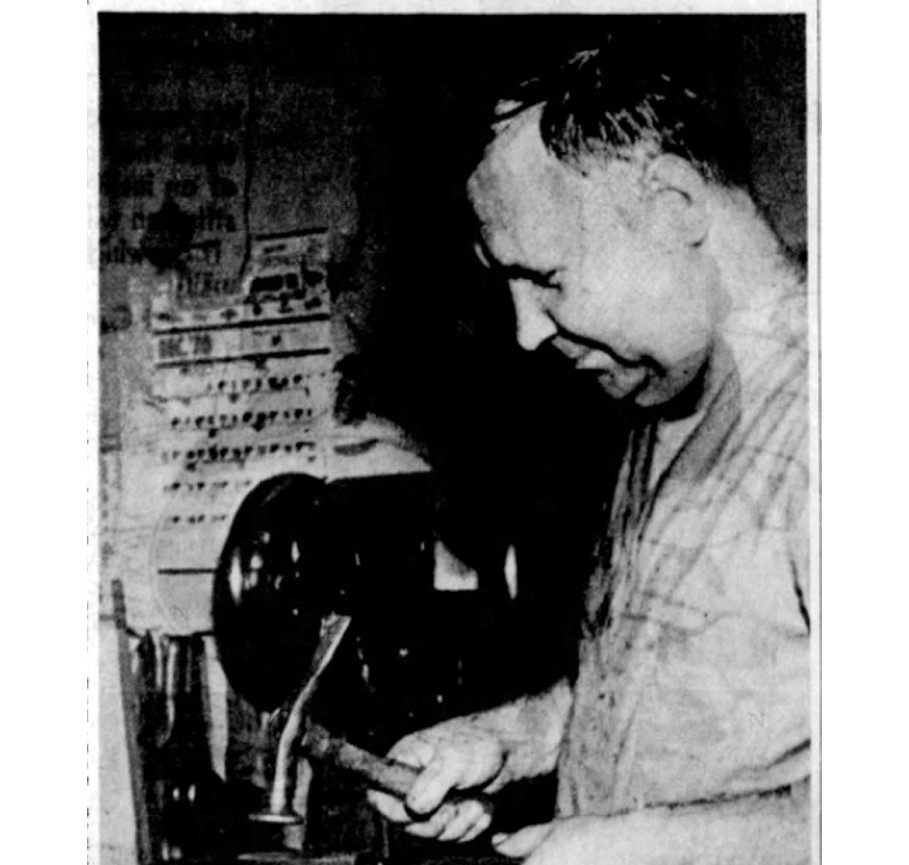 Nicks Handmade Boots has been in business since 1964. We have a storied history in Spokane, Washington, with the start of the company beginning with Nikolai Blahuczyn, or "the Original Nick", as he is often referred to in the Pacific Northwest boot world.
"The Original Nick"
Nikolai Blahuczyn gives two accounts of his place of birth in 1922. In one interview he states, "I first started when I was very young and living with my family outside Moscow, in Russia, where I was born". This is consistent with his obituary: "Mr. Blahuczyn, who was born in Moscow, Russia". A second account states, "Born in the Ukraine of Russian descent, Nikolai Blahuczyn learned how to make shoes from his parents, both shoemakers…". This second account may have been influenced by the tensions between the US and the USSR during the early 1960s when the interview took place.

As a second-generation shoemaker, Nikolai started to take up the trade at the age of nine, assisting with cutting the leather at home in 1930. His father worked in a state factory making many kinds of shoes. Nikolai began making shoes at his home at age twelve, and at fourteen he began working for a shoe shop as an apprentice. He learned and worked the trade for four years where he then "went back to work side by side with his mother and father making and repairing shoes and helping maintain a small farm where his family resided".
Life changed for Nikolai at the age of twenty-one when Germany invaded the USSR in 1941. Nikolai was conscripted into the Soviet Army to fight and found his unit overrun three hundred miles away from his home village by the rapidly advancing Wehrmacht.

"I was taken into the Russian army on short notice to fight the Germans," Blahuczyn said. "But we were poorly trained. One night the Germans swept right over us, and in the morning I found myself sixty miles behind enemy lines."

Somehow, Nikolai managed to escape. He threw away his uniform and started to make the long journey home. For seven months, he traveled by night through occupied territory while hiding with sympathetic farmers during the day. He earned his food and lodging by making and repairing their shoes.

Todd Blahuczyn, Nikolai's grandson, recalls stories that Nikolai told of hiding in hay bales in a barn.
"…people would help him along the way. He would make boots for them and they would hide him."
After traveling hundreds of miles by foot, and nearly making it back home, he was captured and sent to Germany as a prisoner of war in 1943 and forced to work in Hamburg as a fireman during bombing raids. Nikolai said those were some of the toughest days of his life.
"Those were terrible days because fires caused by bombings sometimes lasted for days, and we had to fight the fires whether the bombings were going on or not," Blahuczyn said.
Nikolai persisted through those dark times and was liberated by Allied troops in 1945.
He resided in Germany for a number of years afterwards. While in Germany, he met Maria Liskowacki of Poland. The two of them married and lived in a Polish camp for displaced persons following the war. Their son, Sigmund, was born in 1945. He got by repairing shoes for residents of the camp.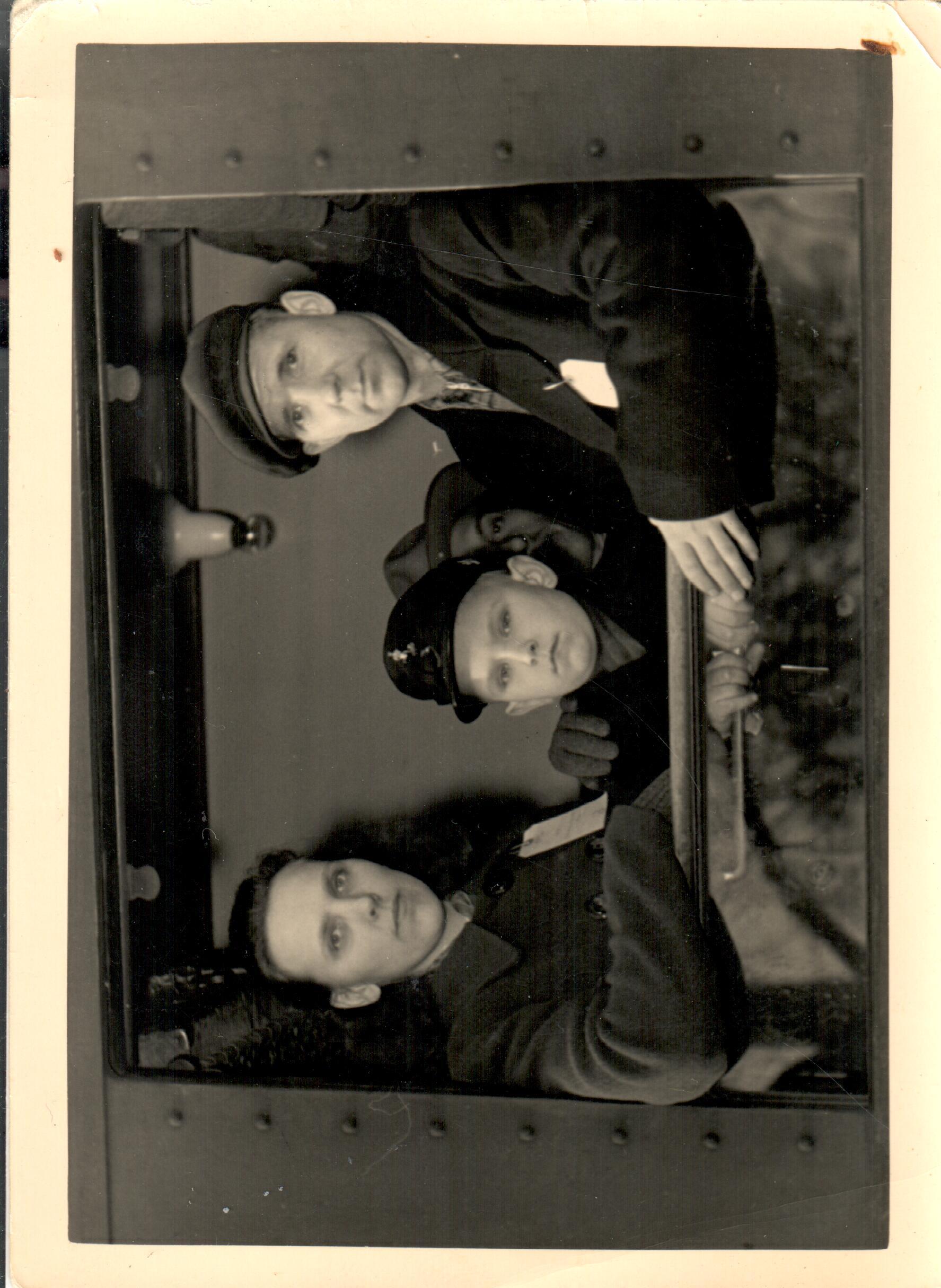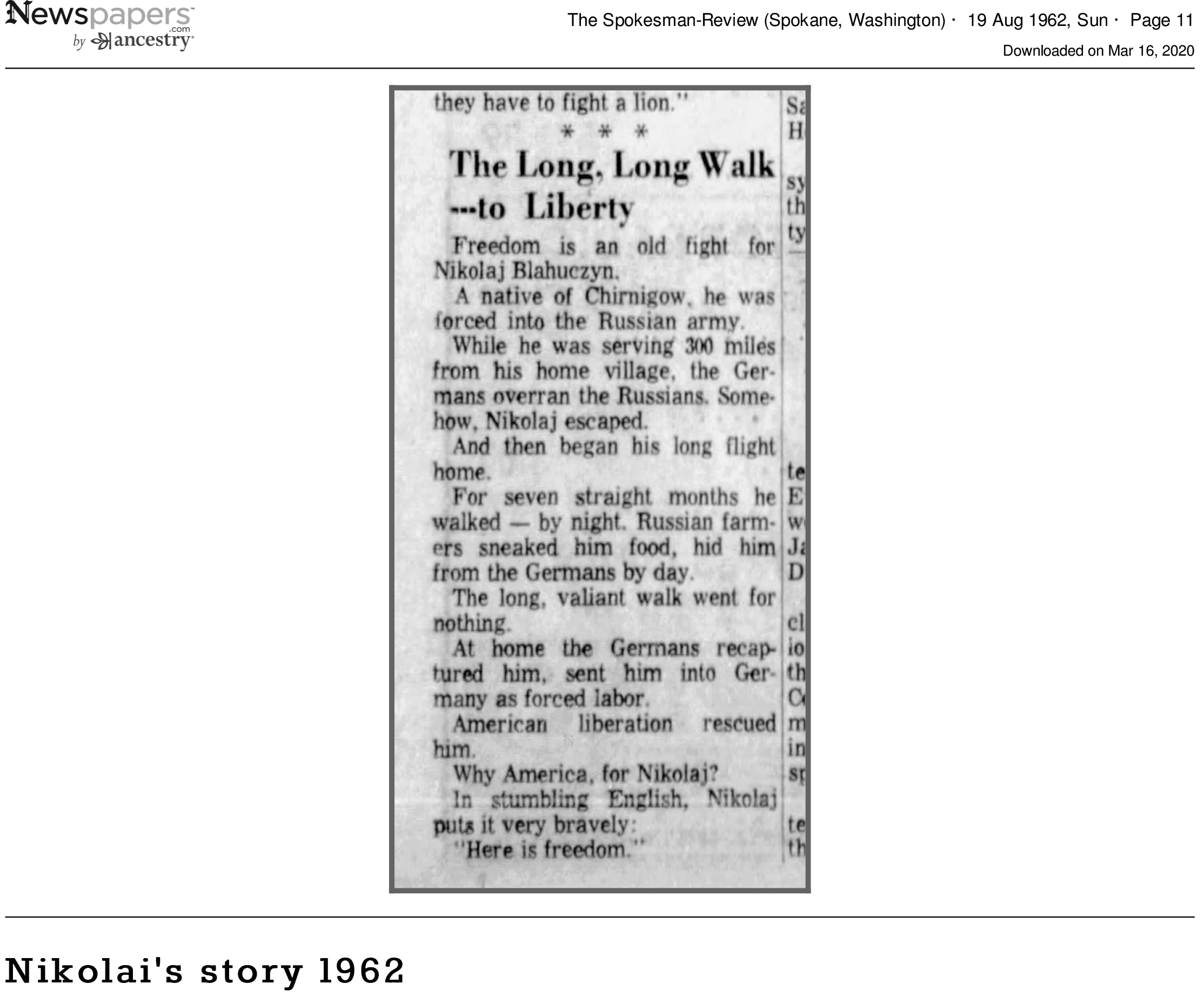 ---
In 1952, Nikolai applied for a U.S. visa. He and his family entered the US through New York, spent some time in Minnesota and North Dakota, and eventually found themselves in Deer Park, Washington, working on a farm. He traded his labor for free lodging in a barn loft where he and the family lived. He only remained on the farm for eight months: "I am no farmer - in my spare time at the farm I was working on some shoes."

While attending Fourth Memorial Church in Spokane, Nikolai learned about White's Shoe Co. which "made shoes by hand". Nikolai was intrigued: "I took to it immediately".
White's Shoe Co., now called White's Boots, had moved to Spokane in 1915 and was owned and operated by Otto White. Otto owned real estate in Spokane and Hayden, Idaho and would sponsor immigrants to work at White's and rent them homes. Otto offered Nick a job and a house to live in and Nick accepted, making his new home on 8th Street in Spokane proper. Nikolai would work for the White's Shoe Co. for around eight years.

At White's, Nick worked in the cutting department and was responsible for creating custom upper patterns. Leonard Smith, who would go on to found No Name Boots in Spokane, worked with Nick for a year in the cutting department at White's while in high school:
"He (Nick) could look at something. His brain would start turning and he could figure it out. He was that fast. Anyone can make shoes. Not everyone can make uppers." Leonard started his bootmaking career at White's in 1963 as an apprentice in highschool and stayed until 1980. He started at Nick's Boots in 1980 and stayed there until 1991.
Todd Blahuczyn recalls that his grandfather "did the hard parts" at Whites, including using cardboard to make templates for boot patterns.

Though Nick was back to doing what he loved, life wasn't easy. Leonard recalls, "He was so poor that he couldn't afford Vodka…so he made his own from using burnt toast as a charcoal filter". Even then, according to Leonard, Nick was "...happy. He was always happy." While happy, Nick was not content, and wanted to be his own man, making his own boots. "He just had this internal drive. He wanted to be his own boss. Wanted to do his own work," says Leonard.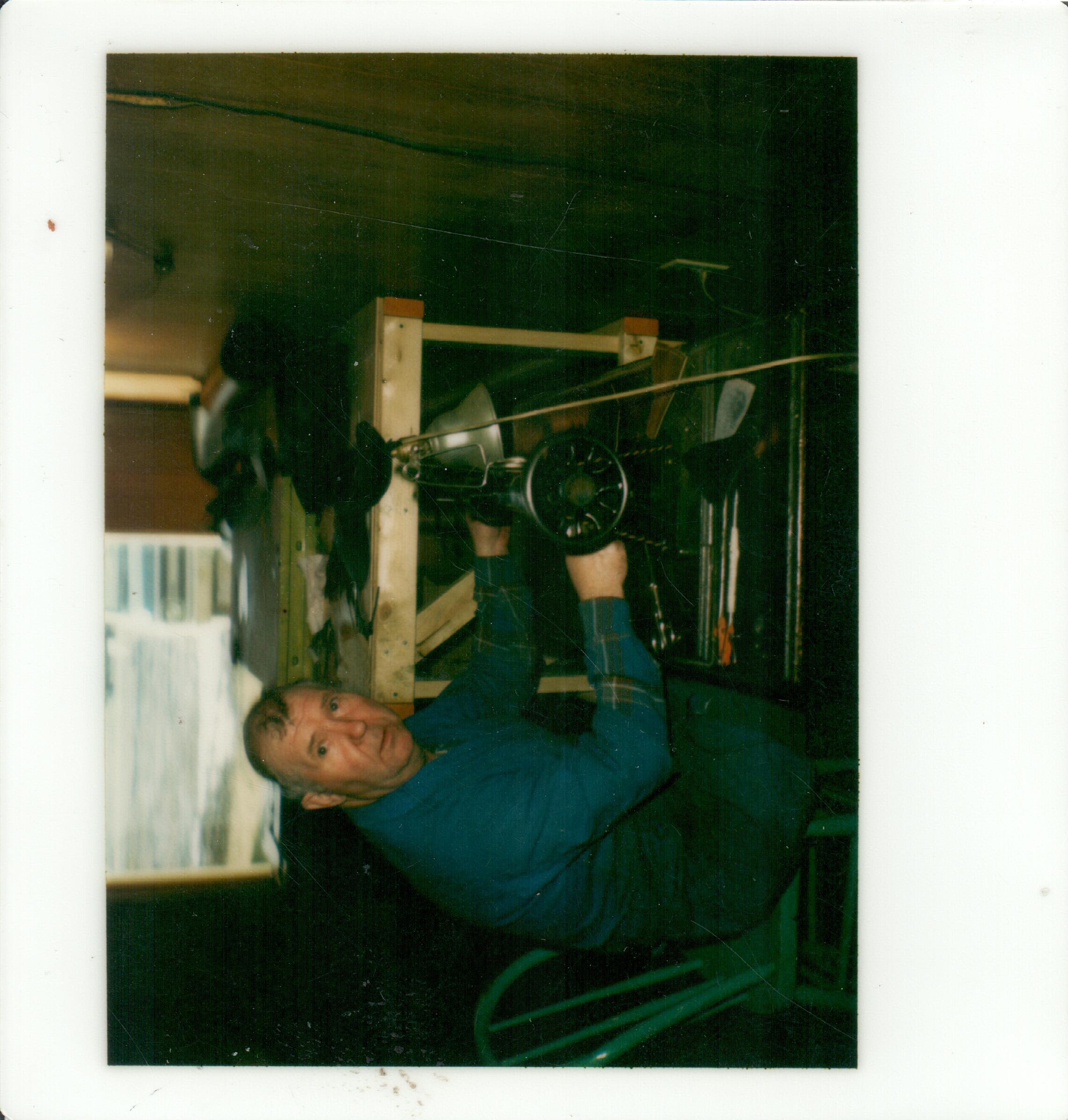 Nick's Shoe Shop
While Nick was working at White's, he began making shoes in a shed at the 8th Street property. Leonard recalls that Otto White would stop by–he was the property owner–and would ask Nick, "What's in the shed?". Nick would reply, "Chickens. It's a chicken coop". In reality, it was the beginning of Nick's Shoe Shop.

Utilizing his nearly thirty years of experience and all he had learned from both of his parents and while working at White's, Nick started Nick's Shoe Shop in 1964. He could be found working "six days a week in his small store on E8425 Sprague, supplying customers, usually construction workers, loggers and other men who do outdoor work, with boots." Nick would later purchase a home further East on Sprague across from Ziggy's and added a shop to it specifically for boot making.

Nick said one of the main reasons he went into the business for himself was that he wanted to make the boots "from start to finish," priding himself "...on being the only man in Spokane who makes his living by creating boots completely from scratch." He was not able to do that at White's Boot because everyone specialized on one section of the boot making process.

"In Russia, it didn't matter how fast or slow or how hard my father worked because everyone at the factory always got the same salary. Here, I can work harder for money to do extra things."

Nick had a close friend named John Vitechko who was from his same hometown. He owned a large rock crushing business and told Nick if he started his own business that he would immediately have several dozen customers ready for boots.

"Now when I make a shoe it's all mine. You pay more for a handmade boot, but they are good and will last a long time. It is a hard and dirty job, but I like the work. I work as many hours as I need to earn money for my home."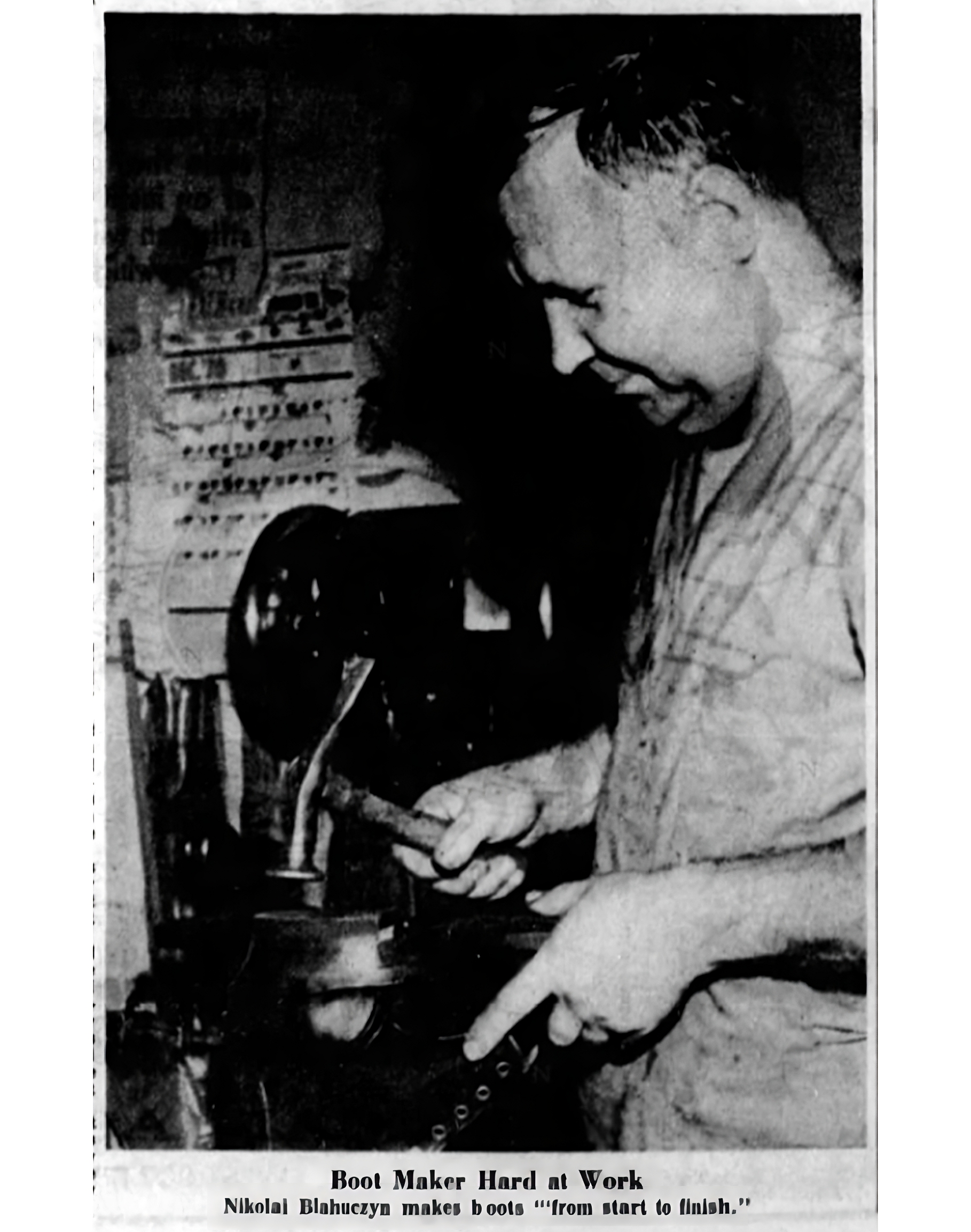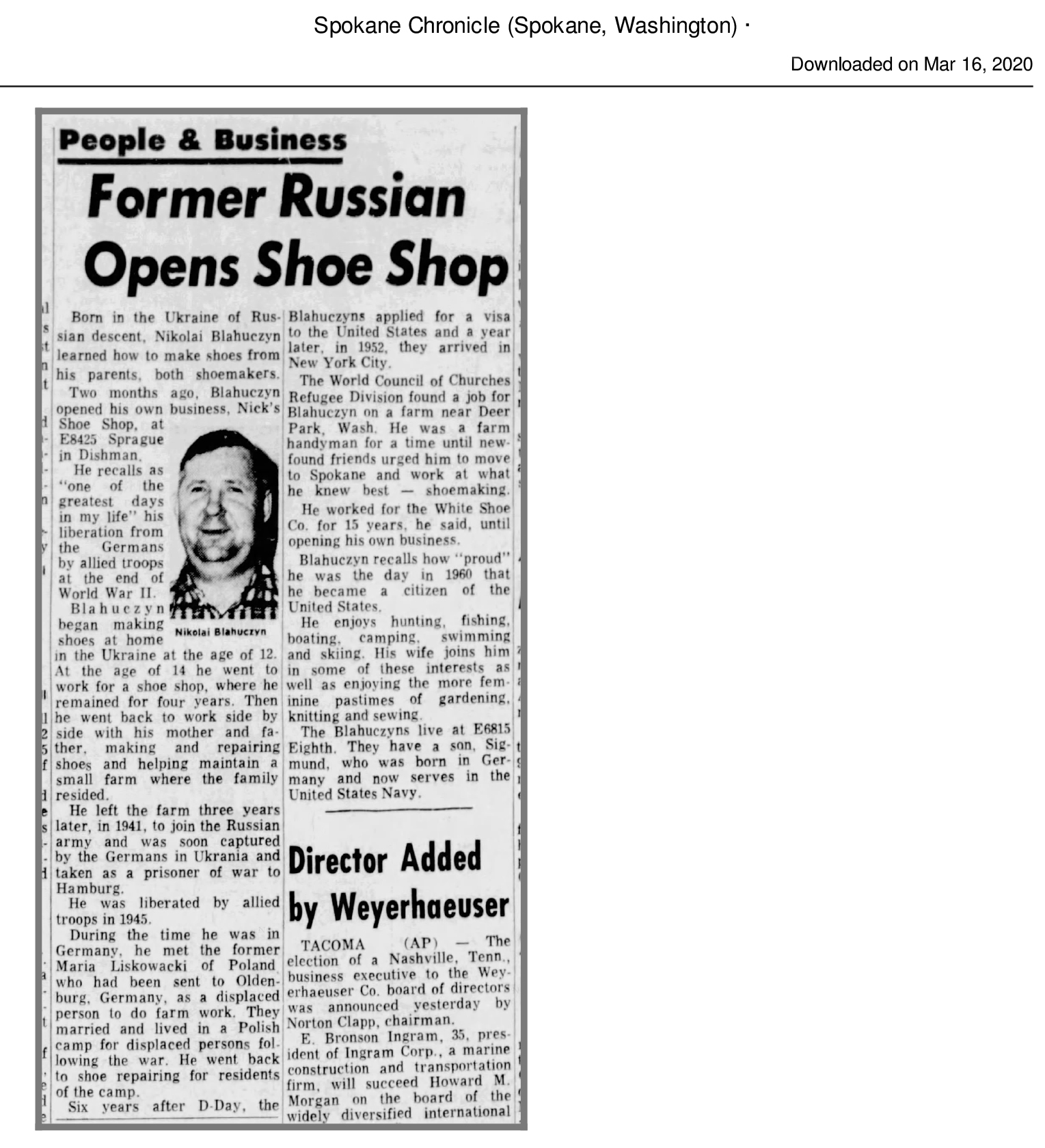 ---
According to Leonard Smith, who worked with Nick on Saturdays at Nick's new shop, Nick took what he didn't like about the White's patterning and improved them: he narrowed and rounded the blucher so they didn't look so "blocky," widened the achilles to prevent break-in pain and leather failure due to too much flex, and widened the quarters overall to prevent the uppers from lacing too closely.

Leonard commented that Nick bought his shoe lasts (Jones and Vining "Logger" lasts which we still have to this day) from the Paris Boot Shop when it closed down. According to Leonard, in those days you could get leather from Star Leather and buy a hundred pounds worth of "rejected" outsole leather for not very much money. Nick used this outsole leather for insoles and midsoles. He had the lasts, the sewing machine, the leather, rubber, and the glue: he was in business. Nick's son Sigmund worked with his father when he was nineteen years old for about four years. However, Sigmund didn't stick with the trade:

"But then not many boys take over trades from their fathers anymore," Nick said. "It seems they all have different things they want to do. But at least he's doing what he wants to do and that's most important". Sigmund would work as a firefighter in Spokane before eventually joining the Navy.

According to Todd Blahuczyn, Sigmund's son and Nick's grandson, sometimes "family kind of butted heads, so my dad became a fireman". Sadly, Sigmund passed away young at the age of forty-three from cancer when Todd was eighteen years old.

Todd remembers going out to his grandpa's shop "across from Ziggy's…sitting at the bench and picking the glue off his jars for him…just kind of being in his way. He was great in that manner. He'd let me play with the cash register. Pick up leather. Try to sharpen his knives for him."

According to Todd, Nick "loved to talk. He had friends everywhere. Wherever he went, he liked to talk to people. He was a jokester…he liked to party…large gatherings…lots of food. He just wanted everyone to have a good time."

Nikolai was the owner of Nick's for twenty-five years until his retirement in 1986. Even then, Nick would go from shop to shop assisting where he could with the different boot manufacturers in town, continuing to do what he was passionate about until his passing in 2000.
A New Era
In 1980, Gary Myers approached Nick about selling Nick's Boots. Gary Myers was Leonard Smith's brother-in-law, and had started at White's Boots one or two years after Leonard started in 1963. Gary Myers was a heeler and finisher at Whites and later took on a management role. According to Todd Blauhyzyn, Nick was experiencing some health concerns at that time. Nick decided to sell Nicks Boots. A new era had begun.

Nicks was no longer a one-man-band. There were three: Nick, Gary, and Leonard. Nick stayed at Nick's after it was purchased for five years as he wanted to retire, but he maintained the option according to Leonard to "come back to work if he wanted to…He just couldn't give it up". Nick's boots had established enough of a reputation from 1964 to 1981 that it wasn't hurting for any business. The orders just kept coming for the trio.
The shop moved to Evergreen and Sprague in the mid-1980's. Gary was instrumental at getting Nick's Boots to Hot Shot crews all over the US, Canada and Mexico. He traveled all over the Pacific Northwest, and Alaska, with his wife, Lana, attending trade shows. Loggers from North Idaho came to Nick's every year for their cork boots, and linemen from all over wanted only Nick's.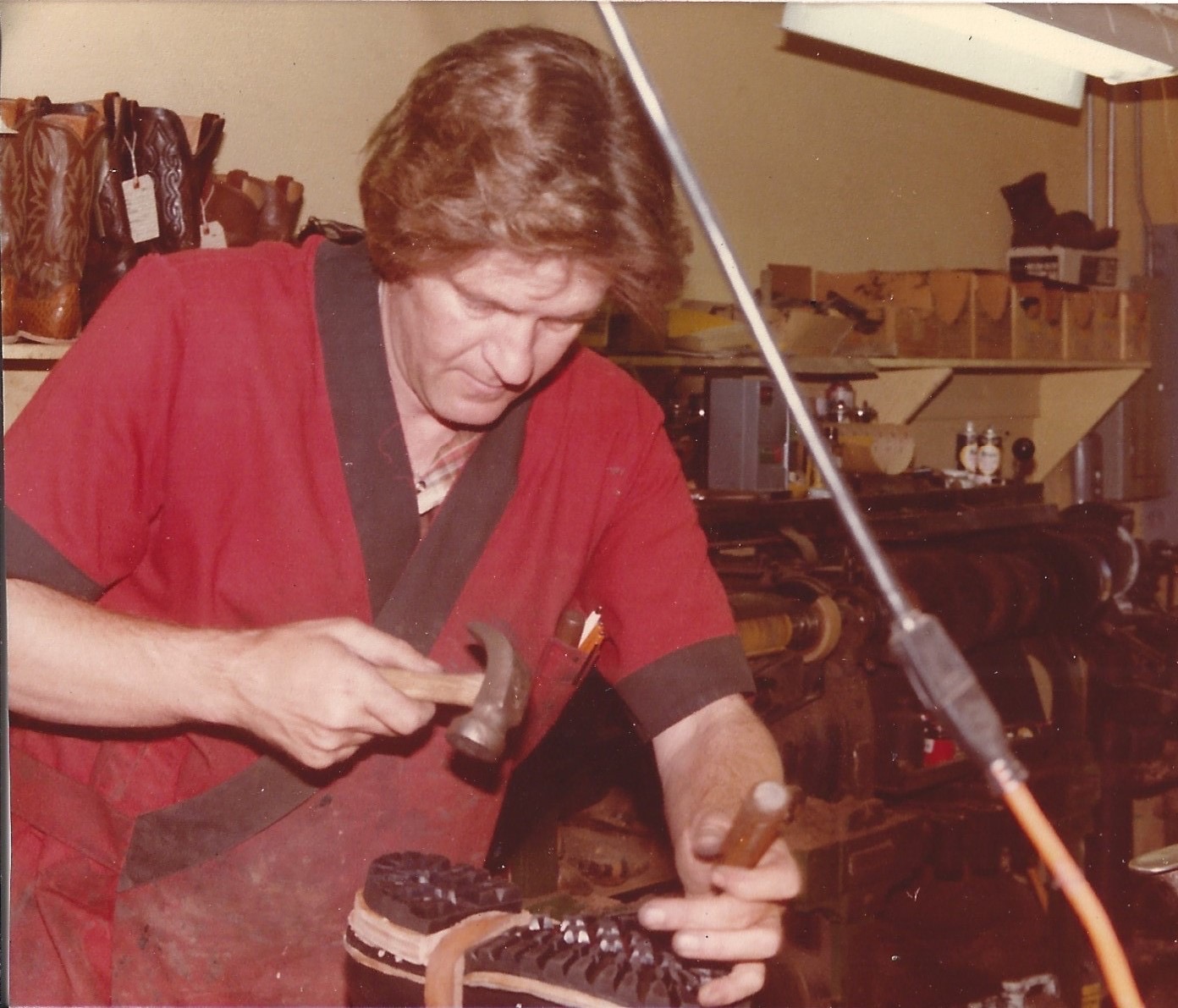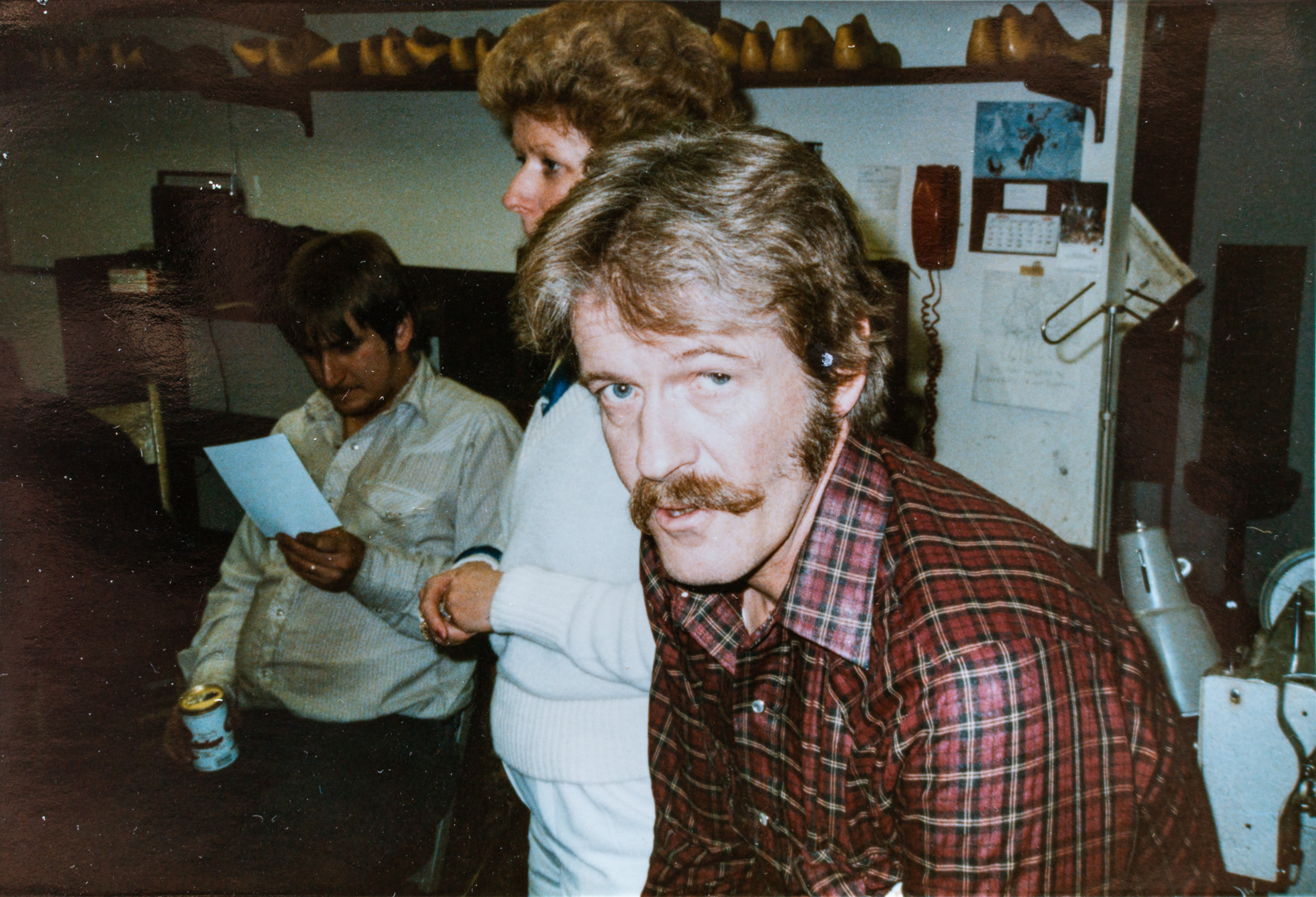 ---
Gary was a cowboy at heart. He brought many of his western influences to the company. Nick's started building packers, and western pull ons. While the western boots didn't stick around, there is one western influence that has become a staple of a pair of Nicks boots even to this day: roughout leather.
Roughout leather was a very popular option for western boots and saddles in the seventies and eighties. It became a standard option for Nick's logging and fire boots as well. The roughout leather is more abrasion- and cut-resistant than the smooth side of the leather, making it better at hiding damage.
In 1991, Nick's was purchased by Nick Petrilli and his mother. Nick's brother Frank came on a few years later to help with the day-to-day operations. Nick owned the business for eight years before selling it to Dick Hoesly. Frank Petrelli became a "silent partner" with Dick Hoesly via a "handshake deal". None of the Nicks employees were made aware of this silent partnership. They just assumed Frank was the general manager.
Dick Hoesly was the owner of the building that Nick's was located in on Market Street. It was right around this time that Nick's business with wildland fire and brick and mortar wholesale really started to become a focus. Mike Hil became the production manager. Over the next ten years Nick's started to produce a much higher volume of boots. Many of the Drew's Boots loggers and packers were made by Nicks. Drew's Boots are now made under contracts with other brands like White's and in Leon, Mexico.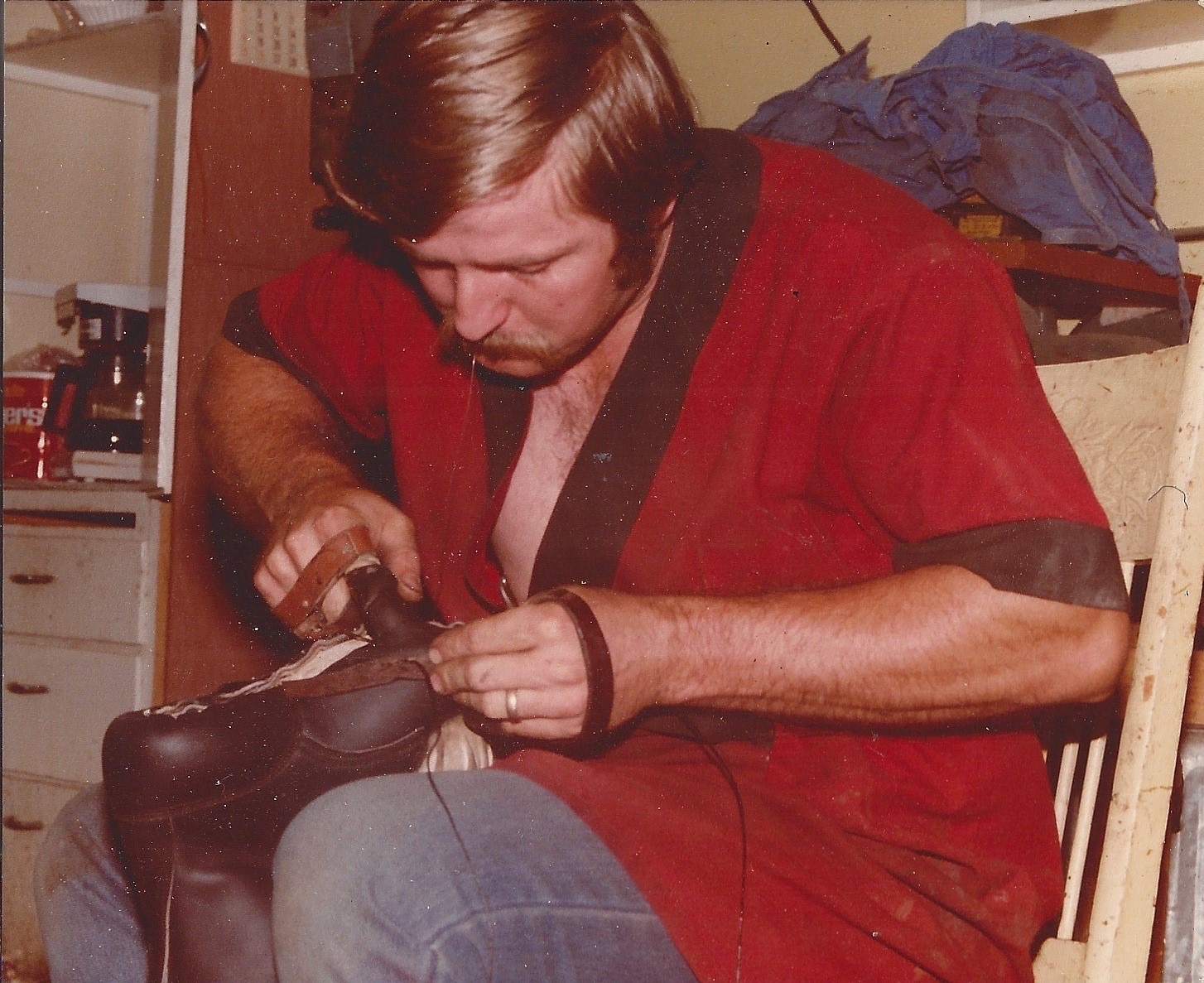 Behind Every Pair
Behind every pair of Nicks Boots are the amazing craftspeople who make it possible.
Mike "Mikey" Hunter started at White's in 1990 and trained under Vern Rogers making $5.50 per hour. He worked at White's off-and-on until 1994. A friend asked him what the best places in town were to buy boots. He mentioned White's and Nick's. Mikey found himself in the Nick's showroom selling his friend on a pair of Nick's. The next thing he knew, we was offered a job from Nick's at $6.00 per hour. Mikey accepted the offer and joined the crew which had about ten people at the time, including John Khadzhi and his wife Natalia, eventual founders of JK Boots. Most of the production workers were from the former Soviet Union. The business was producing twenty to twenty-five pairs per day at the time. While the business was growing, the infrastructure was rough. Mikey describes the old building on Market Street, "like being in a prison. It was freezing cold in the winter and really hot in the summer. There were no windows and no real exit doors." People didn't really complain because "at the time, you were just really happy to have a job". The working conditions became difficult for many of the boot makers. Mikey ultimately left Nicks, though he would return in 2018. John Khadzhi left and returned a few times, but ultimately started JK Boots with his family after the 2008 recession.
Alex Petrov joined Nicks in 2000. With no previous bootmaking experience, he quickly took up lasting. He later become an expert shanker, hand-carving and nailing nearly every shank for over a decade. He also ran the McKay Lockstitch machine. Alex celebrated 20 years with Nicks in 2020 and continues to last and shank boots without missing a beat. He's always smiling and is a fist-bump master. Alex is Nicks' longest continuously tenured team member.
Another key individual who contributed, and continues to contribute, to the success of Nicks is Sergy "Serge" Sherbinin. Serge entered a shoe-making college directly after highschool at the age of eighteen in his hometown in the Ukraine. After graduation, he worked in a large shoe factory for two years. Later, he opened his own shoe business with his cousin. He made his way to the US in 2000. A relative mentioned to him that there was a shoe shop in Spokane. He never imagined that he would be making shoes and boots in the US. Serge checked out Nicks anyway, but was not impressed with the facility or the working conditions. He opted to work for another business which was not in footwear, but after a few months, that business shut down. Serge needed a job and as he recalls, "couldn't be picky", so he decided to work for Nicks on February 5th, 2001. When Serge joined Nicks about half of the product crew was Ukrainian. John Khadzhi was a "pseudo supervisor" as his English was better than the others. Serge started hand-sewing and pretty quickly moved to lasting. He was lasting about sixteen pairs per day.
In 2013, the business was sold by Dick Hosely to its current owner, Steve Mowe. Growing up, Steve and his dad, Robert, worked in the woods for his grandfather, Sam De Young, who owned a small logging business in Elma, WA. Sam was born in the Netherlands in 1896, eventually making it to Elma where he started said logging business. Steve worked in the woods summers in high school and college where he learned the importance of quality boots.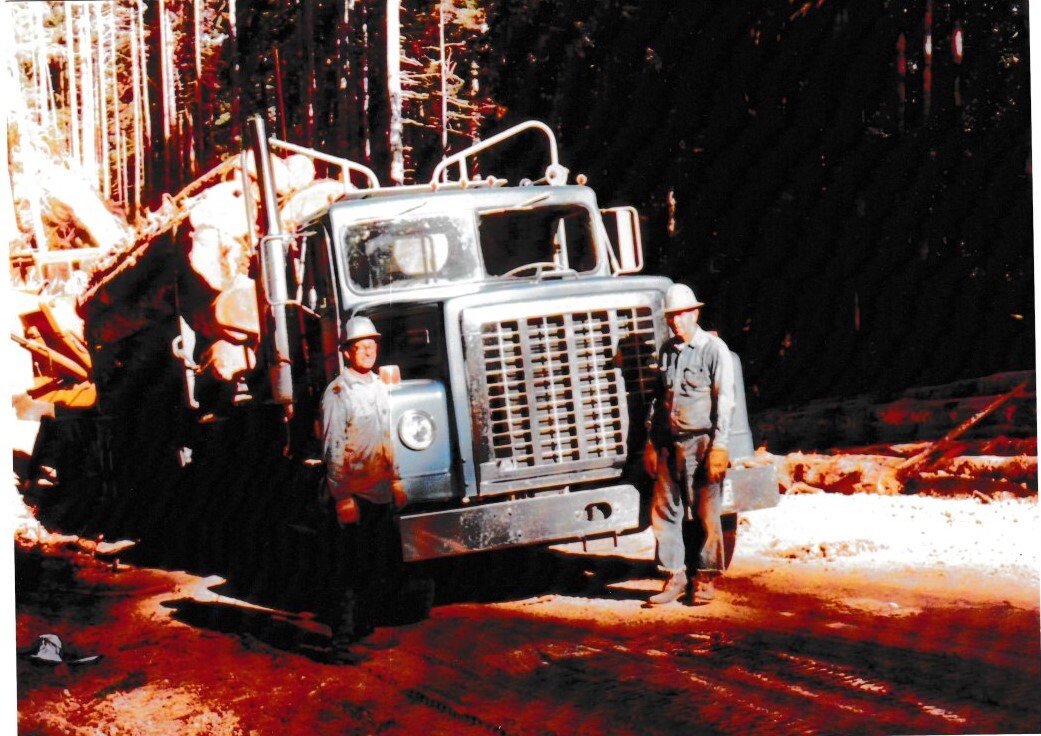 ---
Under new ownership, Nicks expanded into the heritage boot business with the Robert, named after Steve's father, and, in 2015, moved to a newly refurbished building on 6510 E Sprague Ave.
Frank Petrilli left Nicks and started Frank's boots in 2016 in the old Nicks building on Market Street. One boot maker and one salesperson left Nicks to go work at Frank's Boots.
Steve quickly made improvements to Nicks. Its new location offered a larger working environment with natural sunlight for the bootmakers as well as dedicated ventilation for the gluing process along with room for expansion. He also made raising wages and offering more benefits to employees a priority, increasing pay and adopting employer-paid health insurance. Serge was promoted to supervisor and then production manager and now runs the factory. He has been instrumental in maintaining the quality, workmanship, and growth at Nicks. As we mentioned and after a long hiatus, Mikey returned to Nicks in 2018, and rejoined his friend and former boot making colleague. Mikey now works as the Assistant Production Manager and continues to stitch, heel, and sand for Nicks…and plays a wicked air-guitar.

Similar to Nikolai, Steve hoped to make Nicks Handmade Boots a true family-owned business, and in 2020 his son, Shuyler, joined the company and manages the day-to-day operations and shares in ownership.

Together, they are focused on continuing to stay true to Nicks' roots and history while also making bootmaking a financially viable career option, providing a thriving wage to employees, and offering products that last for decades, all made here in Spokane, WA.

Another change was made when Steve first purchased Nicks; and that was the removal of the apostrophe in our name. There are a lot of questions regarding this change, but the reasons were very intentional.

The apostrophe in Nick's comes with a lot of its own implications. An apostrophe implies ownership, that the thing belongs solely to that person. While Nicks does still have two owners, Steve and Shuyler Mowe, the success of Nicks is now more than simply one man's legacy. Nicks has grown from one man living out his dream of making something that is his own "From start to finish" to sixty-seven employees, almost sixty years later. Behind every pair of Nicks Boots is a team of highly skilled men and women who have spent years perfecting their craft. Their attention to detail and years of experience are what make our boots truly legendary. Our success and the quality of our products are driven by many passionate and talented people who work here. We made this change to reflect that.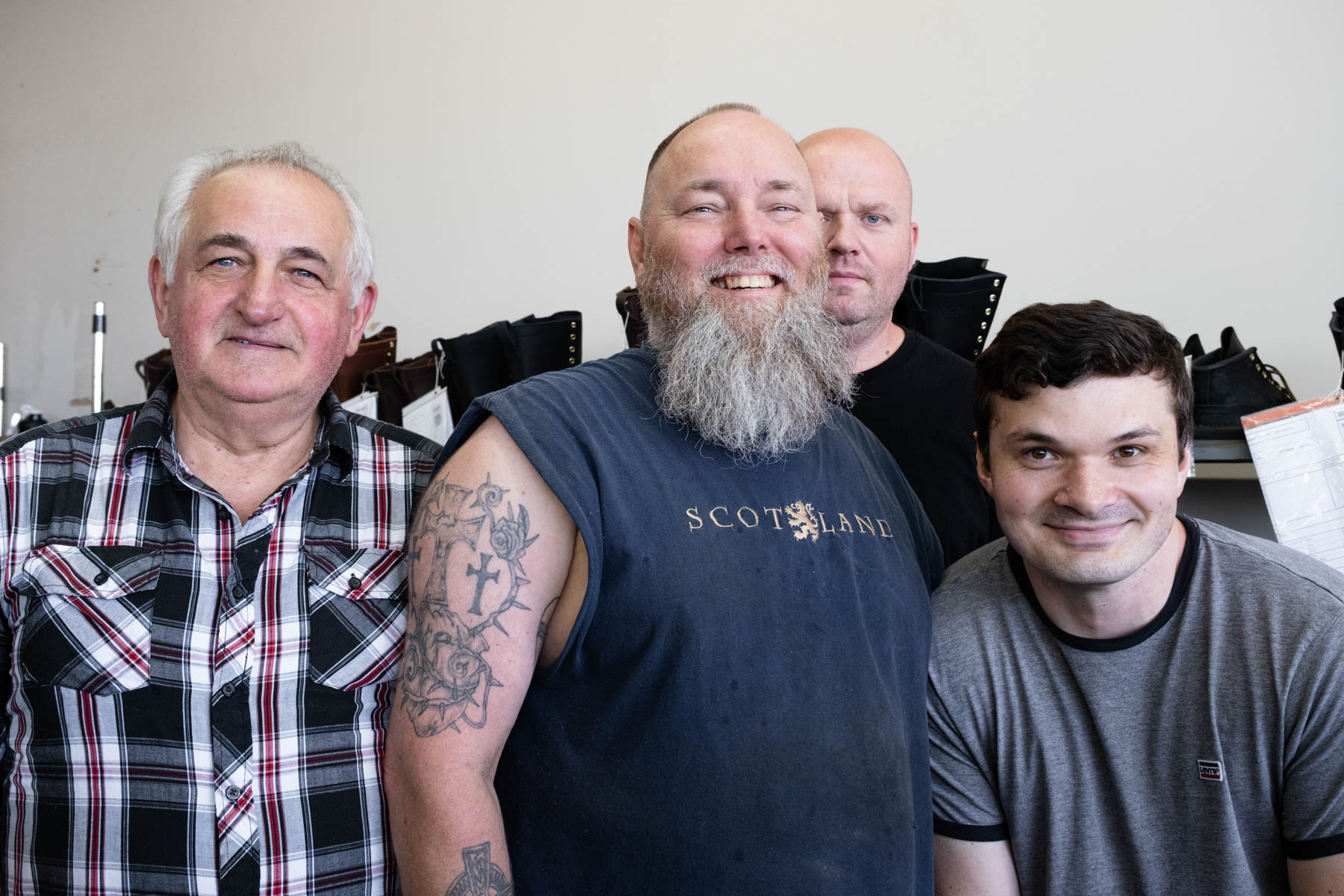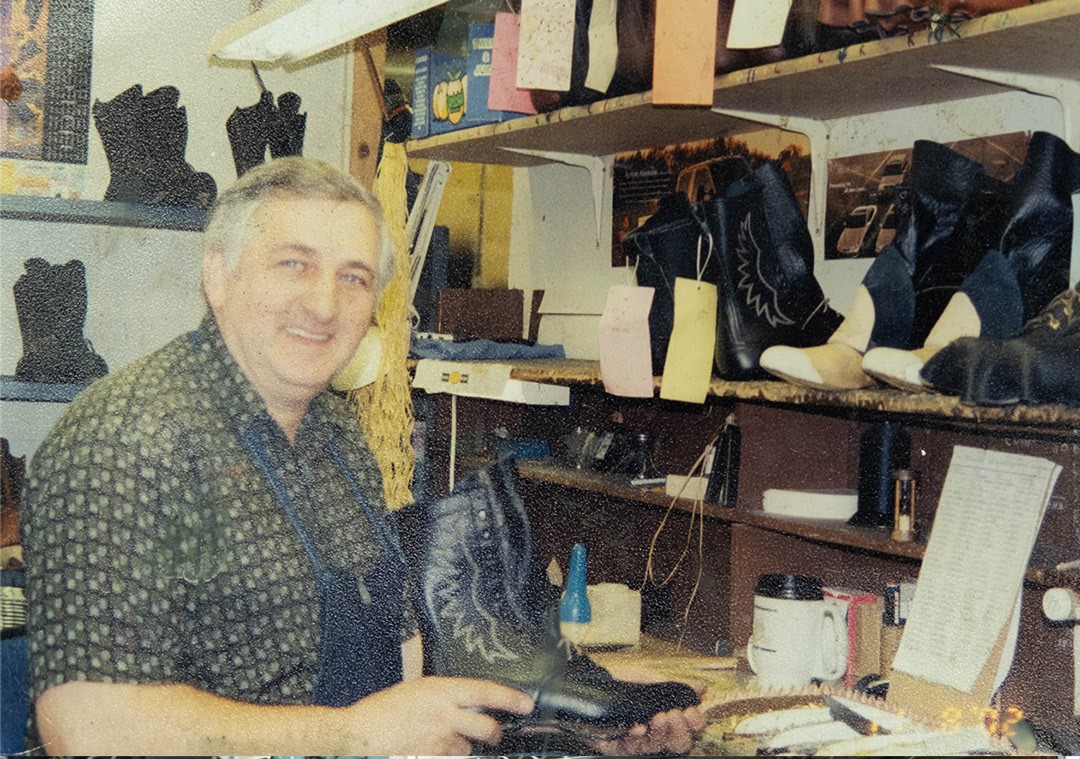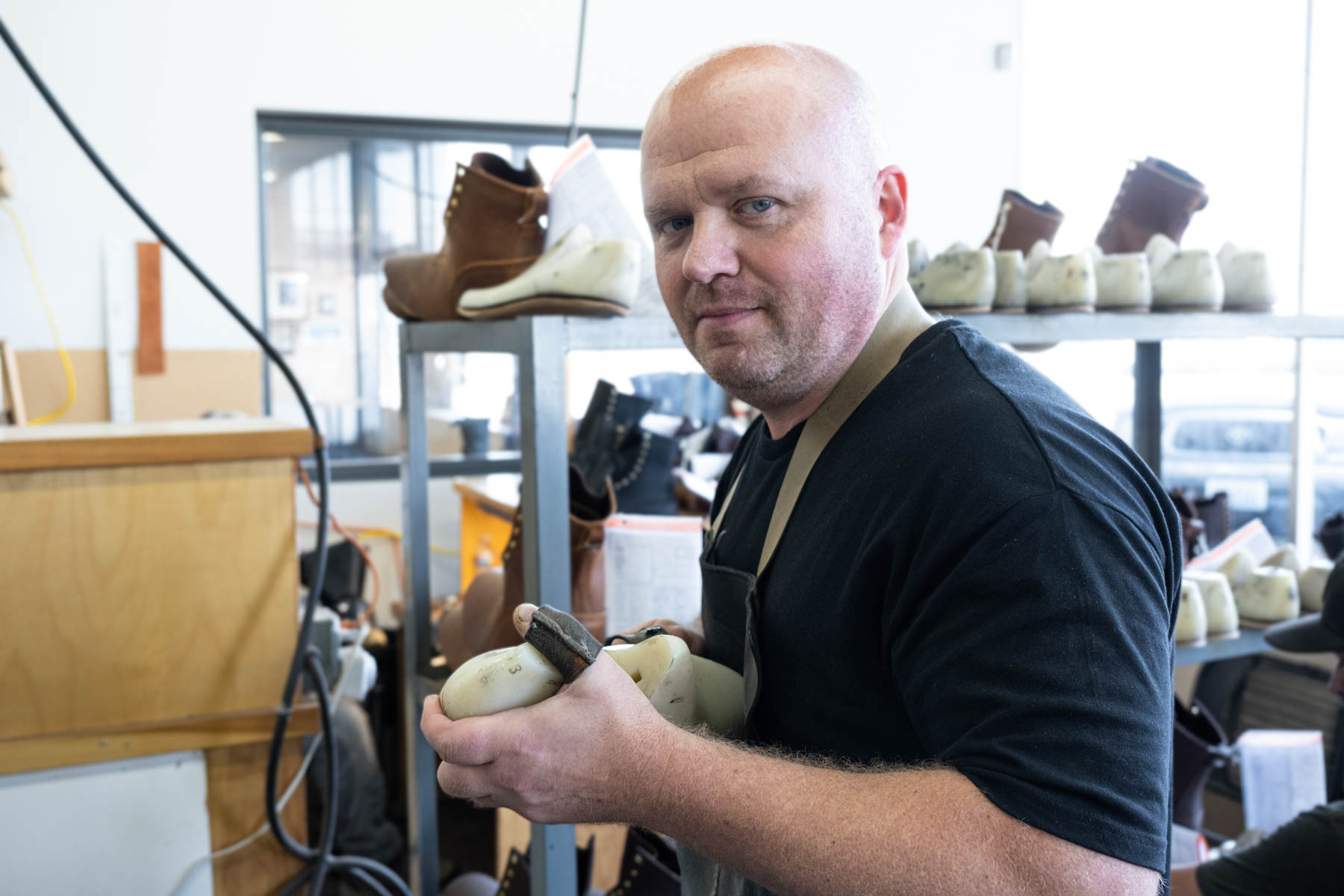 ---
Thank You
-to the Spokesman Review for helping us find multiple articles about Nikolai
-to the families of Gary Myers & Nikolai for sharing your story with us
-to Mikey, Serge, and Leonard for sitting down with us and sharing your experiences working at Nicks.
-and to all of our customers who are the reason we continue to do what we do every day. Nicks would not be what it has blossomed into today without your continued support.