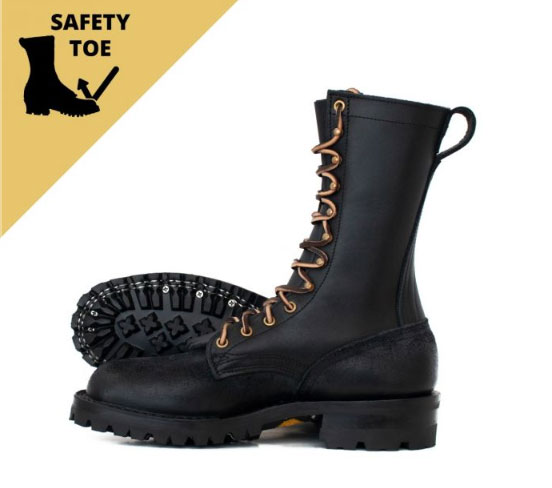 If you absolutely need steel toe work boots, either due to your trade or because your employer requires them, what you don't want to do is just buy the first pair you see in your size.
If there is one kind or style of boot that most people frequently describe as uncomfortable, it's steel toe work boots. Get on eBay sometime, and you'll see listing after listing of barely-worn steel toe boots, with an owner desperate to offload them.
So, how do you ensure that a pair of steel toe boots are going to be comfortable and stay that way?
Here are a few things to look for.
Get Steel Toe Boots That Actually Fit You
The first step is to make good and sure that a pair of steel toe work boots fit you. Really, properly fit you. You'll want to get your feet measured, so you know your exact size.
If at all possible, get made to order boots instead of buying a size off the shelf. It's better to start with a pair of boots that are made for your feet, instead of made for a size of feet.
A lot of people don't know wide sizes are a thing; they just order the next size up. While this can be the difference between a good fit and a not good fit depending on the brand (every shoe or bootmaker uses different lasts) it's more prudent to just buy the right size to begin with.
For instance, a person who has size 11E feet might find their feet don't fit an 11D, but might fit in a pair of 12D boots just fine...depending on the last used by the shoe or boot maker. But then again...they also might not.
So unless you're looking at a make and model of boots that you already know the sizes of and how they fit your feet...start with a pair that's made for your actual size.
Or better yet, tailor made for your feet.
Look For A Tall Toe, Sometimes Called A Sprung Toe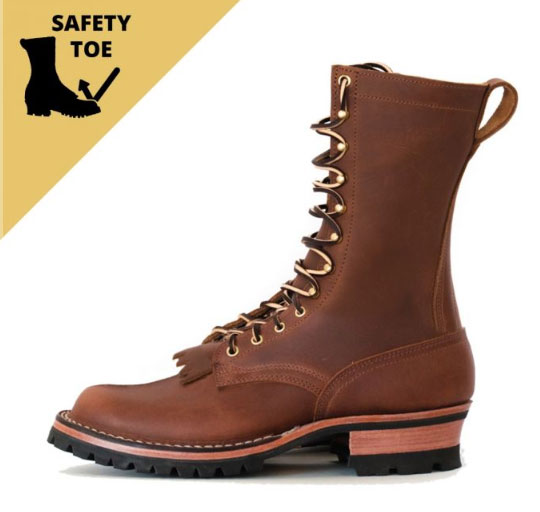 If you have to get steel toe boots, one feature you definitely need to look for is what's sometimes called a "sprung toe."
Sprung toe boots and other terms used by various boot companies have a taller toe box. This is specifically to accommodate a steel toe or celastic toe cap.
The complaint about steel toe boots is usually that the toes and forefoot feel pinched, cramped, and otherwise that they just don't fit as well as other boots or shoes that a person might wear.
Like we said...look at classifieds and eBay listings for like-new or lightly-used work boots. You'll see a lot of pairs of steel toe in there, and that's usually the reason why.
So what you want to look for is that special toe structure with extra room that allows for the toe cap to be added to the boot with less cramping.
A Larger Toe Box Is Better, So Avoid Western Boots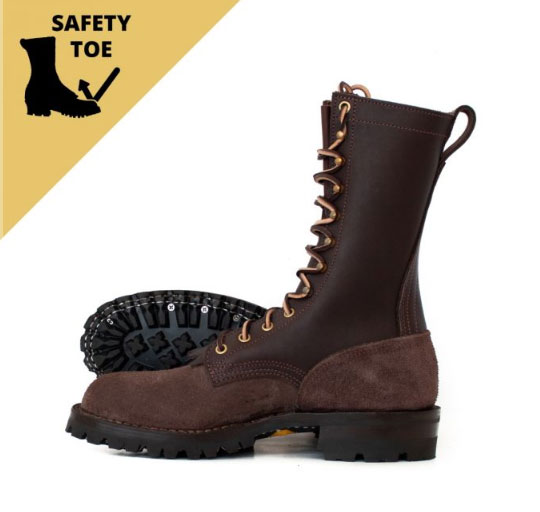 A related boot feature that you want to avoid is a Western toe.
Hey, cowboy boots are great for casual wear. If you don't have the toe cap taking up extra room, a pair of roper or packer boots are a great work boot style.
You get the support you need for work, and a bit of style in the bargain.
But if you add a steel toe cap to them...you might not like the results, because the western toe narrows the toe box of the boot. It might be the difference between a comfortable pair to wear and pure misery.
Steel Toe Boots Can Be Comfortable If You Pick The Right Pair
Yes, it's true that a lot of people find them uncomfortable...but it isn't the case that steel toe boots are just uncomfortable, period. It's more that a lot of people find them uncomfortable when they didn't get the right pair of them.
The only difference between steel toe boots and soft toe boots is there's a steel toe cap in the toe box. Typically they're only a few millimeters thick, but that still takes up a significant amount of room in the toe of the boot, which can make them feel cramped.
If, however, you get a pair of steel toe boots with a roomier toe box to offset the reduced space, and in a boot that's comfortable to wear to begin with...then you're not going to have the same problems.
So take care in choosing steel toe boots. Pick the right pair, and you won't have the typical issues at all.