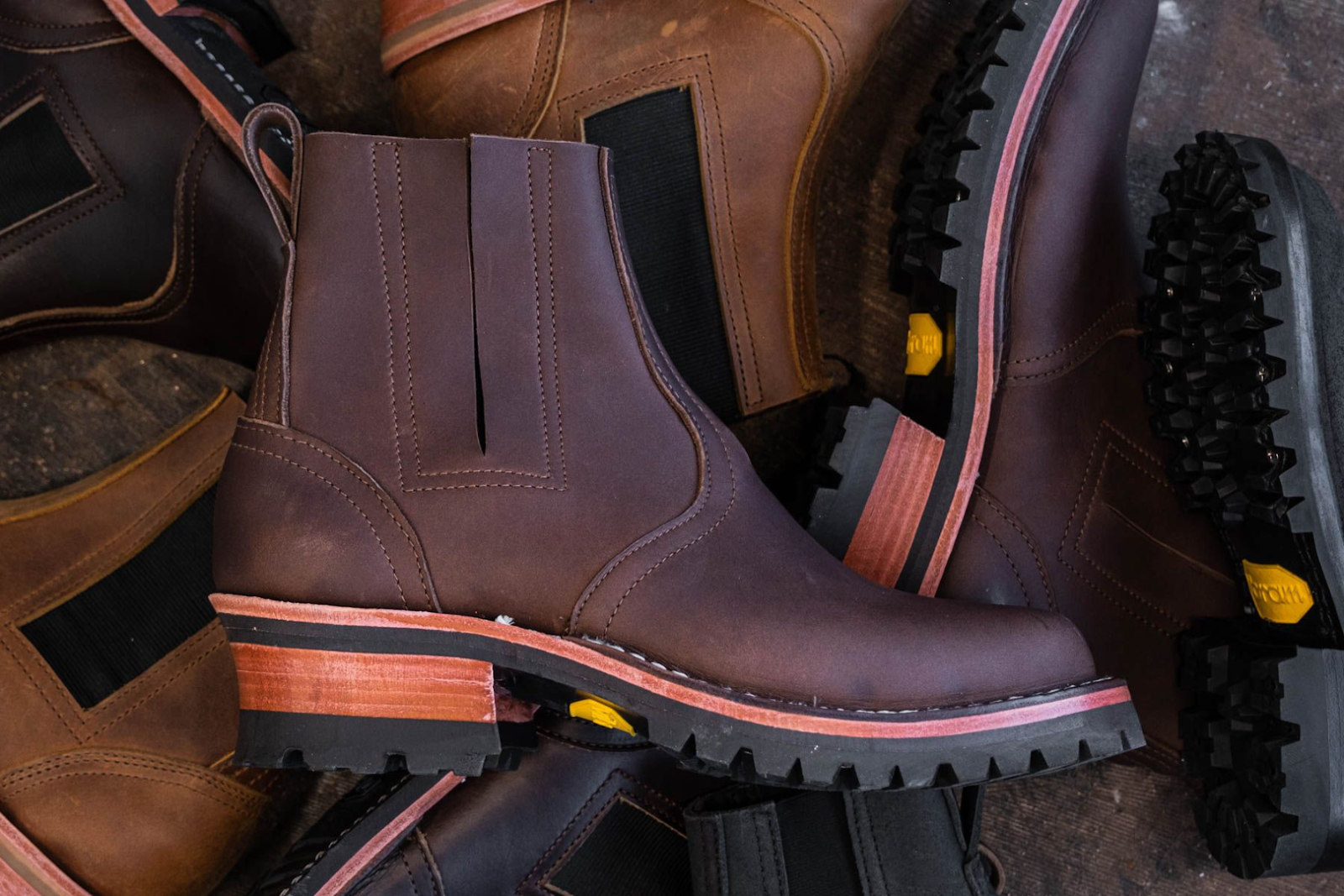 Styling your favorite Chelsea boots for the fall has never been easier. Renowned for their timeless charm and effortless slip-on design, Chelsea boots are the go-to footwear for men and women alike. Whether your schedule involves a day at the office or a relaxed weekend adventure, these boots are the perfect addition to your autumn attire.
In this guide, we'll offer invaluable tips and inspiration on how to style your Chelsea boots this fall. Get ready to enhance your wardrobe effortlessly! And if you're in search of premium Chelsea boots to accompany your journey, explore Nicks Boots' collection. Quality and style await – let's dive into the world of Chelsea boots!
What Is A Chelsea Boot?
A Chelsea boot is a versatile and iconic style of footwear characterized by its sleek and timeless design. It typically features a close-fitting, ankle-high silhouette with elastic side panels on both sides, allowing for easy slip-on and off.
Chelsea boots are known for their clean lines, minimalistic appearance, and absence of laces or other fasteners. This design element not only contributes to their streamlined aesthetic but also adds to their convenience and comfort, making them a popular choice for both formal and casual wear.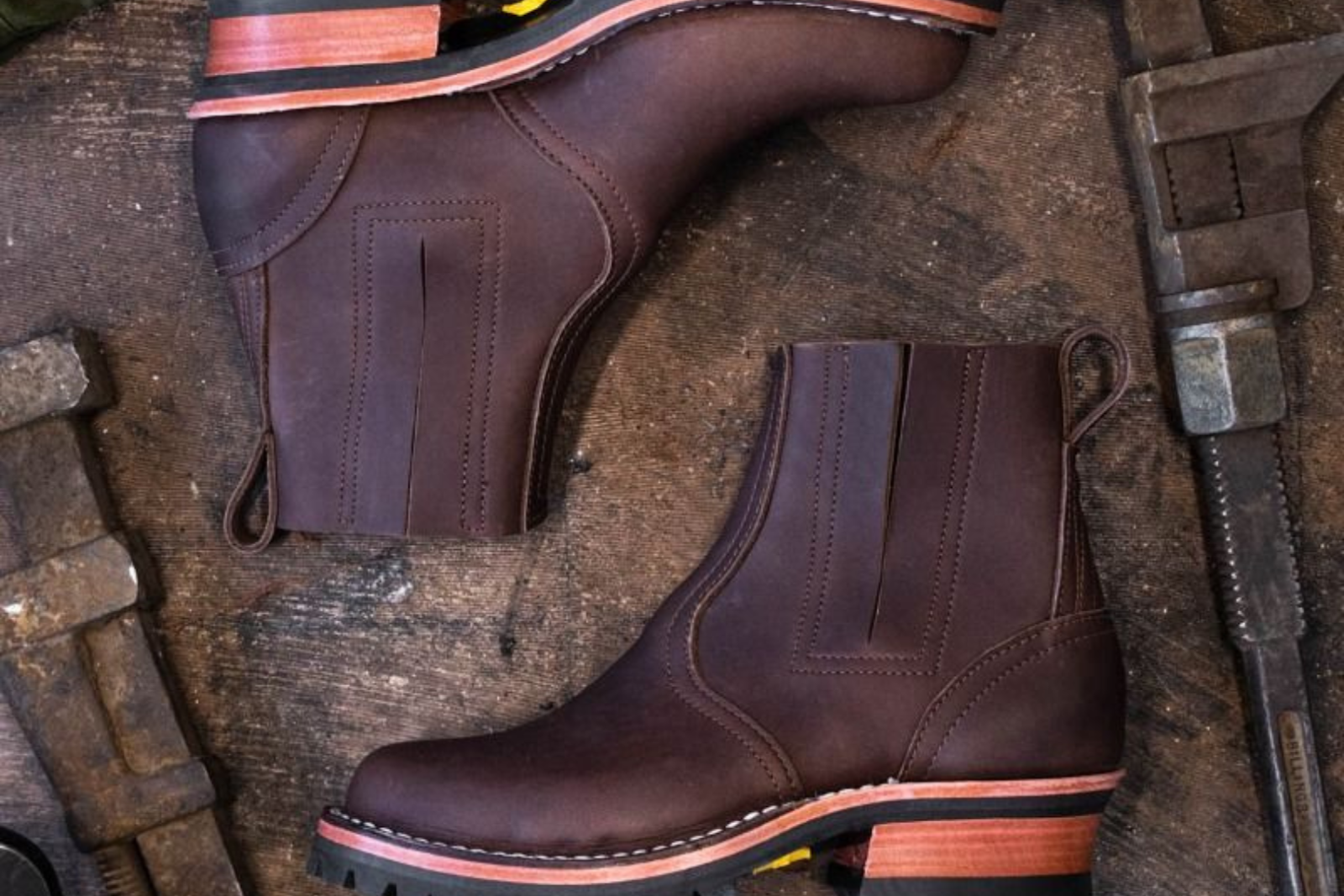 Discover The Craftsmanship Behind Nicks Boots
Discover Nicks Boots, your ultimate destination for fine leather goods crafted with love, passion, and unrivaled attention to detail.
Step Into Excellence: Experience the finest handmade leather goods, including our iconic boots, designed to last a lifetime.
Trades Transformation: Join our Trades Program and help shape the future of the industry, while inspiring the next generation of skilled professionals.
Crafted By The Best: Behind each pair of Nicks Boots is a team of dedicated artisans with years of expertise, ensuring unparalleled quality.
Ready to wear craftsmanship and tradition? Dive into the legacy of Nicks Boots today!
Why Are Chelsea Boots Important?
Beyond their enduring appeal, Chelsea boots offer:
Versatility: Chelsea boots are incredibly versatile and can be seamlessly integrated into various outfits, ranging from casual to semi-formal attire. They pair well with jeans, trousers, skirts, and dresses, making them a valuable addition to any wardrobe.
Ease of Wear: The absence of laces or buckles make Chelsea boots easy to slip on and off, offering convenience for individuals on the go. This feature also contributes to their clean and uncluttered look.
All-Season Comfort: While they're particularly popular in the fall and winter, Chelsea boots can be worn year-round. They come in various materials, allowing for both breathable options for summer and insulated versions for colder seasons.
Transitional Style: Chelsea boots effortlessly bridge the gap between formal and casual wear. They can elevate a casual ensemble, adding a touch of sophistication, or provide a polished finish to a more dressed-up outfit.
How Do Chelsea Boots Work?
Chelsea boots are designed with a simple yet effective structure that makes them easy to wear and versatile. Here's how Chelsea boots work:
Design: Chelsea boots feature a low-cut ankle design with an elastic side panel. This elastic panel is typically located on both sides of the boot's shaft, allowing for flexibility and ease of wearing.
Slip-On Style: The absence of laces or zippers makes Chelsea boots slip-on shoes. This means you can easily slide your foot into the boot without the need for extensive lacing or fastening.
Elastic Gussets: The elastic side panels, often referred to as gussets, provide flexibility, allowing the boot to stretch as your foot enters and then snugly conform to your ankle once your foot is in place.
Pull Tab: Chelsea boots often have a small pull tab at the back of the boot's shaft. This tab helps you grip the boot and slide your foot in more easily.
Sleek Silhouette: Once you've put on your Chelsea boots, they create a sleek and streamlined silhouette. The low heel and minimalistic design give these boots a polished and uncluttered appearance.
Tips On Choosing The Best Chelsea Boots For You
Finding the perfect Chelsea boots that align with your personal style and needs can be a breeze if you follow these guidelines:
Embrace Quality Leather: When considering Chelsea boots, prioritize high-quality leather like those used in Nicks Boots. Premium leather ensures not only the durability to last for years but also an authentic and stylish look.
Prioritize Comfort: Comfort is non-negotiable when selecting Chelsea boots. With Nicks, you not only get handcrafted excellence but also boots designed with the wearer's comfort in mind. The cushioned insole and supportive arch in these boots ensure you can wear them all day without discomfort.
Start With Classic Colors: If you're new to Chelsea boots, Nicks' classic brown or black pairs are the perfect starting point and blend seamlessly with various outfits. Once you're accustomed to their unmatched quality and style, you can venture into more unique colors that match your personality.
Get the Right Fit: Chelsea boots are meant to provide a snug fit, and Nicks offers a range of sizes to ensure you get the perfect fit. It's important to get a size that's not too tight or too loose.
Experience the epitome of craftsmanship and comfort with Nicks Chelsea Boots. Elevate your style with boots that are not just footwear but a testament to enduring quality. Discover the Nicks difference today!
Tips For Rocking Your Chelsea Boots In Autumn
Whether you're dressing up for a night out or keeping it casual for a daytime stroll, these boots can elevate any outfit. Here are some tips to make the most of your Chelsea boots this fall.
Pair with Skinny Jeans
Chelsea boots are your go-to for a seamless transition between casual and formal occasions. Pair them with skinny jeans for an effortlessly stylish look, or elevate your attire for more formal events with tailored trousers or a skirt.
Dress Them Up
Whether you're heading to the office, a casual gathering, or a night out, Chelsea boots are up to the task. Their versatility makes them a wardrobe essential for autumn.
Add Layers
Embrace the fall chill by layering up. Combine your Chelsea boots with cozy sweaters, cardigans, or jackets that harmonize with the boot's color. This not only keeps you warm but also adds depth and texture to your ensemble.
Experiment with Colors
While classic brown and black Chelsea boots are timeless choices, consider experimenting with bolder hues like rich burgundy, deep navy, or even metallic tones. These striking colors are an instant style booster and a great way to make a statement.
Matching Your Outfits With Chelsea Boots
Here are a few outfit ideas to help you create stylish looks:
Casual Look: Pair your Chelsea boots with distressed jeans, a flannel shirt, and a cozy oversized sweater. Complete the look with a statement accessory like a chunky scarf or a beanie.
Office Attire: Opt for a more polished look by styling your Chelsea boots with tailored trousers, a crisp button-down shirt, and a blazer. Add a statement belt to tie the whole outfit together.
Dresses And Skirts: Don't be afraid to wear your Chelsea boots with dresses or skirts. They can add a touch of edginess to feminine outfits. Try pairing a floral dress with black Chelsea boots for a perfect fall ensemble.
Men's Guide To Styling Chelsea Boots In Fall
Here's how men can style Chelsea boots in the fall:
Smart Casual: For a smart casual look, pair your Chelsea boots with dark-colored jeans, a button-down shirt, and a tailored blazer. This combination exudes sophistication and can be worn to various events.
Business Formal: If you're looking to elevate your office attire, match your Chelsea boots with slim-fit trousers, a dress shirt, and a tie. This sleek ensemble showcases your fashion-forward sensibilities.
Casual Cool: For a laid-back and effortless vibe, wear your Chelsea boots with rolled-up jeans, a graphic tee, and a leather jacket. This is perfect for weekend outings or casual hangouts with friends.
Ladies' Guide To Styling Chelsea Boots In Autumn
To make a fashion statement with your Chelsea boots, ladies can consider these looks:
Boho Chic: Channel your inner bohemian goddess by pairing your Chelsea boots with a flowy maxi dress and a denim jacket. This relaxed look is perfect for music festivals or outdoor events.
Edgy Glam: Achieve an edgy glam look by combining your Chelsea boots with black skinny jeans, a leather jacket, and a statement top. Add some accessories like chunky jewelry or a studded belt to complete the outfit.
Classic and Chic: Keep it timeless and classy by wearing your Chelsea boots with a tailored coat, a turtleneck sweater, and straight-leg trousers. This sophisticated ensemble is perfect for a business meeting or a date night.
Benefits Of Wearing Chelsea Boots
Wearing Chelsea boots offers numerous benefits:
Elevated Style: Chelsea boots effortlessly infuse sophistication and refinement into any ensemble. Their sleek and minimalist design complements both casual and formal attire.
A Wardrobe Staple: From jeans to dresses, suits to skirts, Chelsea boots play well with a wide range of styles. They're a reliable choice for any occasion and adapt seamlessly to every season.
Comfort Redefined: Chelsea boots, especially those from Nicks, offer a snug fit and a supportive structure. The soft lining and cushioned insole ensure a comfortable stride throughout the day.
Investment in Quality: Crafted from premium materials like leather, Chelsea boots are designed for the long haul. Their robust construction guarantees durability, ensuring they withstand the test of time.
Explore the fusion of timeless elegance and modern versatility with Nicks Chelsea boots. Discover the perfect balance of style, durability, and sophistication today!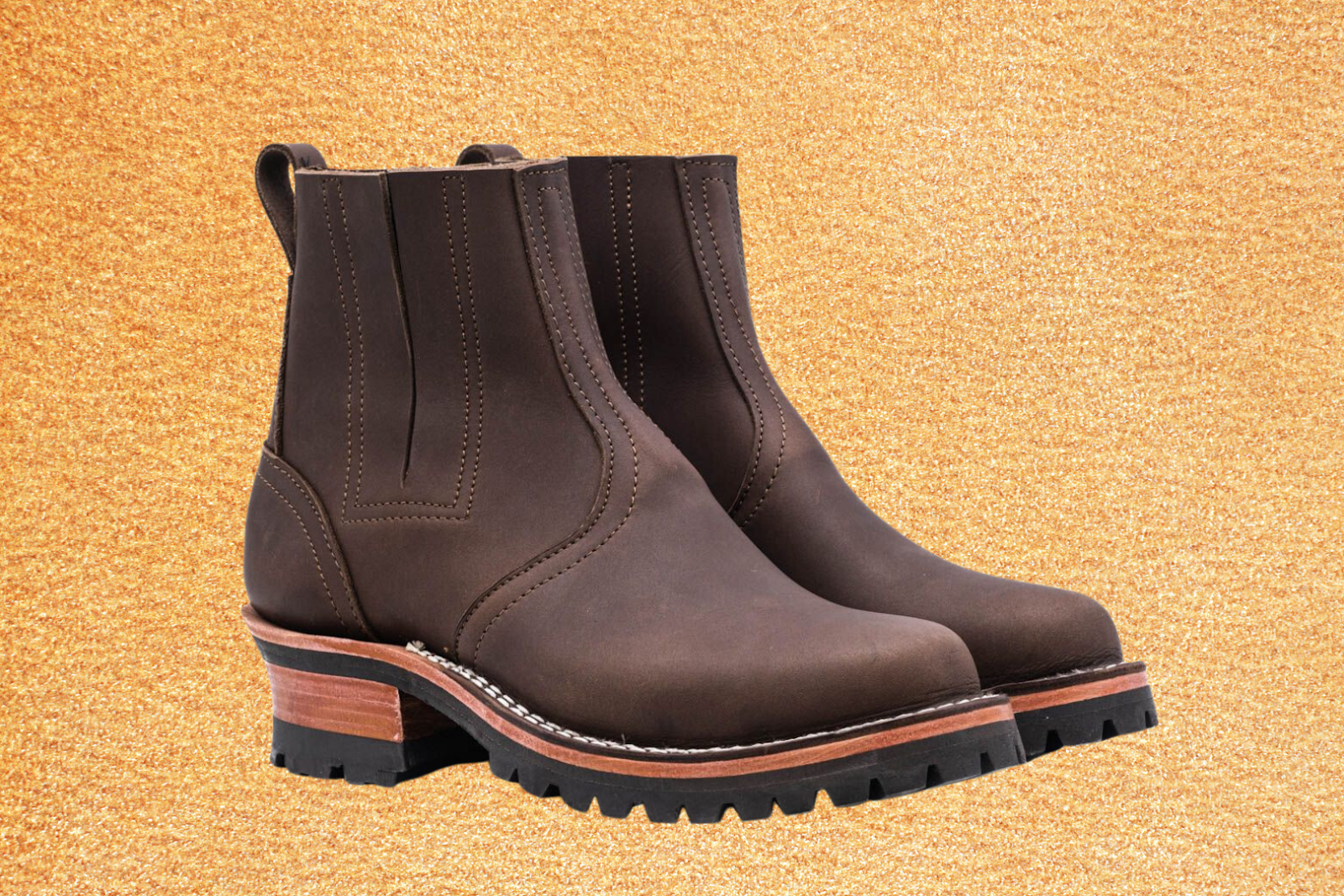 Alternatives To Chelsea Boots
If the Chelsea boot doesn't align with your preferences, consider these alternatives:
Lace-Up Boots: Lace-up boots provide a secure fit and offer additional ankle support. They come in various styles, such as combat boots or hiking boots, catering to different aesthetics and purposes.
Ankle Booties: Ankle booties are similar to Chelsea boots in terms of height but often feature a different closure, such as zippers or laces. They come in a range of designs, from casual to dressy, providing versatility for different occasions.
Tall Boots: For those seeking more coverage and warmth, tall boots can be a suitable choice. They typically reach higher on the leg and offer more protection against the elements.
Final Thoughts
As autumn settles in, Chelsea boots effortlessly become a cornerstone of style. Their timeless design seamlessly complements both casual weekends and more refined gatherings. With durability and an easy slip-on style, they also offer practicality without compromising elegance.
At Nicks Boots, we stand by a tradition of crafting exceptional leather goods, including our distinguished Chelsea boots. By choosing Nicks, you're not only choosing a product but also a legacy of quality. Explore our collection today and experience footwear that transcends passing trends.

Want to learn more about similar boots? Read:
FAQs
Where did the Chelsea boot originate?
The Chelsea boot originated in England in the mid-19th century and is credited to J. Sparkes-Hall, a royal bootmaker. Its name comes from the upscale Chelsea neighborhood in London where it gained popularity during the Victorian era.
Who are some famous wearers of Chelsea boots?
Chelsea boots have been favored by fashion icons and celebrities such as The Beatles, Kanye West, Harry Styles, David Beckham, and Steve McQueen, contributing to their enduring popularity.
How should a Chelsea boot fit?
A well-fitting Chelsea boot should provide a snug but not overly tight fit, comfortably hugging the feet and ankles. There should be room to wiggle your toes, and the elastic side panels should stretch slightly without excessive movement. The heel should stay in place while walking.
Can Chelsea boots be worn in the rain or snow?
While not specifically designed for wet or snowy conditions, weatherproof or water-resistant Chelsea boots can offer protection in light rain or snow. However, excessive exposure to water may damage the boots or lead to discomfort, so they're best suited for milder weather.
How do I care for Chelsea boots?
Proper care includes regular cleaning with a soft brush or cloth, conditioning or polishing to nourish the leather and maintain its shine, and protecting against moisture with waterproofing spray. Storage in a cool, dry place away from direct sunlight is also recommended.
How do I stretch out Chelsea boots?
If Chelsea boots feel slightly tight, stretching methods include using stretching spray or conditioner designed for leather boots, wearing thick socks while using a hairdryer on low heat to warm the boots, or seeking professional assistance at a shoe repair shop.
How long do Chelsea boots typically last?
The lifespan of Chelsea boots varies based on factors such as material quality, care, and frequency of wear. Generally, well-maintained high-quality leather Chelsea boots can last several years, potentially even a decade or more with proper care and limited exposure to unfavorable conditions.
Are Chelsea boots suitable for people with wide feet?
Chelsea boots can be less accommodating for individuals with wide feet due to their typically snug fit. However, some brands offer Chelsea boots in wider width options to cater to a broader range of foot sizes.
Can Chelsea boots be resoled if the soles wear out?
Chelsea boots can often be resoled when the soles wear out. This can extend the lifespan of your boots and is a cost-effective way to keep them in good condition. It's advisable to consult with a professional cobbler for resoling options.
Do Chelsea boots come in vegan options for those who prefer non-leather materials?
Many footwear brands now offer vegan Chelsea boots made from synthetic materials that mimic the appearance and feel of leather without using animal products. These options provide a suitable alternative for individuals who prefer non-leather footwear while still enjoying the classic Chelsea boot style.