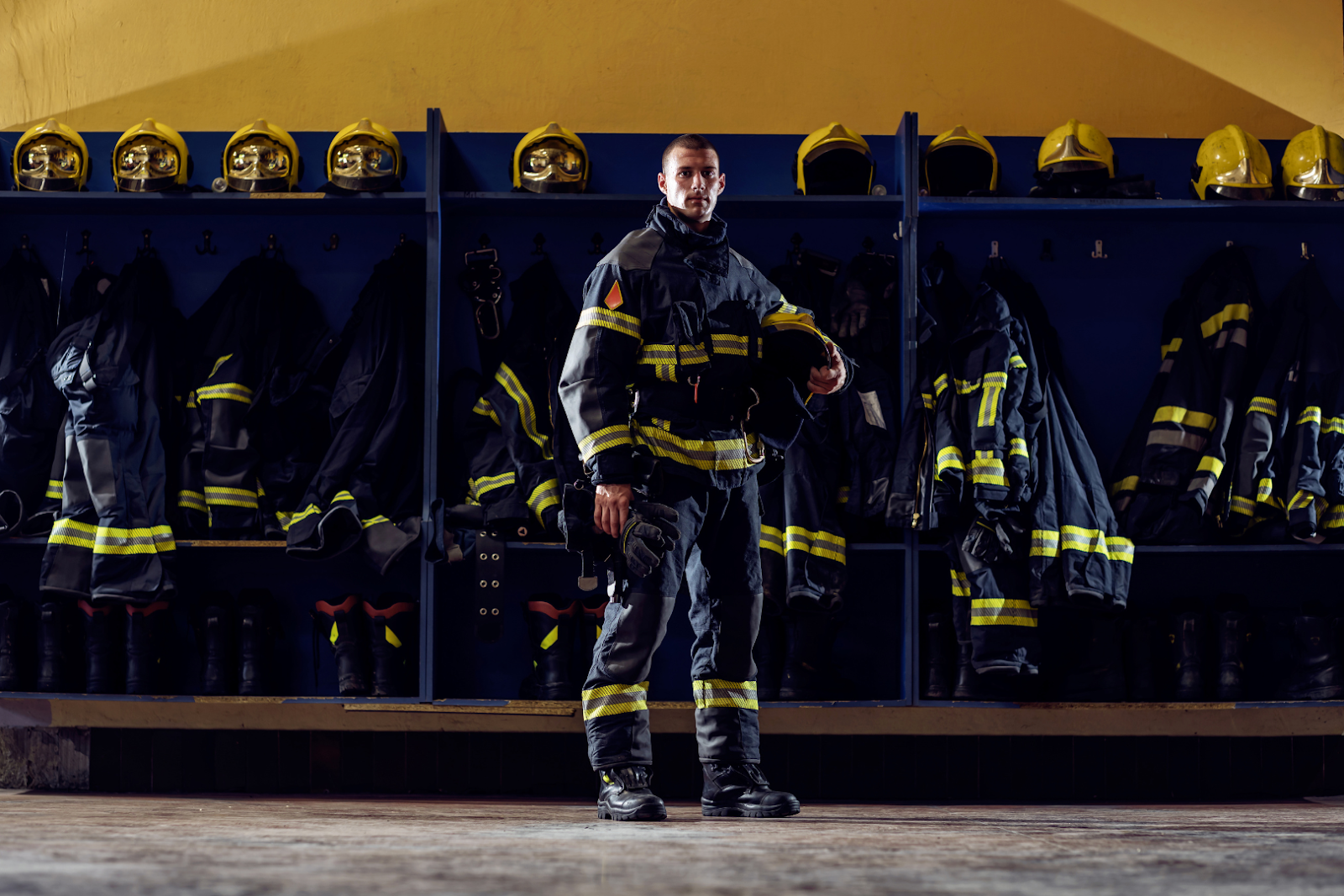 First responders face numerous hazards in their working conditions that demand specific gear in order to combat them. An excellent example of this can be found with firefighters. Faced with blistering temperatures, sharp objects, and beyond, firefighters need gear that they can depend on to get them out safely on the other side. But while many may envision thick suits and helmets, another major consideration is footwear.
High-quality boots are a must as firefighters get close to the flames, enter unsafe structures, and otherwise utilize their feet to navigate dangerous environments. If you're a first responder, knowing what to look for when shopping for high-quality boots for your line of work is crucial. But where do you begin?
This guide will evaluate all the essential features of firefighting boots, the different types you may need as a firefighter, and how you can properly maintain your boots for continued safety for years to come.
Ready to find the right boot that will offer the durability and protection you need in the face of danger? Discover our collection of fire and duty boots here at Nicks Boots. Shop now to secure the right pair for your unique needs.
What Are Firefighting Boots?
Firefighting boots are specialized protective footwear designed to keep firefighters safe and comfortable while on the job. These boots are designed to shield firefighters from the intense heat, hazardous materials, and other dangers they may encounter while fighting fires, as described above.
These special boots are often made of leather and other heat-resistant materials that can withstand blazing temperatures, and they're equipped with safety features like steel toes (an optional addition here at Nicks Boots for those who may only need them at the station), slip-resistant soles, and waterproof membranes to provide maximum protection.
They are also designed with comfort in mind, with features such as padded insoles, arch support, and breathable liners to keep feet cool and dry while navigating harsh conditions.
Firefighters must also be able to move quickly in their boots, so many firefighting boots feature lightweight construction and flexible soles for increased agility, all without impacting the durability and ruggedness needed for the boot to function properly.
What Makes Firefighting Boots Different From Regular Work Boots?
Most other jobs are not going to require the same type of specific boots demanded by firefighters.
For example, someone who works in construction may still need a durable boot that is capable of keeping them comfortable and protecting them from foreign materials and sharp objects that could pose a major safety risk. However, they won't necessarily need a boot that can withstand high temperatures, crushing weights from falling objects, and other dangers that accompany the job done by a first responder.
While work boots are built to be durable and offer greater protection, firefighting boots are built with the specific needs of firefighters in mind.
What To Look For In Firefighting Boots
Choosing the right firefighting boots can mean the difference between serious or fatal injury and staying safe on the job. You don't want to take shortcuts or risks on any of your gear, which also applies to your footwear.
Here are some of the most essential features of high-quality firefighting boots to be aware of as you search for your next pair.
Protection
Firefighting is a profession surrounded by potential hazards. As such, protection is one of the more vital aspects of the ideal firefighting boot.
Look for fighter boots that offer features like fire-resistant Vibram soles that are designed to withstand higher temperatures, fire-resistant stitching to prevent heat from disassembling shoes, and safety toe inserts to protect toes from falling debris.
Comfort
High-quality firefighting boots strike the perfect balance between rugged durability and versatile comfort. While firefighters need to stay protected, they also need to be supported. Because firefighters are on their feet for long periods of time and need to be able to move fast, shoes need to be built in such a way that firefighters are able to navigate their environment quickly and efficiently.
Beyond that, firefighting boots will feature comfortable insoles designed for shock absorption and support, water-resistant materials to prevent moisture from impacting movement or causing discomfort, and a lightweight design that doesn't limit speed or navigation when it matters most.
Practical / Long-Lasting
Practicality and longevity are two of the most important factors when purchasing firefighting boots.
Look for boots that can easily be rebuilt when they begin falling apart and are designed with care, with an emphasis on high-quality leather, secure stitching, thick soles, comfortable insoles, and equally durable laces.
Every aspect of your firefighting boot matters, so it's important to pay attention to every detail to ensure you're getting a boot that's practical and will last.
Label
Not just any boot will function as a firefighting boot, even if it is designed for greater durability. For some, focusing on boots that are OSHA-certified and meet ASTM standards will suffice.
At Nicks Boots, all our products are certified by the National Fire Protection Association (NFPA). This allows you to maintain your peace of mind knowing you have a boot specifically designed for the conditions of your job.
Want to learn more about OSHA and ASTM standards in firefighting boots? Check out these articles:
Breathability
Breathability is another important factor when it comes to firefighting boots. Breathability goes hand-in-hand with comfort.
Breathable boots prevent sweat and moisture from becoming trapped inside your boot, which can easily lead to fungal infections, blisters, and discomfort caused by friction.
If you're looking to avoid foot-related issues that could slow you down, look for breathable boots.
Types Of Firefighting Boots
Firefighting boots are not always designed for fighting fires. Because firefighters may be tasked with managing various types of jobs, there are also several different types of boots to choose from.
Here are the three major types you may encounter while searching for new firefighting boots.
Station Boots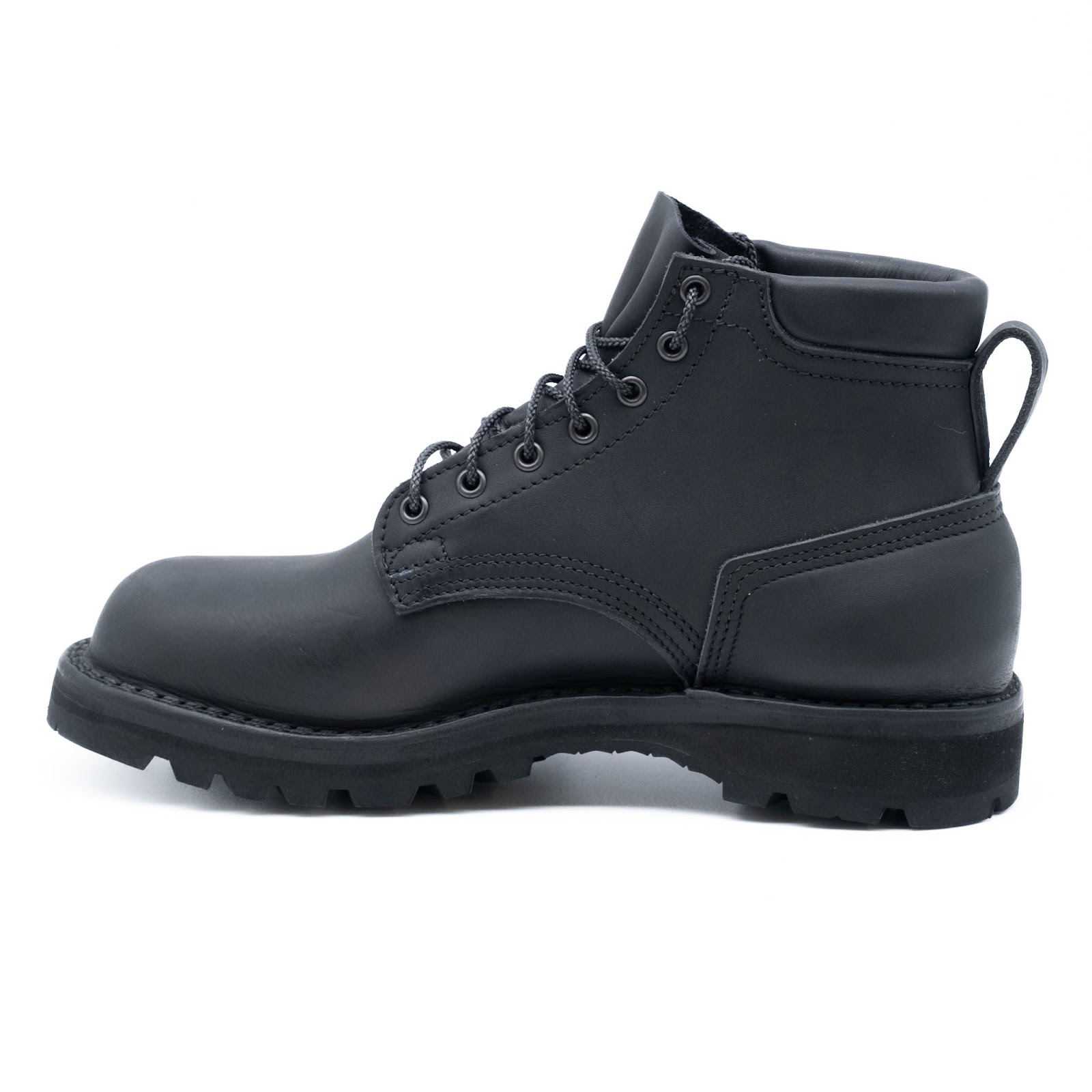 Station boots are a type of firefighting boot designed for use in a fire station or other environment where the risk of fire is low. As such, they're not going to be NFPA-certified or heat-resistant.
Rather, these types of boots are designed to support you as you engage in the many tasks that precede successful firefighting. Durable yet comfortable, waterproof, and made to withstand impacts, these boots are perfect for those who aren't running directly into the flames.
Here at Nicks Boots, we offer a wide variety of station and duty boots. Whether you prefer the lower cut of our Marshal Duty Boot or you're looking for a classic style with our Side-Zip Station Boot, there's something for every first responder in our collection. Shop today!
Bunker Or Turn-Out Boots
Bunker or turn-out boots are an essential piece of equipment for firefighters. These boots are designed to provide superior protection from heat, water, and other hazards that firefighters face while on the job.
Traditional bunker boots tend to be made from rubber, but we're beginning to see an overlap between bunker and wildland firefighting boots (and other boot types), where terminology doesn't necessarily differentiate boots.
Wildland Firefighting Boots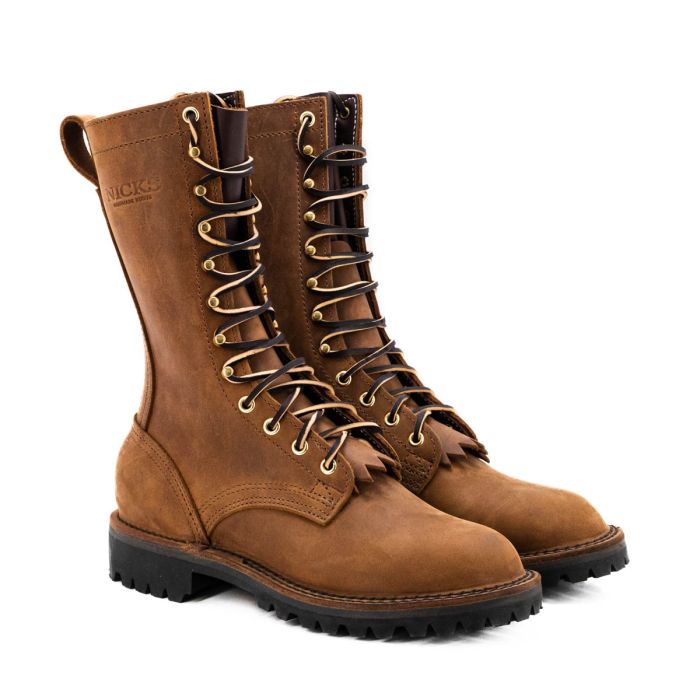 Wildland firefighting boots are an essential piece of gear for firefighters who are working in wildland environments. These boots are designed to provide maximum protection and comfort while being lightweight and durable enough to withstand long days and tough terrain.
Nicks Boots' wildland firefighter boots embody all the traits that define a high-quality firefighter boot today. Fashioned with fire-resistant Vibram soles, fire-resistant stitching, comfortable insoles, high-quality leather and rubber, and more, you can rely on our wildland fire boots to help you navigate your job with confidence.
From our FireTrooper® 55 boots to our Hot Shot™ boots, we offer a wide array of choices to help you get a boot you can depend on.
We also offer Quick Ship choices so that your boots are able to get to you faster!
Care And Maintenance Of Firefighting Boots
Firefighting boots are an essential piece of equipment for any firefighter. Proper care and maintenance of these boots are essential to ensure their longevity and safety.
Here are some tips for taking care of your firefighting boots:
Cleaning: Clean your boots regularly with a damp cloth and mild soap. This will help remove dirt, debris, and other contaminants that can potentially damage the boots.
Waterproofing: Make sure to apply a waterproofing product to your boots after cleaning. This will help keep them protected from water and other liquids.
Storing: Store your boots in a cool, dry place away from direct sunlight. This will help preserve the material and keep your boots in good condition.
Repairing: If your boots become damaged, make sure to repair them as soon as possible. This will help prevent further damage and ensure your boots remain safe and functional.
Replacing: If your boots become too worn or damaged, it is important to replace them. This will help ensure that you have the best protection possible while on the job.
By following these simple tips, you can help make sure that your firefighting boots remain in good condition and provide you with the best possible protection.
Don't Wait Any Longer! Get The Best Pair Of Boots For Your Safety Today!
Firefighting is a job with specific hazards that demand specially-built gear. Quality firefighter boots answer this call with durable materials (heat resistant and waterproof), a comfortable design, and protective features like steel toe inserts.
With the right NFPA-certified boots, you can do your job without wondering whether or not your boots will help you or significantly hinder your performance.
Here at Nicks Boots, we prioritize the comfort and safety of our first responders. Beyond the many qualities of our boots listed in the guide above, we also offer Red Card Holders the ability to purchase wildland firefighting boots for around $500 (the maximum reimbursement offered by the USDA Forest Service), expedited options for those who need firefighting boots shipped to them faster, and transparent lead times.
Don't wait to purchase the right boot for your firefighting needs - shop Nicks Boots today, or get in contact with us if you need support.
Read Also:
FAQs
Are there specific standards for all firefighter boots?
Yes, all firefighter boots must meet certain standards to ensure they provide adequate protection and comfort. The National Fire Protection Association (NFPA) sets the standards for firefighter boots, which include requirements for heat resistance, water resistance, and other features.
Do firefighters wear work boots?
Yes, firefighters often wear work boots as part of their uniform when working in a station, although they'd be better referred to as station or duty boots in this instance.
Work boots are typically more comfortable and durable than regular shoes, and they provide better protection for firefighters in hazardous conditions.
How long are fire boots good for?
The lifespan of fire boots depends on the materials they are made of and how often they are used. Generally, a good pair of firefighting boots will last several years if properly cared for.
It is important to inspect your boots regularly for signs of wear and tear and replace them or rebuild them when necessary.