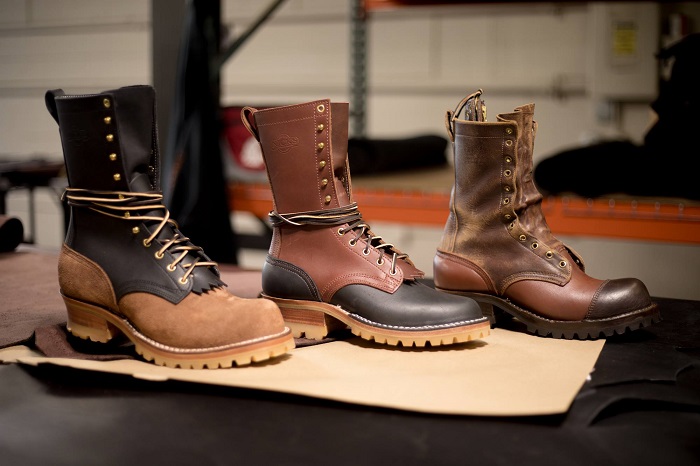 Pick The Perfect Work Boots With This Shopping Guide
Want to get the perfect pair of work boots?
The truth is that there may be no such thing in the grand scheme of things...but there is a perfect pair of work boots for you. Work boots, after all, are a tool, and like any other tool, you need to pick the right one for the job.
For instance, you probably shouldn't buy logger boots if you work in a kitchen. Likewise, you probably shouldn't buy Wellington boots if you're a logger. They're great if you're a farmhand, not so much on the side of a mountain.
How do you pick the right work boots? First by understanding your work, second by understanding what you specifically need in a boot and what your work demands, and lastly by the fit. Here's how you figure those things out.
You Likely Know What Your Work Demands Of Work Boots
Chances are that you know what you need from your work boots in terms of your specific occupation. You may want to reach out to a supervisor for a bit more guidance on exactly what attributes they recommend. Additionally, look up the Occupational Safety and Health Administration's requirements and recommendations for footwear, which are maintained in coordination with the American National Standards Institute. OSHA and ANSI have footwear guidelines that will tell you in detail what your job requires.
That said, here are some examples of what various trades might need.
Linemen need boots with good arch support, traction and debris clearing treatment in the arch of the tread, electrical shock protection, and abrasion resistance, as well as a heel that's rounded by a 45-degree bevel and at should be least ¾" tall.
Electricians need electrical shock resistance, a non-slip outsole, and - depending on the job - to be either static dissipative or conductive.
If you work with caustic chemicals, your boots need to be resistant to them. If you stand in water or any moisture for any period of time, you need waterproofing. If you work in cold temperatures, you need insulation.
If you work around heavy materials, you need toe protection, aluminum for lighter protection and composite or steel for heavy protection. If you weld, metatarsal guards are a good idea.
Smokejumpers need fireproofing. Anyone who works in the backcountry, such as loggers, wildland firefighters and so on need good ankle support, meaning a boot height of 8 inches or more.
And so on and so forth. Know your job, and look up the appropriate requirements.
What You Need In A Work Boot
Next, you need to know what YOU need in a work boot so that you can wear them without destroying your feet or feeling uncomfortable. Part of this is going to be related to work, the part related to your feet and also partly down to how boots are made.
You know what you do for a living, and what features that demands in footwear. However, you also need to consider how work boots are made as well since this has a direct impact on what you need from a work boot.
How are work boots made? There are three primary methods.
Cementing boots glues the outsole to the rest of the boot. Typically, these boots are lighter, cheaper and less costly than other boots. While the lighter weight of these boots is attractive to a certain degree, they are for lighter duty jobs as they will not hold up to more arduous work, or at least won't for long. Then they'll cease to be cheap as you need to keep buying them.
Directly attached boots put the upper boot in a mold, which is then filled with molten rubber to make the sole. It is a stronger method of boot construction than cementing and is well-suited to work involved moving quick and keeping good footing. However, it is something of a medium-strength construction method, so some work will quickly find these boots wanting.
Welting is the gold standard for boot construction. Welting tapes a strip of material, either leather or some sort of synthetic, which the upper and then the outsole are stitched to. Some welted boots use a single welt, others use a double welt. Double-welted boots provided good work, are tanks, the most durable type available.
If your job involves more extreme environments, then the latter-most is the best option for you. You have to trust your footwear with your life; if you can't just pop out to the car on your job site...you need the strongest boots possible.
Now, what else do you need in a boot? This is where your feet come into play. For instance, if you happen to work on hard surfaces, then you need abrasion resistance - which includes a comfort sole and an insert-supported shank - or else you may suffer "cop heel" from pounding pavement.
Do you need more arch support? While inserts can help, make sure the boot you look at provides plenty. A custom boot or at least custom orthotic inserts may be necessary, so make sure to get properly fitted for a pair of work boots.
Do you need more ankle support just for yourself, nevermind the working conditions? Get at least an 8-inch boot, if not 9-inch or taller. For the utmost in ankle support, the top of the boot should be snug against the bottom of your calf.
No matter what you otherwise might need or want, comfort and anti-microbial insoles are always a good idea.
If your work subjects you to a lot of moisture or standing in water, you'll need waterproofing. If you work in cold temperatures, insulation is a good idea...though bear your activity level in mind. Constantly in motion? You probably don't need much insulation. Long periods of low-level activity? Get a bit more.
Ask a few hunters and they'll tell you uninsulated boots are actually fine in the dead of winter...until you stop moving.
So, if you know your work, and you know your feet, then you know what features you're going to want in a boot. Now it's down to fitment. After all, work boots that don't fit are not going to be worn, or at least won't be gladly.
Getting A Proper Work Boot Fit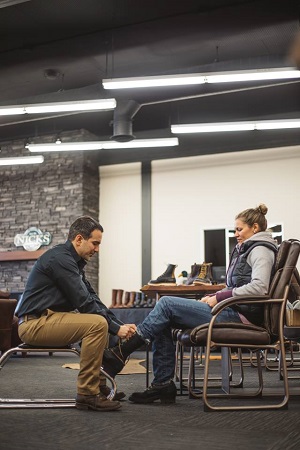 To get a proper work boot fit, you'll need to try them on...but you need to do more than just lace them up.
First, try boot shopping in the early evening. This is the time of day when your feet have swelled to their largest size. If your boots pinch during this time, it will make the end of the day miserable.
Second, wear a pair of the socks you'll be wearing on the job when trying them on. This will give you a better indication of the fit than plain old crew socks.
Okay, so now that you're at the boot store in the late afternoon/early evening with a clean pair of your work socks, it's time to try on a pair. Here are a few things you need to do:
Tie both boots completely and WEAR BOTH.
Don't do that thing where you only wear one. It doesn't look flattering and you don't get a true picture of the fit. Put on both and lace 'em all the way up. Use the heel lock lacing pattern, which you should be doing in the field anyway for proper ankle support. You need to know how they are going to wear.
Walk, run, hop, jump, run in place, do some squats, some knee raises and get a feel for what they feel like in motion. Are they just too bulky? Or do you think you can work with them?
While you're walking or otherwise in motion, pay attention to a few things.
Do you feel pressure on the sides of your feet? If so, get a size wider if available. Do not move up to a larger size if you need a wider size boot! You will develop hotspots, your boot will not wear properly and you'll probably wind up buying a pair that is in a wide size later.
Check your shoe size for both feet. You might find one foot is a different size and requires that size boot for that foot.
Does your heel rub against the back or ride up the boot like it's going to come out? That's a poor fit if so. Try a smaller size or a different pair.
Do your toes slide forward and hit the end of the boot? Either you haven't tied the laces enough or it doesn't offer enough support at the front of the foot.
Also, you should have up to an inch in front of your toes. If they feel cramped, they are.
Slowly roll your ankle while walking, and try standing on the outer edges of the soles. Do you feel like your ankle has adequate support?
Pay attention to the tongue and all other parts of the boot. If they chafe or dig into your foot, that's a sign you have the wrong size or the wrong boot.
After wearing them, take your feet out of the boot and take off your socks. Examine your feet for any red spots. That's where chafing, rubbing, hot spots and other problem areas will emerge.
Remember, work boots are a tool, and are an investment in your comfort and safety. If you spend a little upfront, you'll get a whole lot further down the road.